Rio Hondo School Promotion Ceremony Celebrates Class of 2019
EL MONTE – Rio Hondo School's eighth-grade class of 2019 was showered with cheers of encouragement and pride from visiting parents and community members, which echoed throughout campus during its June 4 promotion ceremony.
The school's 119 eighth-grader students gathered before more than 300 friends and family members on the campus blacktop for the lively event to celebrate their final days as El Monte City School District students.
Visitors were treated to speeches from student leaders and school administrators and a keynote speech from Student Resource Officer Ruben Quintana. Students were also recognized for various academic achievements.
"This is only the first major step in your college and career quest," Rio Hondo School Principal Dr. Darice Wallace said. "Everyone assembled here is proud of your accomplishments, yet at the same time we eagerly await the accolades you all will receive in just four short years upon your high school graduation in 2023."
Fall semester student body President Julianna Sandoval said she and her classmates will always be Rio Hondo Rams because of the academic and social-emotional growth they achieved thanks to the school and its teachers.
"Through all the laughs and cries, I am extremely proud to be part of the Rio Hondo School family," Sandoval said. "I have had an amazing nine years at Rio Hondo and I accomplished so much both academically and musically.
None of this would have been possible without my friends, family, teachers and my sister Angelina's support and encouragement."
The event closed with a final recitation of Rio Hondo School's alma mater before students joined their parents and friends to celebrate the momentous occasion.
Recognitions:
Jo Switzer School Service Award:
Jose Velasquez Macias and Julie Trinh.
Trina Benson Award:
Isaac Mata.
Rio Hondo Ram Award:
Jamie Luna.
Armene Chavdarian Award:
Fiona Chen and Thuta Lin.
Fernando Garay Award:
Ryan Luutuyen and Angelina Sandoval.
Sportsmanship Award:
Julianna Sandoval and Gabriel Lopez.
West San Gabriel Valley Administrators' Association Award:
Ashhal Sheikh and Miguel Angel Holguin.
Jackie Lam Award:
Ethan Lee.
Principal's Award:
Lillian Ta.
Teachers' Award:
Natalie Shintaku and Brandy Sanchez Morales.
Outstanding Effort Award:
Alex Bautista.

Outstanding Scholarship Award:
Briana Truong.
American Legion Award Winner:
Naruaki Alden Okashima and Julianna Sandoval.
American Legion Honorable Mention:
Ryan Luutuyen, Julie Trinh and Angelina Sandoval.
PHOTO CAPTIONS:

EMCSD_PROMOTION1: A Rio Hondo School eighth-grade student stands and cheers during her school's June 4 promotion ceremony.
EMCSD_PROMOTION2: Rio Hondo School students, some covered with leis and others holding colorful flower bouquets, search for family and friends following their school's June 4 promotion ceremony.
Close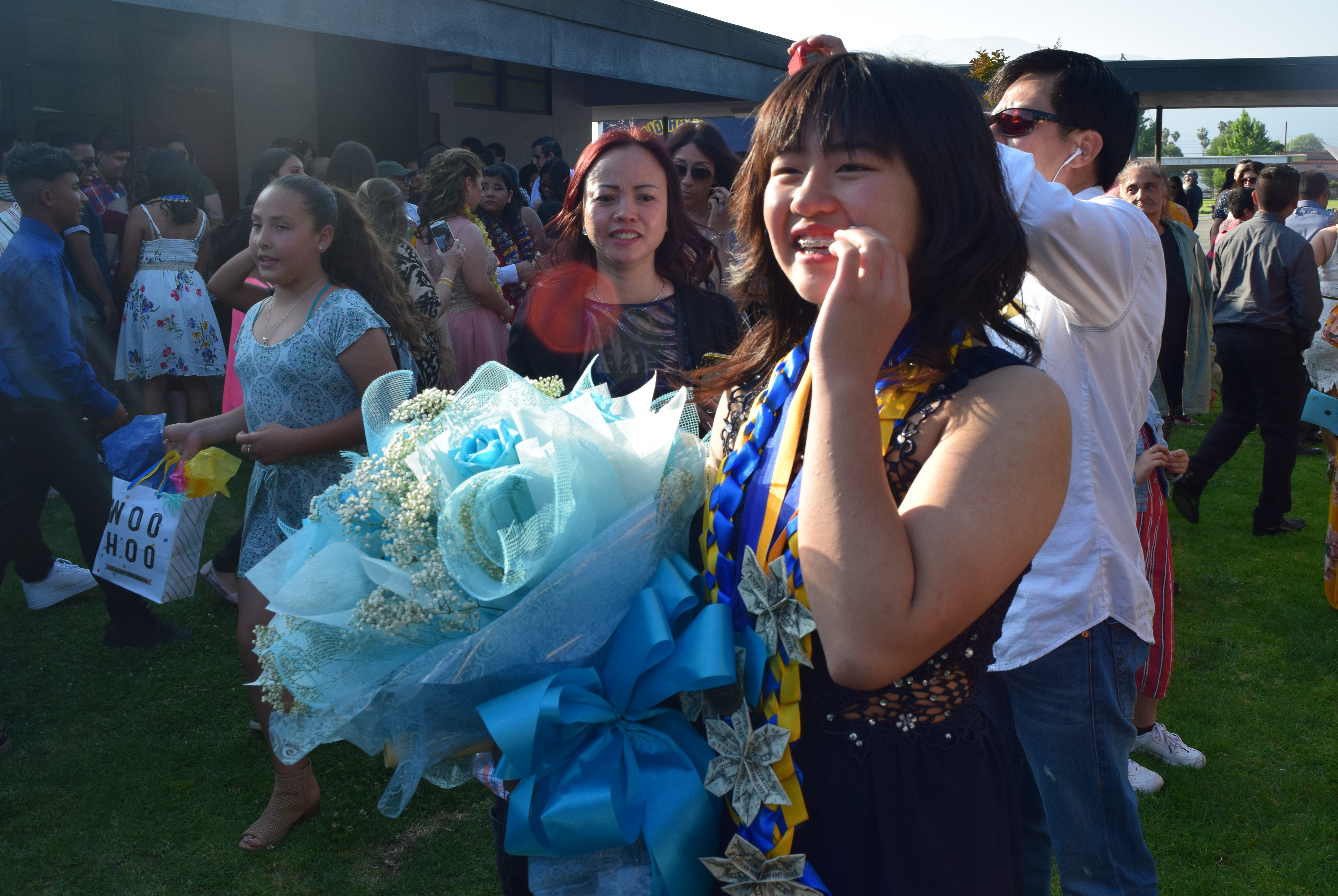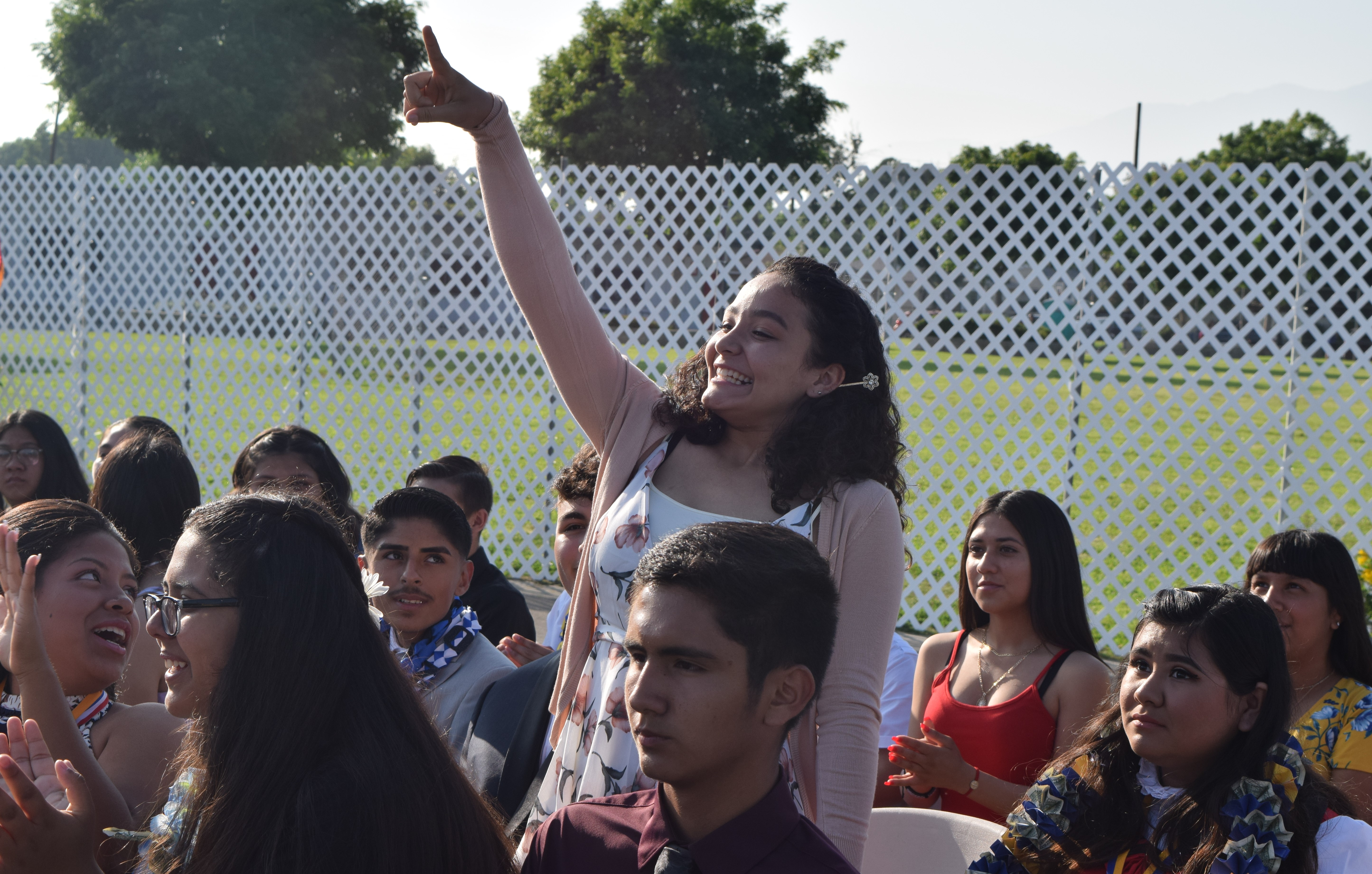 Rio Hondo School Promotion Ceremony Celebrates Class of 2019

Image Title

PROMOTION2

Image Caption

EMCSD_PROMOTION2: Rio Hondo School students, some covered with leis and others holding colorful flower bouquets, search for family and friends following their school's June 4 promotion ceremony.

Right-click on the image to save

Image Title

PROMOTION1

Image Caption

EMCSD_PROMOTION1: A Rio Hondo School eighth-grade student stands and cheers during her school's June 4 promotion ceremony.

Right-click on the image to save