California School News Radio
California School News Radio is a weekly podcast focused on education issues at public school districts hosted by Kevin Ausmus and Drew Schlosberg. Peruse our library of clips from past shows.
Standing in the Vanguard: Innovation Showcase in Buena Park
Released May 4, 2023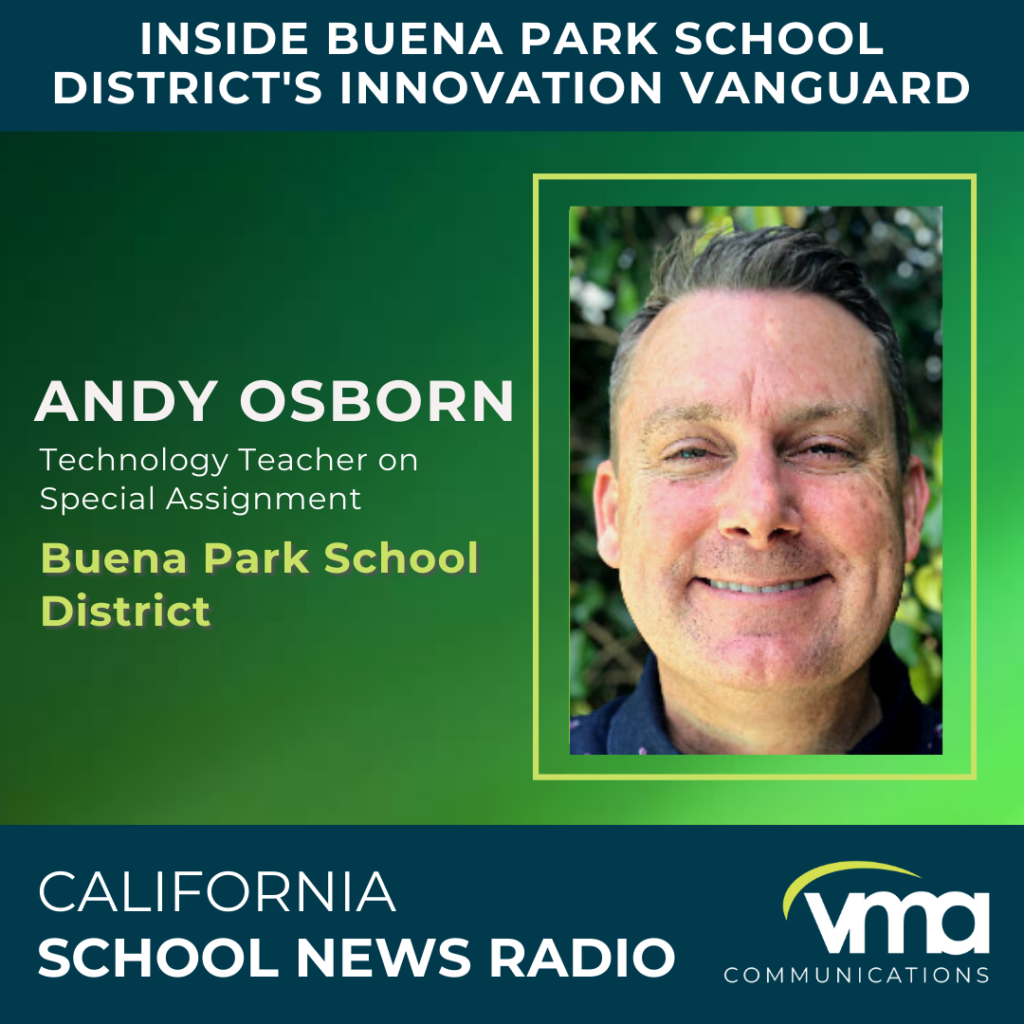 Buena Park School District Technology Teacher on Special Assignment Andy Osborn discusses the District's technology curriculum, the District partnership with Apple, and the end-of-year Innovation Showcase, where Buena Park teachers and students share their tech projects with the community.
Season 5 Podcasts
Listen to our older podcasts:
April 25, 2023
A Safe HAVEN: Intervention Programs at Whittier Union
La Serna High School Intervention Specialist Lisa Barnes discusses the school's unique multi-tiered intervention programs, including HAVEN, a program for juniors which provides career and college preparation, assisted by student mentors and community partners; the importance of providing students with social capital and taking over from her mentor, Ken LaVigne.

April 5, 2023
Understanding Is The Key: Inside Lynwood Unified's English Learner Program
Lynwood Unified School District English Learners Coordinator Aranzazu Garcia discusses the District's English learner program, how students are mentored and assessed, support services for parents, and her passion for English language development after moving from her native country, Spain, to become a teacher in the United States.

March 15, 2023
Full STEAM Ahead: Social Justice Champion in Fontana Unified
Dolores Huerta International Academy sixth-grade Spanish dual language immersion teacher Ashley Silva discusses her passion for infusing technology and fun in STEAM education, being selected to join the Teacher Innovator Academy in 2022, her recent recognition as an Alma Flor Ada Award for Social Justice recipient, and embracing the Hawaiian concept of 'ohana.'

March 1, 2023
Posse in Effect: Top Scholars in El Monte Union, Covina-Valley Unified
California School News Radio talks with two recent Posse Foundation Los Angeles Chapter recipients, Rosemead High School senior Wendy Sar and South Hills High School senior Saniya Tillis, who both received full-ride Posse scholarships to attend Northwestern University.

February 21, 2023
A Place in the Sun: Peace, Pride and Produce Garden in Baldwin Park
Baldwin Park High School National Alliance on Mental Illness (NAMI) club advisor Nicole Melamed and Gay-Straight Alliance (GSA) club advisor Michelle Humason discuss the school's Peace, Pride and Produce Garden, which serves as a safe space for Baldwin Park High's LGBTQIA+ community.

February 2, 2023
Commitment to Deeper Learning: Inside Hacienda La Puente Unified
Hacienda La Puente Unified School District Superintendent Dr. Alfonso Jiménez shares his thoughts on the recent State of the District presentation, incorporating tech in the classroom, the District commitment to deeper learning, early college and dual enrollment and the Latino Film Institute Youth Cinema Project pilot program.

January 19, 2023
Bienvenue à Notre Spectacle: Learning French in Whittier Union
Santa Fe High School world language teacher Isabelle Teraoka is joined by three of her students – junior Lia Liebanos and sophomores Oswaldo Garcia and Ana Sophia Gutierrez – to discuss the joys of learning French, the benefits of being bilingual, the beauty of the language and the impact of French culture in music, art, architecture and fashion.

January 12, 2023
Team Effort: Health Collaborative in Lynwood Unified
Lynwood Unified Director of Risk Management Tiffany Egan, Lynwood Unified Health Services Specialists Erin Okazaki and Sue Poh, and Carreon Group Inc. President and CEO Jennie Carreon discuss the District's multi-faceted Health Collaborative and the "Health for the Holidays" community wellness fair, which was supported by the California Department of Education and grants from the Rockefeller Foundation.

December 8, 2022
Calming Spaces: Wellness Centers in El Monte Union
El Monte Union High School District Wellness Coordinators Imelda Moronez and Daniela Chavez discuss the District initiative to establish Wellness Centers at each school, and the importance of having calming spaces and rooms on campus where students can relax and talk to a licensed therapist or clinical social worker.

November 29, 2022
Recipe for Success: Culinary Education at Bonita Unified
Bonita Unified School District ProStart culinary educators Nick and Laurie Brandler discuss the importance of providing their students with networking opportunities with professional Bay Area chefs during an exclusive six-day ProStart training field trip in early November. The Brandlers are joined by San Dimas High School graduate Kris Lara, who is currently a pastry chef at a two-star Michelin restaurant in San Francisco.

November 10, 2022
Yes We CAN: Inside Fontana Unified's Afterschool Program
Fontana Unified School District Afterschool Education and Safety Program Project Director Yubleni Cazares and City of Fontana Community Services Coordinator Sergio Barragán discuss the activities, enrichment opportunities and social-emotional learning components of the District's acclaimed afterschool program, which is part of the California Afterschool Network.

October 27, 2022
Pathway to Success: Honors Transfer Program at Río Hondo College
Río Hondo College sociology professor Melissa Rifino-Juarez, counselor David Tieu, student Ileen Dominguez and alumna Nicole Contreras-Garcia discuss the success of the school's Honors Transfer Program, which provides a pathway for students to transfer to four-year universities, with high admission rates to University of California and Cal State University colleges.

October 20, 2022
Simply the Best: Teacher of the Year in Hacienda La Puente Unified
Orange Grove Middle School science and STEM teacher Terri Serey discusses student engagement in the classroom, bringing NASA engineers to class and presenting at STEM conferences across the country. Serey has been recognized as the Hacienda La Puente 2021-22 Teacher of the Year and is one of 16 teachers to be named a LACOE 2022 Teacher of the Year.

October 13, 2022
Full Steam Ahead: New Engineering and Technology Pathway in Whittier
Whittier High School Principal Tim Liggett discusses the school's recently launched Cardinal Academy of Technology pathway, the importance of equal gender representation in STEM, the benefits of exploring your options before choosing a college, and the tradition of innovation at the Whittier Union high school.

October 6, 2022
The Time is Now: New Superintendent at Banning Unified
Banning Unified School District Superintendent Terrence Davis discusses his plans to create a positive school climate throughout the District, increase transparency within the community, and provide exceptional educational opportunities for students.

September 27, 2022
Space is the Place: Inside the NASA Artemis I Program
Former Río Hondo College student and digital content creator Jessica Estrada discusses being one of a select group of influencers to join the NASA Artemis I Social Media team and travel to the Kennedy Space Center in Florida to tour the new space program and meet with astronauts and NASA scientists.

September 20, 2022
Amazing Journeys: English Learner Success Stories in Baldwin Park
Sierra Vista High School Class of 2019 graduate Diana Aguilar-Cruz and Sierra Vista English language development teacher Charlene Fried discuss the amazing journey that has seen Aguilar-Cruz go from a newly arrived English learner in 2015 to becoming a biology major at Cal Poly Pomona and being appointed as a Cal State University Student Trustee.

August 15, 2022
A New Era: A Conversation with Río Hondo College's Superintendent/President
Newly appointed Río Hondo College Superintendent/President Dr. Marilyn Flores discusses why community college is such an important educational resource, the role community college plays in supporting underrepresented students, the opportunities for middle and high school students to get a head start in higher education, conducting a listening tour to meet her new colleagues, and how school districts and parents can best prepare their students for college.