Río Hondo College Kinesiology Alumnus is Bound for Harvard University
WHITTIER – Río Hondo College alumnus Joel Ramirez loves learning – a passion he hopes to spark in others by becoming a full-time professor and mentoring eager students, providing valuable research to the study of human movement and improving his community.
Ramirez's determination has carried him through family problems, financial burdens and personal ailments – earning the first-generation college student a bachelor's degree in exercise science and a master's in kinesiology from Cal State University Los Angeles (CSULA). Now, the 36-year-old is setting his sights on Harvard University, where he will pursue a Ph.D. in human evolutionary biology in fall 2021.
Ramirez's is the first in his family to be born in America, his mother and grandmother immigrated from Mexico. When his mother got injured and lost her job, the family's only source of income, Ramirez supported his family by getting a job at a bank while in high school.
However, the bank operations began inflicting physical and psychological distress on Ramirez and he developed post-traumatic stress disorder and fibromyalgia. His diagnosis forced him to leave his job, and he was placed on long-term disability.
Yet, Ramirez never faltered; he enrolled in Río Hondo College's fitness specialist program in the kinesiology department so he could learn about human movement, and use that knowledge to help in his recovery.
"Joel is a highly motivated student who may have one of the highest levels of persistence of any student I have known," Professor of Kinesiology Dr. Jodi Senk said. "He goes above and beyond what is asked from him whether it's projects, research, or participating in our advisory group."
Before COVID-19, Ramirez was a regular motivational speaker for Senk's classes, sharing his research and personal accomplishments to help others aspire to achieve their goals.
MORE
"Dr. Senk has been a fantastic educator and mentor; moreover, Jodi encouraged me to do what I didn't think I could, more so than any other faculty member," Ramirez said. "Without the passion Dr. Senk possesses in the field of exercise and in being an educator, I would not be where I am today."
Ramirez said that beyond Senk, Río Hondo College's professors Mark Matsui, Raymundo Esquivel, Coralin Glerum, Juana Mora, Zachary Sharrett and Bianca Urquidi also provided profound personal and academic encouragement, and he hopes to emulate their styles once he becomes a professor.
Ramirez also said his education at Río Hondo College and CSULA has improved his quality of life, giving him better mobility and a career to aspire to.
"We are so proud to have an alumnus such as Joel Ramirez representing Río Hondo College as he not only attends Harvard, but also enters the workforce in a field of study that he is passionate about," Superintendent/President Teresa Dreyfuss said. "We at Río Hondo College are doing our best every day to encourage the next Joel Ramirez on their way to academic and personal greatness."
PHOTO CAPTIONS:
RHC_HARVARD: Río Hondo College alumnus Joel Ramirez, who will be attending Harvard in the fall for a Ph.D. program in human evolutionary biology, said his goal is to become a full-time professor. Ramirez said his love of education was encouraged at Río Hondo College by his many teachers.
Close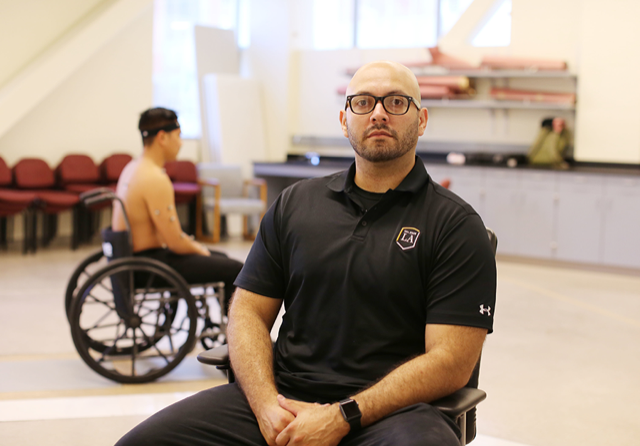 Río Hondo College Kinesiology Alumnus is Bound for Harvard University
Image Title

HARVARD

Image Caption

RHC_HARVARD: Río Hondo College alumnus Joel Ramirez, who will be attending Harvard in the fall for a Ph.D. program in human evolutionary biology, said his goal is to become a full-time professor. Ramirez said his love of education was encouraged at Río Hondo College by his many teachers.

Right-click on the image to save