Gidley School Honors 8th-graders with Promotion Ceremony
EL MONTE – Gidley School's class of 2019 promotion ceremony was packed with smiles, applause and cheers from its 166 eighth-graders as they reached the end of their elementary school years and celebrated the start of their high school careers.
The June 5 ceremony took place in the school's quad, attended by about 400 teachers, administrators, friends and family members.
Visitors were treated to musical performances of "America the Beautiful" and "Why We Sing" by the Gidley Band as well as speeches from Gidley School Principal Alba Zamora-Day and eighth-graders Tracy Chow and Hailey Gonzales. Students were also recognized for various academic achievements.
Zamora-Day urged her students to use the skills and lessons they learned at Gidley School to shape their future in high school, college and beyond.
Chow said her time at Gidley School and the District taught her the importance of using the "7 Habits of Highly Effective People" to build her self-confidence, leadership skills and friendships with peers and teachers.
"We're here today to recognize our successes and to celebrate the beginning of a new chapter of our lives," Chow said. "Our time at Gidley has offered us an opportunity to shine. It was the life lessons we learned here that will guide us not only in high school but also in life."
English Learner Award:
Weihao "Allen" Guo.
Gidley School Spirit Award:
Stephanie Castrejon.
Turn Around Award:
Ying Ying Lin.
Association of California School Administrators Scholarship Award:
Selena Martinez and David Garcia.
Honor Roll:
Alondra Acevedo, Ariana Acevedo, Erika Ambriz, Stephanie Castrejon, Tracy Chow, Bryan Cordero, Alicia De Los Reyes, Hailey Gonzalez, Alezxandra Hernandez, Zixin He, Cindy Ho, Ethan Huynh, Ronald Le, Orson Lee, Ryan Lee, Ying Ying Lin, Eric Ly, Raven Ma, Emily Martinez, Damien Padua, Alex Quach, Natalie Siguenza, Amanda Tran and Haily Vuong.
Perfect Attendance:
Alondra Acevedo, Arianna Acevedo, Laura Aguirre, Joe Barajas, Alondra Castaneda, Yazmin Castillo, Lisset Castrejon, Aniela Chavez, Shixin Chen, Zoe Chen, Aidan Cordova, Rozlyn Crespo, Anthony Diep, Chen Yu Feng, Amy Frausto, Weihao "Allen" Guo, Genesabeth Gutierrez Aleman, Ashley Hernandez Cruz, Michelle Hernandez, Ivy Huang, Ningsheng Huang, Linda Huynh, Daniel Jin, Jacon Khalili, Brian Leal, Orson Lee, Emiliano Lopez, Aylene Luviano, Eric Ly, Raven Ma, Valeria Macias, Pedro Marcelino, Agustin Martinez, Jeremy Martinez, Natalie May, Syarra Nava, Damien Padua, Alex Quach, Enrique Sanchez, Phu Myat, Jessica Thizar, Amanda Tran, Annette Vazquez and Hue Vuong.
PHOTO CAPTION:
EMCSD_GIDLEYPROMOTION: Gidley School eighth-graders, adorned with flower and money leis, show off their promotion certificates to parents and family members following their school's June 5 promotion ceremony.
Close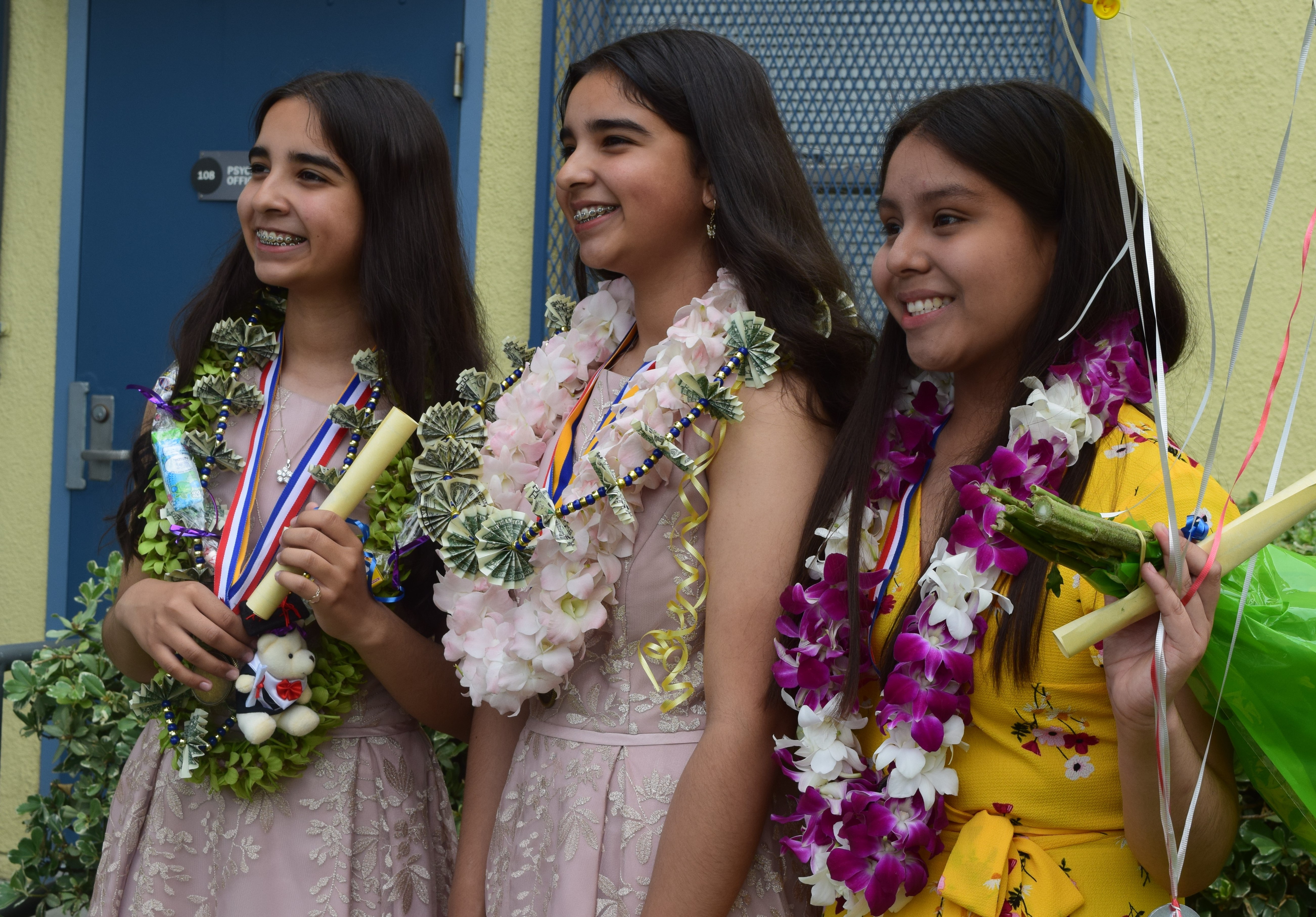 Gidley School Honors 8th-graders with Promotion Ceremony
Image Title

GIDLEYPROMOTION

Image Caption

EMCSD_GIDLEYPROMOTION: Gidley School eighth-graders, adorned with flower and money leis, show off their promotion certificates to parents and family members following their school's June 5 promotion ceremony.

Right-click on the image to save