El Monte City School District Launches 2020-21 Online Registration
EL MONTE – El Monte City School District is launching online enrollment for the 2020-21 school year, providing a simple and accessible registration process to families interested in the District's robust TK-8 learning opportunities.
"El Monte City School District is dedicated to nurturing bright young minds into lifelong learners and productive citizens," Superintendent Dr. Maribel Garcia said. "We are excited to launch an online enrollment system that makes this process – as well as our outstanding academic programs – more accessible to the community."
Parents may begin enrollment by visiting www.emcsd.org/enrollment and clicking on one of three links – transitional kindergarten, kindergarten or grades 1-8 (for new students only) – to access and fill out registration forms.
The District will pass the information to families' neighborhood schools, which will help them complete registering.
All forms are available in English and Spanish. Families who need assistance with the forms or who are unable to register online may call (626) 453-3741 to begin the enrollment process.
El Monte City School District offers rigorous and engaging academic programs and enrichment activities, such as Mandarin and Spanish dual-language immersion; Mariachi band; art, band and musical theater; coding and STEAM classes; an award-winning leadership program; and a 1:1 student-to-technology device ratio.
Close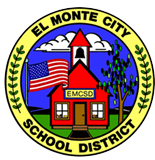 El Monte City School District Launches 2020-21 Online Registration
Image Title

El Monte City School District logo

Right-click on the image to save