Durfee School Hosts Energetic 8th-grade Promotion Ceremony
EL MONTE – Durfee School's 169 eighth-graders were treated to a triumphant promotion ceremony, with more than 500 parents and family members sporting noise makers, air horns and posters with inspirational messages to celebrate their children's academic achievements.
The June 5 ceremony took place on the school's quad and included speeches from El Monte City School District administrators and students as well as a rendition of "Count on Me" by Bruno Mars from the school's eighth-grade choir. Students were also presented with awards for academic accomplishments and club participation.
Superintendent Dr. Maribel Garcia congratulated the eighth-graders and reminded them to take the lessons they learned at Durfee School to heart, especially the 7 Habits of Highly Effective People, which the District uses to teach students about leadership and personal responsibility.
"You're supposed to have fun in high school, so get involved in activities and organizations," Garcia said. "Take on causes that you believe in, begin with the end in mind and make your high school experience your own."
Eighth-grader and student speaker Celeste Arechiga Lomeli thanked Durfee School for providing her with many fond memories, such as a trip to Washington D.C., school dances and "Run for Your Heart" races. She also thanked her teachers for providing her with a strong foundation of knowledge that will support her throughout her life.
"Today marks a milestone and a huge accomplishment in all of our academic lives," Lomeli said. "We're all here to experience the closure to an incredible chapter at Durfee School. As Durfee Warriors moving on to high school, we all learned to gain purpose to strive for our life goals."

Recognitions:
Language Arts: Daisy Lopez, Aldo Limon, Natalie Zhao, Naavan Nicholson, Matthew Diep, Matthew Ngo, Kyle Lam, Miranda Salinas, Emma Ung, Marsha Avalos, James Benedict Manlapaz, Hubert Tran, Selina Luc, Celeste Arechiga Lomeli, Josue Vasquez, JiaYi Yang, Nathan Guardado, Emma Ung and Jennifer Rodriguez.
History: Ryan Avila, Emily Dam, Valentina Nunez, Luciano Paz, JiaYi Yang, Jason Lee, Miaoyu Cai and Dean Tat.
Science: Carolyn Nguyen, Dean Tat, Celeste Arechiga Lomeli, James Benedict Manlapaz, Hubert Tran and Daisy Garcia.
Science Outstanding Model: Jessica Zhen, Karita Nguyen, Catherine Soukaphay, Ivy Huynh, Kassandra Bravo and Viany Guzman.
Math: Nathan Cisco, Selina Luc, Aaron Duran, Alexis Anaya, Aaliyah Alamillo, Aldo Limon Garcia, Raymond Diep, Khang Dang, Carolyn Nguyen, Fatima Herrera and Richard Carrillo.
English Language Development: Yewen Zhang and Marlene Ruiz.

Computer Class: William Vien and Hubert Tran.
Industrial Arts: Joselyn Venegas, Melanie Zhou, Degas Peters and Lilly Navarez.
Band: Coral Apodaca, Rickey Ho, Ivy Huynh, Matthew Ngo and Carolyn Nguyen.
Choir: Vivian Truong, Nicholas Romero, Aliyah Rodriguez and Christopher Solis.

Performing Arts: Wendy Manzano.

Musician of the Year: Zeus Perez.
Athlete of the Year: Celeste Arechiga Lomeli and Naavan Nicholson.
Leader of the Year: Celeste Arechiga Lomeli.

PHOTO CAPTION:

EMCSD_DURFEEPROMOTION: Durfee School eighth-grader Deven Breton hugs a family member following his school's promotion ceremony, marking the end of his middle school years in the El Monte City School District.
Close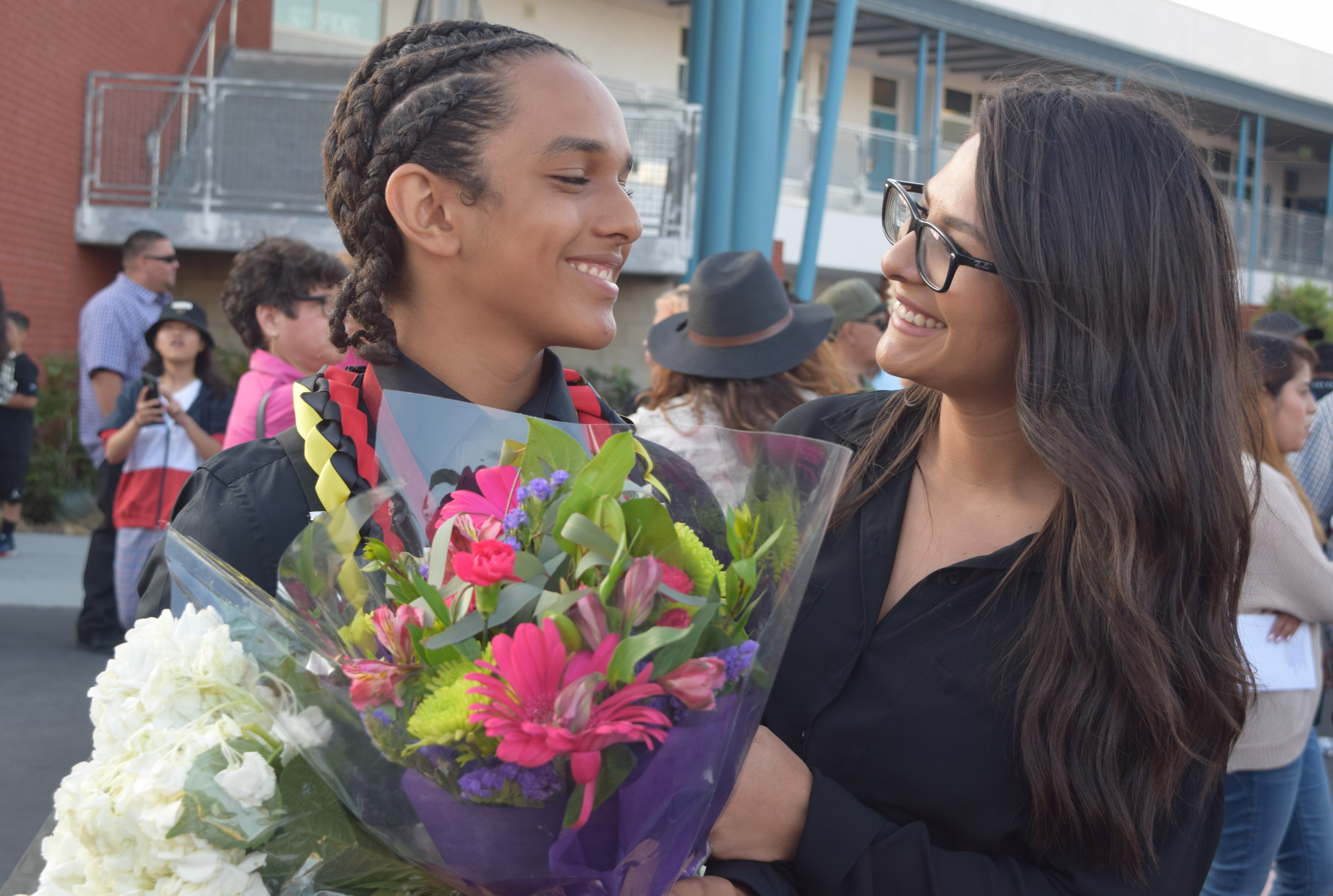 Durfee School Hosts Energetic 8th-grade Promotion Ceremony
Image Title

DURFEEPROMOTION

Image Caption

EMCSD_DURFEEPROMOTION: Durfee School eighth-grader Deven Breton hugs a family member following his school's promotion ceremony, marking the end of his middle school years in the El Monte City School District.

Right-click on the image to save