Bonita Unified School District
Bonita Unified Teachers Awarded Mini-Grants by La Verne/San Dimas Educational Foundation
SAN DIMAS/LA VERNE – Nearly 40 Bonita Unified elementary, middle and high school teachers were presented with mini-grants from the La Verne/San Dimas Educational Foundation (LVSDEF), which will fund projects that enrich students' education and bolster classroom instruction, during the Nov. 2 Board of Education meeting.
Nearly $13,000 was awarded to teachers to fund 39 separate special projects at 11 Bonita Unified schools. The grants, which ranged in amounts from $100 to $500, are provided to teachers to encourage projects that benefit students and address a classroom need. LVSDEF works year-round to raise funds through individual donations and special events, such as the Ed Jones Memorial Golf Tournament.
In the past, Mini-Grants have supported projects focusing on mental health and wellness, the arts, field trips, outdoor learning spaces and wellness gardens.
"The La Verne/San Dimas Educational Foundation always goes above and beyond to ensure that our teachers and staff have the resources they need to provide the very best educational experience to our students," Interim Superintendent Matt Wien said. "We cherish the dedication and passion that this team of volunteers and community members has for our District, and are grateful for their continued support in preparing every Bonita Unified student to live their purpose."
The 2022-23 LVSDEF Mini-Grant recipients are:
San Dimas High School: Dominic Black, Monica Redfox, Armando Jacquez
Chaparral-Vista High School – Courtney Lytle, Kelly Bachmann
Bonita High School – John McLuckey
Ramona Middle School – Brandon Olney, Roxanne Larson, Tracy-Lynn Herr
Lone Hill Middle School – Aaron Hageman, Alicia Saldana, Gabriel Navarro, Jennifer Potter, Kevin Amegin, Kerri Cooper, Lesley Allizadeh, Marlise Martinez, Tiffany Carrey, Michelle Cruz
Grace Miller Elementary School – Tiffany Huie
La Verne Heights Elementary School – Jen Cerecerez, Karla Iniguez, Kathleen Martinez
Gladstone Elementary School – Grace Ang
Roynon Elementary School – Cherry Agapito, Mary Udria, Heidi Torres, Kerri Spivey, Laura Eldridge, Lori Dukowsky, Megan Shockey
Ekstrand Elementary School – Chelsea Wyrick, Larissa Gotto, Jennifer Svoboda, Kelly Solis, Kelsey Bermudez, Cherry Agapito & Mary Udria
Oak Mesa Elementary School – Amanda Nishida, Courtney Boyle, Adell Cooper, Brandi Frymer, Diana Nairouz, Mary Fabela
PHOTO:
BUSD_LVSDEF_MINIGRANTS: Nearly 40 Bonita Unified teachers were awarded mini-grants from the La Verne/San Dimas Educational Foundation during the Nov. 2 Board of Education meeting.
Close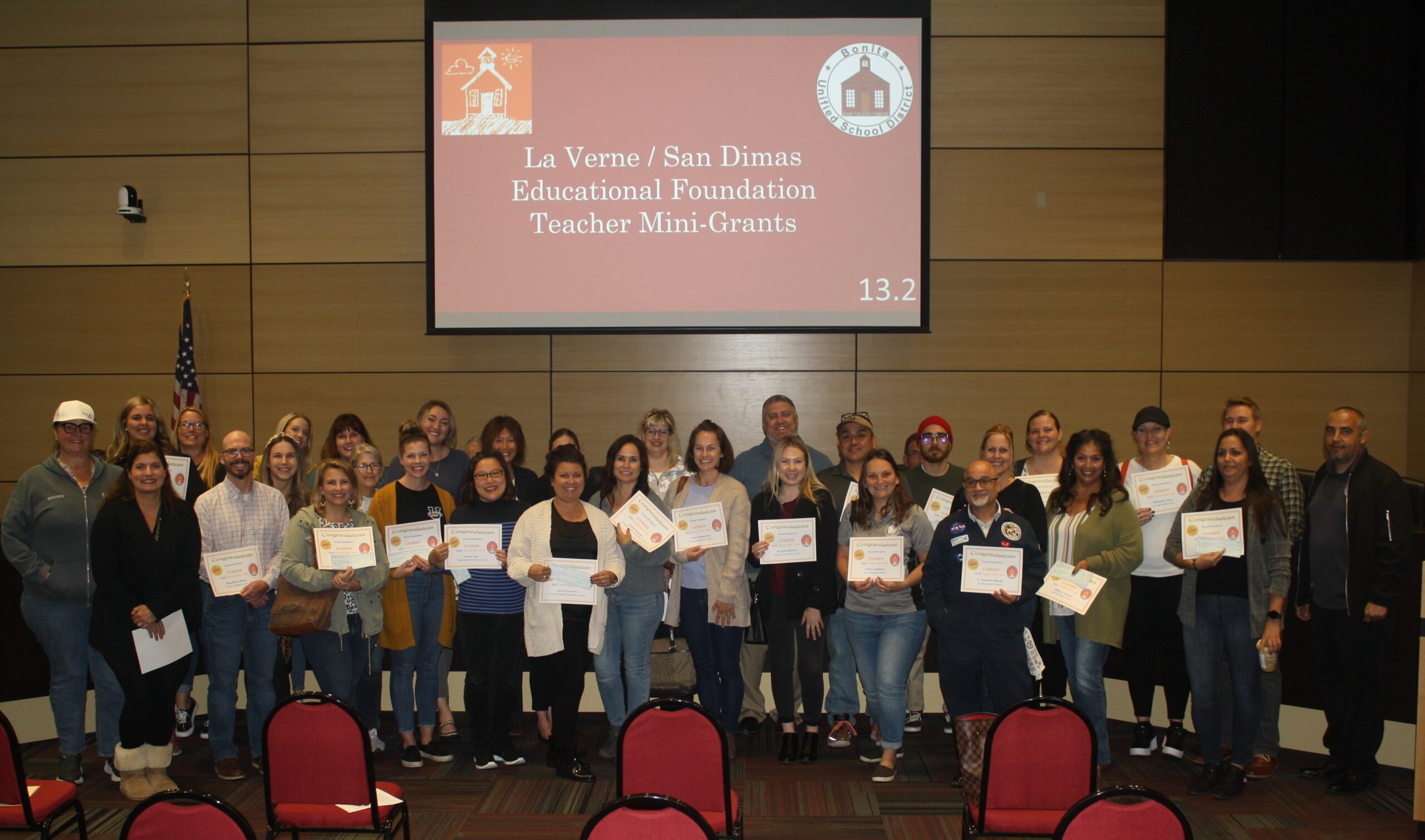 Bonita Unified Teachers Awarded Mini-Grants by La Verne/San Dimas Educational Foundation
Bonita Unified School District
Image Title

BUSD_LVSDEF_MINIGRANTS

Image Caption

BUSD_LVSDEF_MINIGRANTS: Nearly 40 Bonita Unified teachers were awarded mini-grants from the La Verne/San Dimas Educational Foundation during the Nov. 2 Board of Education meeting.

Right-click on the image to save