American Legion Honors El Monte City School District Students for Courage, Leadership
EL MONTE – American Legion Post 8 in East Los Angeles recognized 26 El Monte City School District eighth-graders for displaying courage and leadership traits with the prestigious American Legion School Award during ceremonies held May 22-23.
A luncheon for the honorees, their parents, administrators, District administrators and American Legion representatives was held May 23 at Durfee School.
The awards were bestowed to students who best exemplify the American Legion principles of courage, honor, leadership, patriotism, scholarship and service. Two winners were selected from each school, with two to three additional students from each school receiving honorable mentions.
District eighth-graders were made aware of the criteria for winning the awards at the start of the year and were inspired to find new ways to become emboldened leaders.
Rio Hondo School award recipient Naruaki Alden Okashima said hearing about the deeds of American Legion members moved him to try his hand at student politics to become a role model for others.
"I realized I had to leave my mark at Rio Hondo and ran for ASB president. And you chose me," Okashima said. "Have the courage to stand up for what you believe in and what you aspire to be. Being a leader can be challenging, but it is worth it."
The awards were conferred by retired Marine and Vietnam veteran Jay Morales, who has presided over the annual ceremony for more than 40 years. El Monte City School District Superintendent Dr. Maribel Garcia presented Morales with a plaque of recognition during the luncheon.
"I was 18 years old when President John F. Kennedy said, 'Ask not what your country can do for you, but what you can do for your country'," Morales said. "You are the future of this country. It takes courage to lead, but I believe all of you have the courage to stay in school and be ready."
This year's honorees are:
• Gidley School: Orson Lee, Tracy Chow; Honorable Mention: Ethan Huynh, Ying Ying Lin.
• Wright School: Ariel Marquez, Michelle Chan; Honorable Mention: Leon Hinh, Nhi Tran.
• Potrero School: Ruben Carrazco, Stephanie Vega; Honorable Mention: Patrick Lee, Jordan Torres Carrillo, Joselyn Zarate.
• Columbia School: Johnson Yu, Giselle Peralta; Honorable Mention: Kevin Pham, Leonardo Lopez Mendez.
• Durfee School: Christopher Peng, Celeste Arechiga Lomeli; Honorable Mention: Catherine Soukaphay, Khang Dang.
• Rio Hondo School: Naruaki Alden Okashima, Julianna Sandoval. Honorable Mention: Angelina Sandoval, Julie Trinh, Ryan Luutuyen.

PHOTO CAPTION:
EMCSD_AMERLEG: Retired Marine and Vietnam veteran Jay Morales, representing American Legion Post 8, confers the American Legion Student Award to Rio Hondo School eighth-graders during a ceremony on May 23. Twenty-six El Monte City School District eighth-grade students were recognized for their courage and leadership.
Close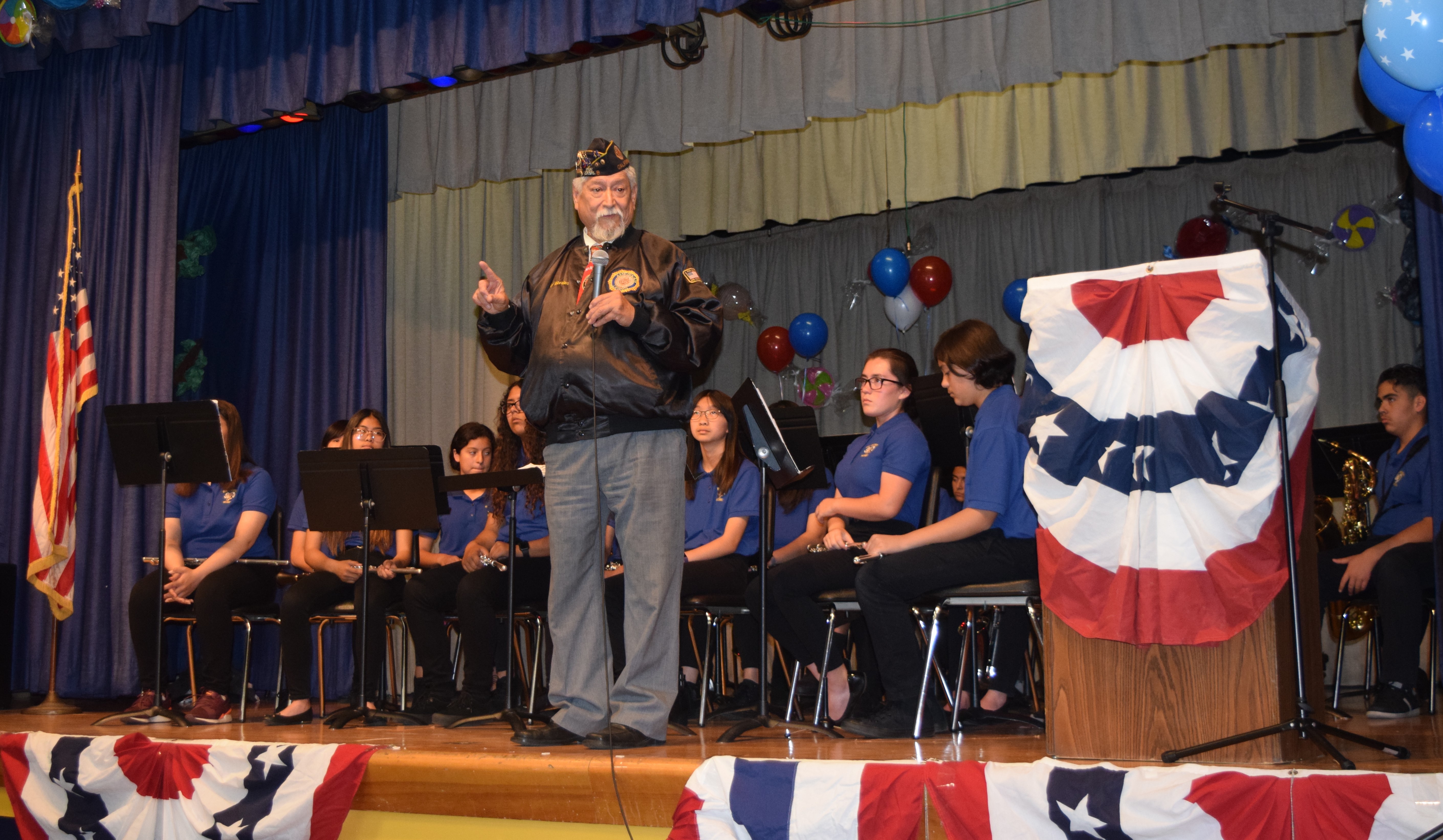 American Legion Honors El Monte City School District Students for Courage, Leadership
Image Title

EMCSD_AMERLEG

Image Caption

EMCSD_AMERLEG: Retired Marine and Vietnam veteran Jay Morales, representing American Legion Post 8, confers the American Legion Student Award to Rio Hondo School eighth-graders during a ceremony on May 23. Twenty-six El Monte City School District eighth-grade students were recognized for their courage and leadership.

Right-click on the image to save