Emery School Hosts Promotion Ceremonies for 5th, 6th Grades
BUENA PARK, CA – Emery School was alive with cheers, dancing and applause during its drive-thru promotion ceremonies, which congratulated fifth- and sixth-grade students on completing a milestone in their educational journeys.
The school held a morning ceremony for 92 fifth-graders and an evening ceremony for 86 sixth-graders on May 28, giving students one more chance to see their friends and thank their teachers.
Sixth-grader Noelani Canotal gave her teachers a friendly "hang 10" hand sign during the ceremony and thanked them for preparing her classmates and her for middle school. Canotal said she is looking forward to attending Beatty Middle School in 2020-21.
"I just want to tell my classmates that everything will be OK and that there is a lot to look forward to," Canotal said. "So be the best scholar you can be."
Sixth-grader Kayden Kang, who earned several awards, including the Presidential Silver Award, said she does not yet know where she will attend middle school, but that Emery has prepared her for wherever her education takes her.
"I want to thank Mrs. Little since she inspired me the most," Kang said. "She made learning engaging by always being encouraging and supportive, which motivated me to reach higher goals."
The ceremonies included two photo stations, colorful signs made by teachers and administrators and an announcement of students and their achievements. Students and families wore masks and followed social distancing rules to maintain safety.
"I think it was wonderful that our families were able to come out with decorated cars and high spirits," Emery Principal Julie Linnecke said. "I'm so proud of all our students and families and of our staff for putting this event together because it was something that we wanted to do for our students."
Fifth-grade Awards
Presidential Silver Awards: Ariane Dangli, Elliot Lee, Harrison Kim, Lauren Greenlee, Siha Park, Maxwell Vazin-Patras, Troy Arenas, Brandon Avalos, Lawrence Cha, M.J. (Mathias) Dofredo, Anthony Garcia, Aaron Lee, Mawaddah Shabeer, Melanie Zaragoza, Rian Bang, Ian Choi, Elizabeth Garcia, Ethan Han, Chris Hong, Nathan Im and Dan Lee
Presidential Gold Awards: Jayden Dang, Jenahlie Dones, Jonathan Lu, Matthew Gallardo, Katelyn Ahn, Aarya Halankar, Elle Hitomi, Hassan Hassan, Niveen Hassan, Isabella Holbrook, Trinity Kim, Ziah Kim and Olivia Woo
Sixth-grade Awards
Student Council: Josh Morris, Ariel Kim, Christopher Ozuna, Dorothy Madison, Jaelyn Yeon, Juliet Clark, Kaelyn Miyoshi, Lauren Lee, Liam Gallego, Naven Obeso, Noelani Canotal, Viviana Elizarraraz, Terah Nohl, Rebecca Lee, Avery Tiotuico, Aubrey Tiotuico, Joseph Kang, Abigail Kim, Abigail Hong, Ashley Park, Kayden Kang, Trisha Patel, Amy Song, Sarah Corona, Genesis Quiette, Julia Estrella and Marcos Flores
Speech: Ashley Park
Spelling Bee: Sarah Corona and Lauren Lee
Band: Andrew Martinez, Naven Obeso, Michael Wallace, Cailean Travis and Joshua Delatorre
Core Ethical Value: Trisha Patel
Glee Club: Ashlyn Del Valle, Camila Rojas, Daniela Acuna, Dorothy Madison, Genesis Quiette, Jaelyn Yeon, Jocelyn Garibay, Joshua Morris, Julia Estrella, Juliet Clark, Abigail Hong, Ariel Kim, Ashley Park, Kaelyn Miyoshi, Kelly Owens, Lauren Lee, Melina Ciorogariu, Phoebe Park, Rebecca Lee, Ryan Kang, Shine Sul, Taeyoung Park, Timothy Gutierrez, Trisha Patel and Viviana Elizarraraz
Trach and Field Club: Christopher Ozuna, Noelani Canotal, Dariana Ramos, Cailean Travis, Brayden Lambson, Josh Morris, Juliet Clark and Jeremy Cabrera
ST Math: David Alemana
Vertical Play Pen: Liam Gallego, Jayden Lopez, Michael Allman, Ronaldo Mendoza, Mia Allman, Genesis Quiette, Alfred Vazquez, Aidan Lee and Noah Hitomi
AR Rock Star: Ariel Kim, Lauren Lee, Solomon Lee, Michael Wallace, Jacob Jung, Liam Gallego, Justin Ang, Melina Ciorogariu, Abigail Hong, Abigail Kim, Rebecca Lee, Terah Nohl, Shine Sul, Aubrey, Avery Tiotuico, Julia Estrella, Noel Ham, Ryan Kang, Kayden Kang, William Kim, Leo Lee, Ashly Park and Jonathan Wihardja
Million Words: Ariel Kim (4,472,900), Lauren Lee (2,353,855), Solomon Lee (1,996,371) Justin Ang (2,010,182), Abigail Kim (1,434,033), Terah Nohl (2,061,469), Shine Sul (1,826,653), Aubrey (1,880,875) , Avery Tiotuico (2,162,271), Julia Estrella 1.1 million, Elijah Folgar 1.2 million, Noel Ham 1.6 million, Ryan Kang 1.7 million, Kayden Kang 1.7 million, William Kim 1.4 million, Aiden Lee 2.2 million, Raina Lee 1.0 million, Ashley Park 3.2 million, Trisha Park 1.5 million and Amy Song 1.1 million
Math Team: Solomon Lee, Jessica Choi, Ryan Kang, Ariel Kim, William Kim, Aiden Lee, Leo Lee, Terah Nohl, Ashley Park. Jonathan Wihardja and Jaelyn Yeon
Masonics: Terah Nohl and Noah Hitomi
Kinder Helpers: Lauren Lee, Dorothy Madison, Trisha Patel, Julia Estrella, Mia Allman, Amy Song, Aubrey Tiotuico, Avery Tiotuico, Ashley Park, Genesis Quiette and Jessica Choi
Overcoming Adversity: Timothy Gutierrez
Art: Thor Medrano – City of Buena Park first Place and Wyland National Art Challenge First Place for sixth grade. Cailean Travis – City of Buena Park Mayor's Choice. Brandon Maynor – City of Buena Park third place
Presidential Silver awards
Mrs. Ferrara: Dorothy Madison, Juliet Clark, June Yun, Liam Gallego, Viviana Elizarraraz, David Alemana, Jaelyn Yeon, Brayden Lambson and Solomon Lee
Miss Chalmers: Noah Hitomi, Abigail Hong, Abigail Kim, Rebecca Lee, Aubrey Tiotuico and Avery Tiotuico
Mr. Christensen: Kayden Kang, Jessica Choi, Julia Estrella, Aiden Lee, Trisha Patel, Genesis Quiette, Jonathan Wihardja and Amy Song
Presidential Gold awards
Mrs. Ferrara: Lauren Lee and Ariel Kim
Miss Chalmers: Justin Ang and Terah Nohl
Mr. Christensen: William Kim, Leo Lee and Ashley Park
PHOTO CAPTIONS:
060320_BUENAPARK_EMERYPROMOTION1: Emery School sixth-grader Dorothy Madison stands with her family and their decorated van as they celebrate her promotion to the seventh grade during the school's drive-through ceremony on May 28.
060320_ BUENAPARK_EMERYPROMOTION2: Emery School sixth-grader Noah Hitomi celebrates his promotion to the seventh grade and class honors, including a Presidential Silver Award, during the school's drive-through ceremony on May 28.
060320_ BUENAPARK_EMERYPROMOTION3: Emery School fifth-grader Maxwell V. receives his promotion certificate, class photo and a goody bag during the school's drive-thru ceremony on May 28.
Close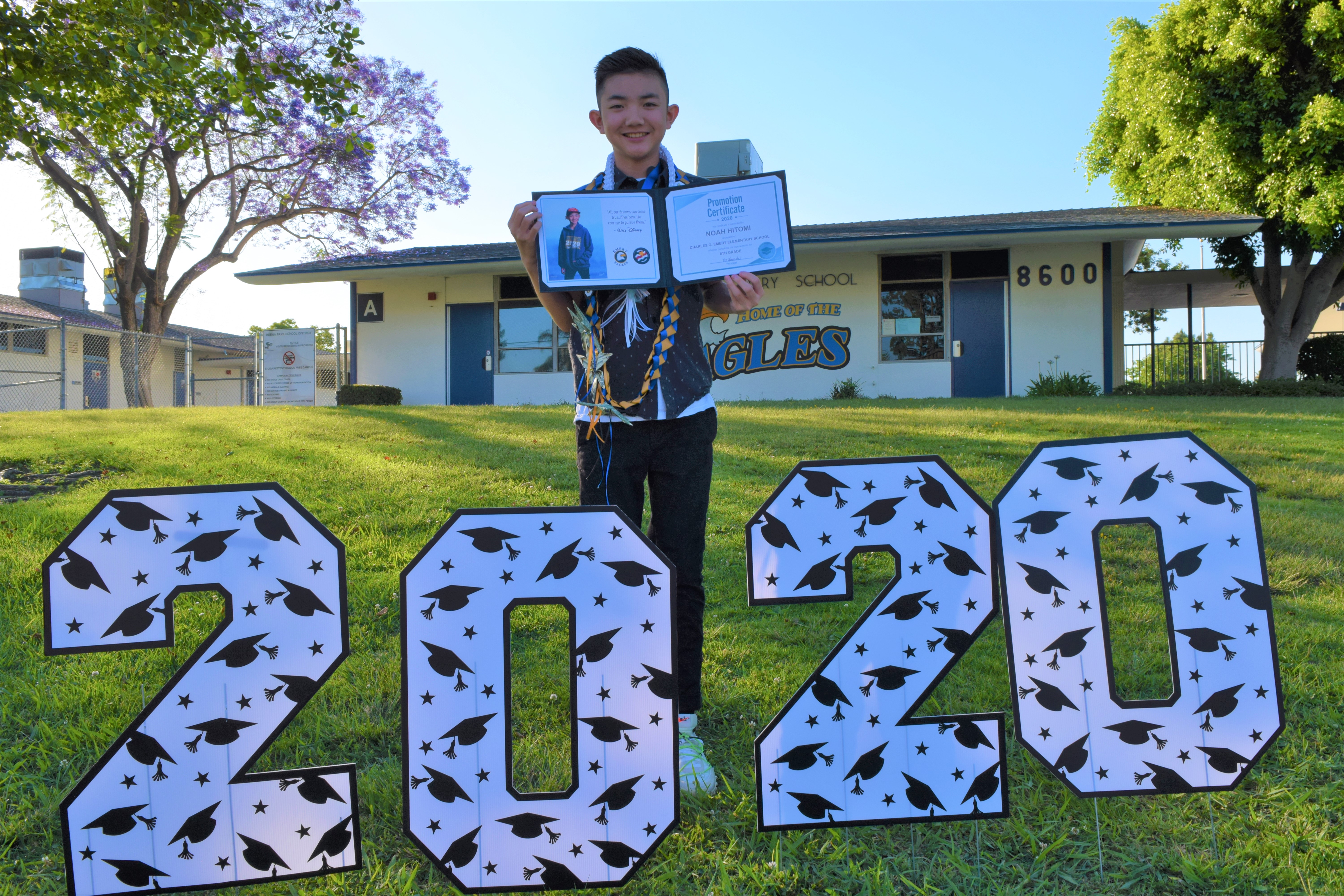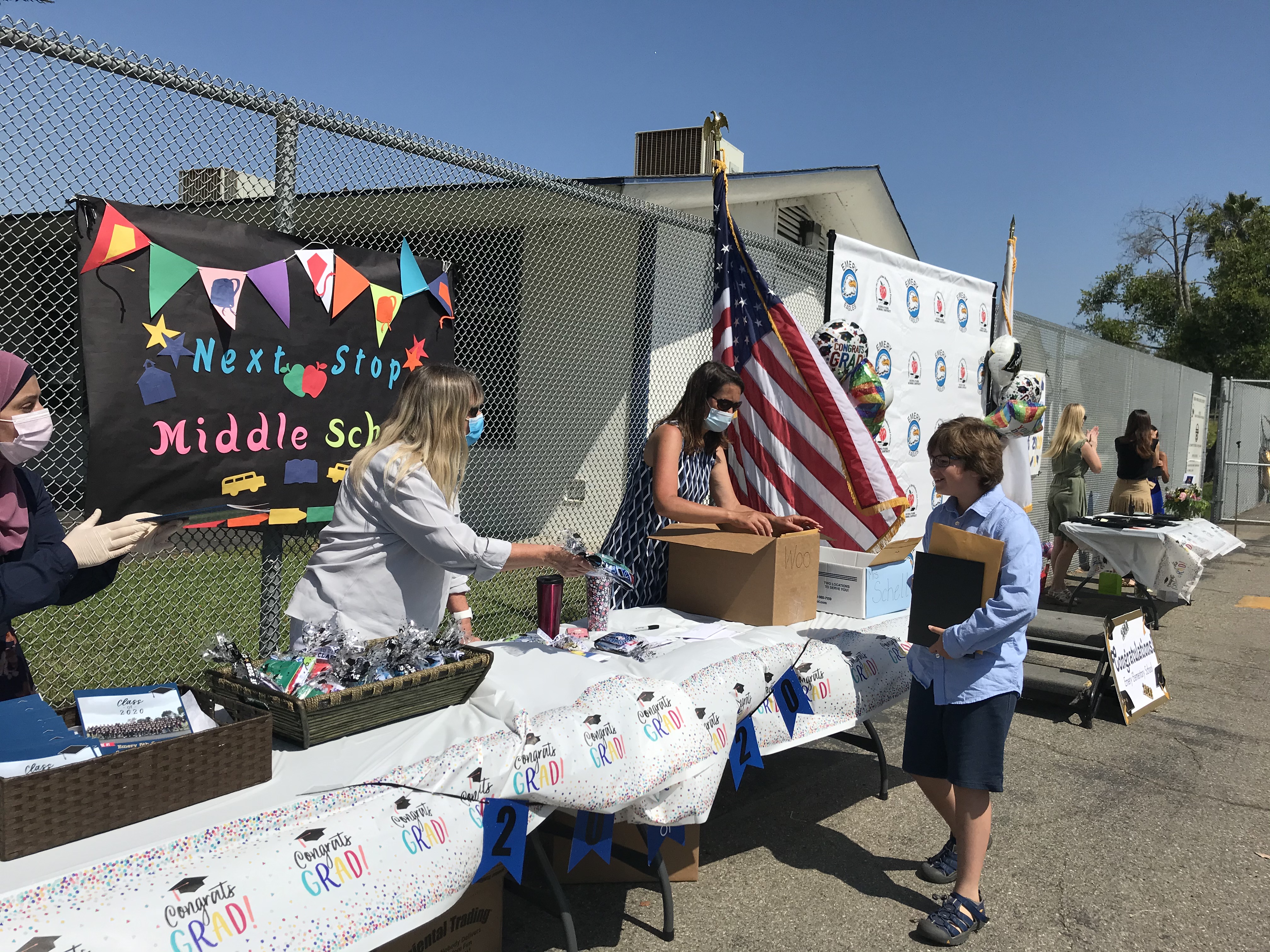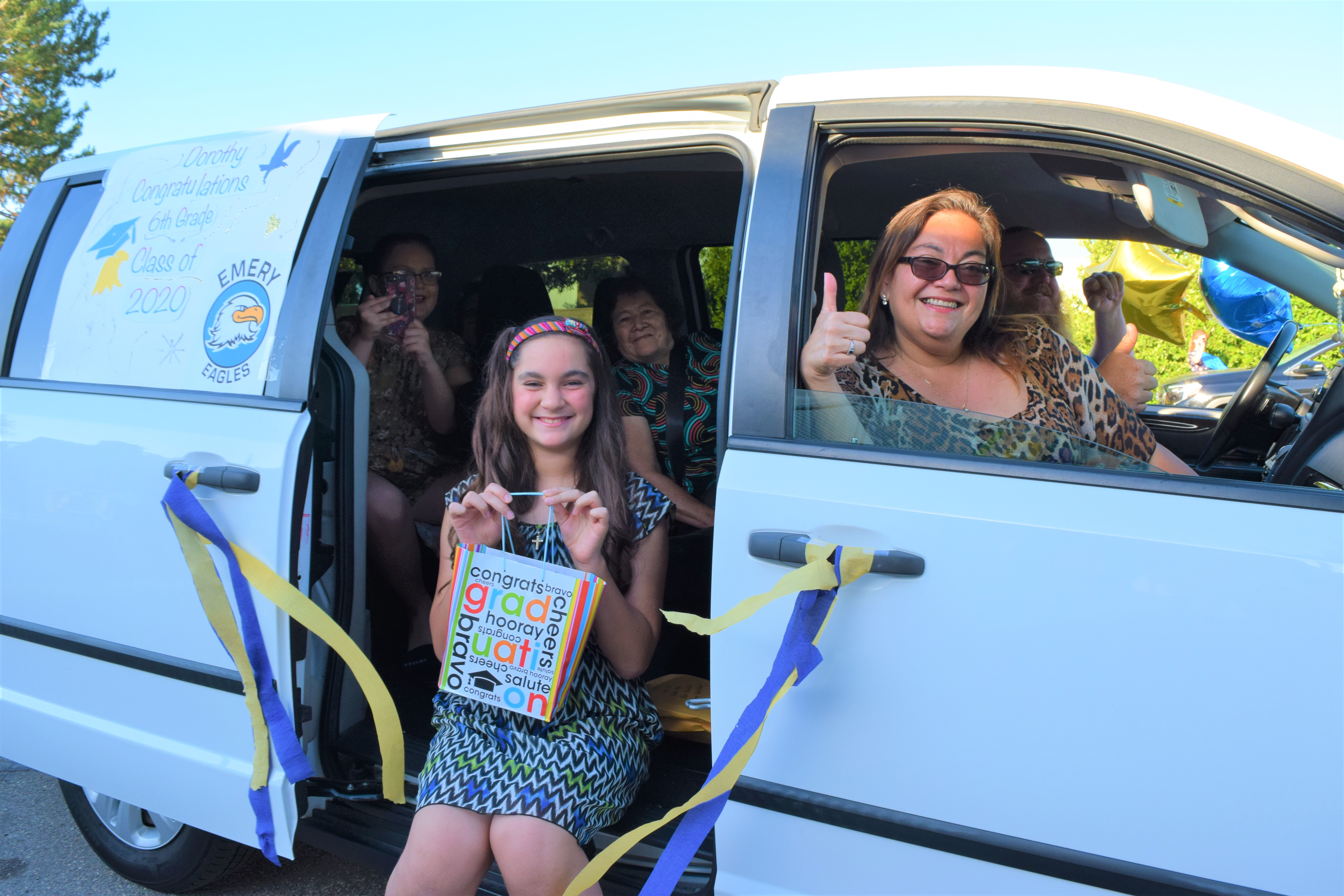 Emery School Hosts Promotion Ceremonies for 5th, 6th Grades

Image Title

EMERYPROMOTION2

Image Caption

060320_ BUENAPARK_EMERYPROMOTION2: Emery School sixth-grader Noah Hitomi celebrates his promotion to the seventh grade and class honors, including a Presidential Silver Award, during the school's drive-through ceremony on May 28.

Right-click on the image to save

Image Title

EMERYPROMOTION3

Image Caption

060320_ BUENAPARK_EMERYPROMOTION3: Emery School fifth-grader Maxwell V. receives his promotion certificate, class photo and a goody bag during the school's drive-thru ceremony on May 28.

Right-click on the image to save

Image Title

EMERYPROMOTION1

Image Caption

060320_BUENAPARK_EMERYPROMOTION1: Emery School sixth-grader Dorothy Madison stands with her family and their decorated van as they celebrate her promotion to the seventh grade during the school's drive-through ceremony on May 28.

Right-click on the image to save