Students Awarded for STEAM Skills at Buena Park School District Showcase
BUENA PARK, CA – Emery School students put their creativity to the test by crafting musical instruments from trash, designing ways to save the Earth's resources and powering miniature cars from balloons during a science, technology, engineering, art and mathematics (STEAM) Showcase on May 11 and 12.
Emery School's STEAM Showcase is part of the school's Passion Program theme "Thinkers, Scholars and Active Citizens move full STEAM ahead to a successful future." The school's Passion Program provides a STEAM focus to its students to prepare them for middle school, high school, college and the workforce.
The showcase was held in lieu of the school's regular open house event, where students presented their project and received their awards.
"It was such a joy to see students and their families at our STEAM Showcase," Principal Julie Linnecke said. "They were beaming with pride and their projects were impressive."
The top two students from each class were awarded for their work, recognizing its creativity or innovation.
Second-grade teacher Ana Ngo said she was thoroughly impressed with the creative ways her students grew plants through mazes and was happy to see them use their knowledge in horticulture for the showcase.
"We are so proud of all our Emery School students for working so hard to make this STEAM Showcase a success," Superintendent Dr. Ramon Miramontes said. "All of the projects were amazing and this event really highlights the wonderful job our teachers are doing to instill a love of science, technology, engineering, arts and math in our students."
Creativity Award Winners: Jackson Y., William L., Hanna M., Jacob H., Vivian P., Luke A., Elijah K., Love L., Kate B., Danny K., Marcos B., Yuna K., Yoonha K., Elena I., Eunice L., Faith L., Eli H., Juliet A., Kristine L., Hyeonjun C., Julio A., Amy K., Shizhen J., Tyler C., Joslyn M., Joshua N. and Elliot B.
Innovative Award Winners: Riley U., Isaac C., Vivianna P., Thomas H., Richen H., Ethan P., Eugene C., Alvin P., Robert K., Nayana V-C., Brayden L, Tate H., Claire M., Liam S., Bennett L., Alexander G., Rachel K., Nathan Y., German B., Noah K., Jaela H., Aahan S., Isaiah A., Nicholas S., Logan G., Emily C., Elliot B. and Aiden G.
PHOTO CAPTIONS:
BUENAPARK_STEAM1: Emery School first-grader Annette K. shows off her heart-shaped guitar, made entirely from recycled materials. Annette K. presented her homemade instrument at her school's STEAM Showcase.
BUENAPARK_STEAM2: Emery School second-grader Marcos B. shows off her Creativity Award, which he won for his plant maze. Marcos B. presented his maze and received his award during his school's STEAM Showcase.
Close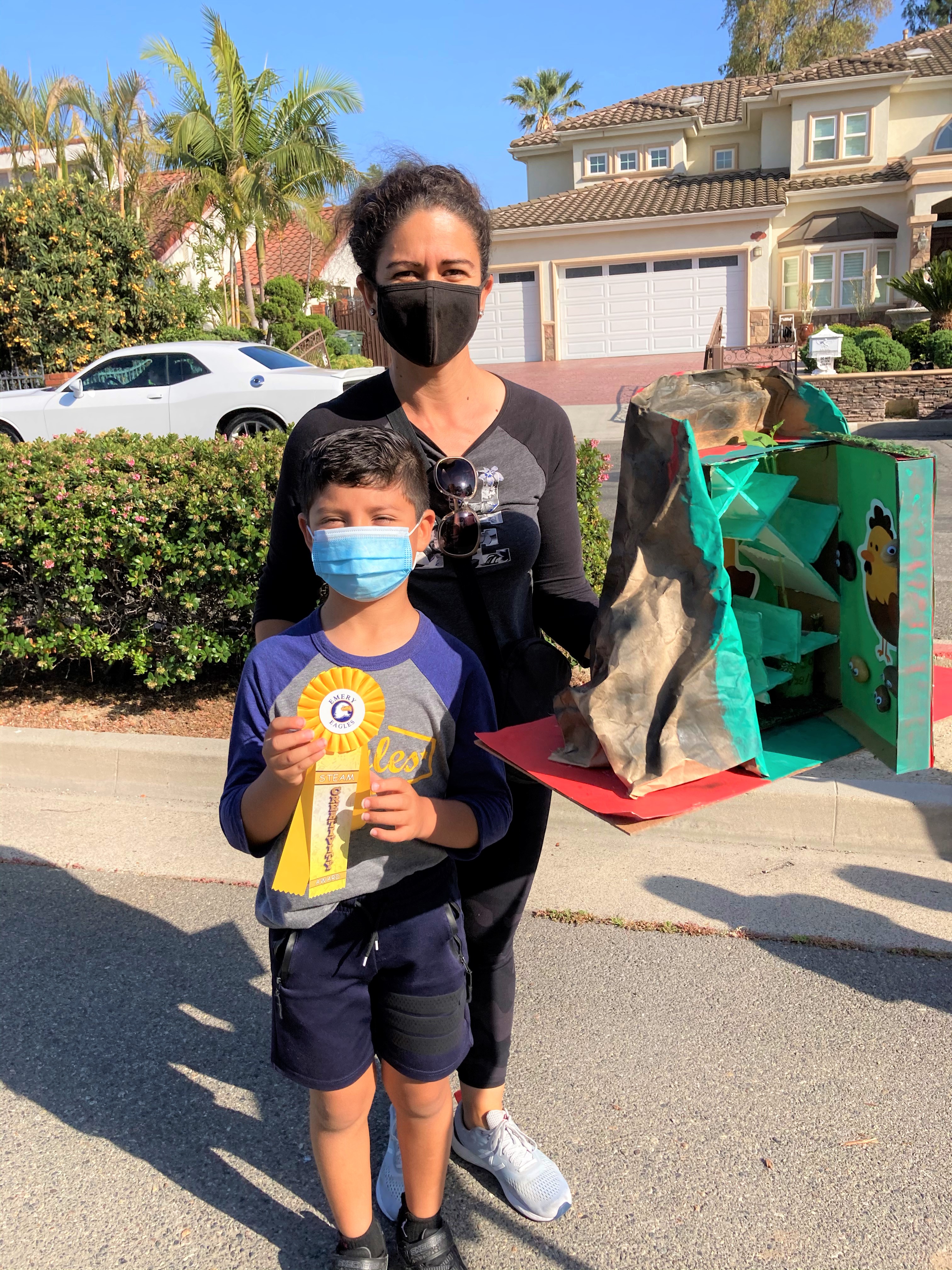 Students Awarded for STEAM Skills at Buena Park School District Showcase

Image Title

STEAM1

Image Caption

BUENAPARK_STEAM1: Emery School first-grader Annette K. shows off her heart-shaped guitar, made entirely from recycled materials. Annette K. presented her homemade instrument at her school's STEAM Showcase.

Right-click on the image to save

Image Title

STEAM2

Image Caption

BUENAPARK_STEAM2: Emery School second-grader Marcos B. shows off her Creativity Award, which he won for his plant maze. Marcos B. presented his maze and received his award during his school's STEAM Showcase.

Right-click on the image to save