San Gabriel Unified School District
San Gabriel Unified Elementary's Cinco de Mayo Celebration Highlights Mariachi, Folkloric Dance
SAN GABRIEL, CA – Roosevelt Elementary students and families enjoyed the sounds of Mariachi and the flair of folkloric dance during an early Cinco de Mayo celebration on May 3, which highlighted the school's Music Immersion Experience (MIE) electives and promoted intercultural understanding.
Roosevelt fourth- and fifth-grade Mariachi band students sang and played guitars, violins and trumpets to the tune of "Cerca del Mar," "La Bamba" and "De Colores" while second- through fifth-grade folkloric dance students performed traditional dances from Chihuahua, Guadalajara and other cities in Mexico.
"This event is about celebrating what brings our community, our families and our students together," Roosevelt Principal Cheryl Labanaro Wilson said. "Our Cinco de Mayo celebration is a culmination of everything our students are learning, which is song, dance and playing instruments, all wrapped up into one performance – it's incredible to see how far they have come."
Families also enjoyed performances from professional Mariachi artists and folkloric dancers, a taco truck, and ended the evening with a PTA movie night. The professional performances featured MIE resident artist Paulina Nuñez, who helps teach the Mariachi and folkloric dance electives.
"Mariachi music is a culturally rich artistic experience that teaches students important life skills through performance, and how to work together as a group," MIE coordinator Samantha Theisen said. "We are proud to have a thriving Mariachi band that enriches the academic experience and grows each year."
PHOTO CAPTION:
SANGAB_CINCODEMAYO: Roosevelt Elementary fourth-grader Maybellie Mendez performs "La Bamba" alongside her classmates during her school's Cinco de Mayo celebration on May 3.
Close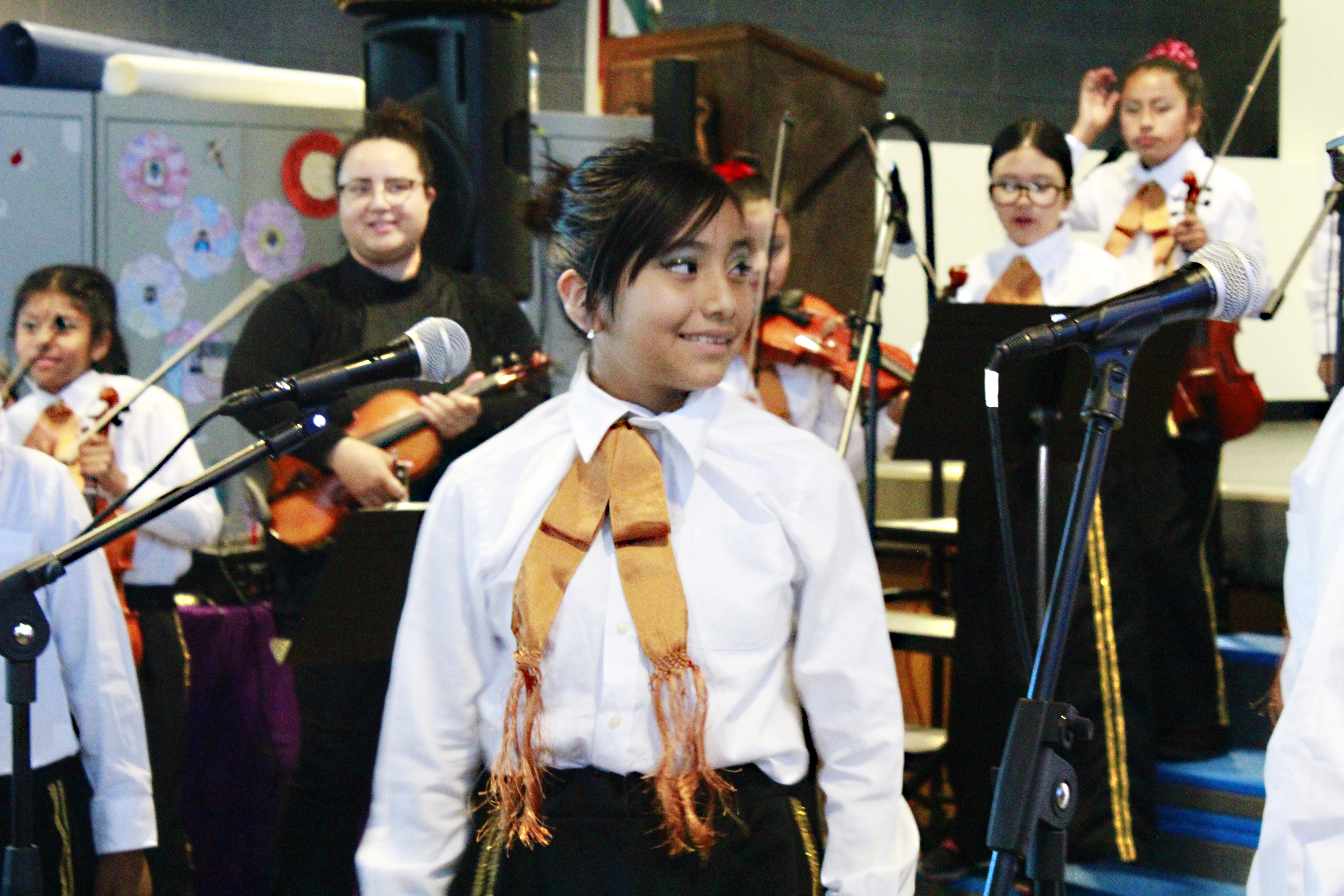 San Gabriel Unified Elementary's Cinco de Mayo Celebration Highlights Mariachi, Folkloric Dance
San Gabriel Unified School District
Image Title

SANGAB_CINCODEMAYO

Image Caption

SANGAB_CINCODEMAYO: Roosevelt Elementary fourth-grader Maybellie Mendez performs "La Bamba" alongside her classmates during her school's Cinco de Mayo celebration on May 3.

Right-click on the image to save