Río Hondo College to Host Public Virtual Coffee Talk with Superintendent/President
WHAT: Río Hondo College Superintendent/President Dr. Marilyn Flores will host "Un Cafecito at a time" or "One Coffee at a time" virtual chat to meet with community members and the public at large. The audience will help drive the conversation with the questions they ask and the comments, suggestions, and feedback they share over coffee during this open to the public event.
Dr. Flores, who started her tenure as Superintendent/President of Río Hondo College on July 1, 2022, launched "Un Cafecito at a time" in January 2023 as a monthly conversation with the campus community. More than 60 students, faculty and staff attended the first Cafecito chat in January before the spring semester started and more than 70 attended each of the February and March events.
The Cafecito dialogue in April is meant to serve as an ongoing way for Dr. Flores to immerse herself into the community, build camaraderie with the public, hear new ideas and innovative approaches to ensure Río Hondo College continues to meet the needs of the community.
WHEN: 8:30 to 9:30 a.m., Friday, April 21
DETAILS: To join this public virtual event, click on the following Zoom link.
Close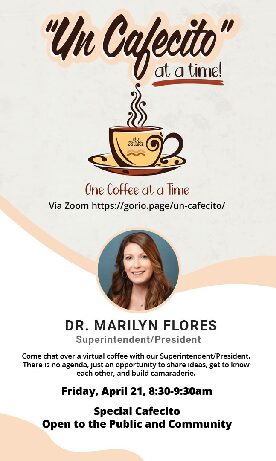 Río Hondo College to Host Public Virtual Coffee Talk with Superintendent/President
Image Title

Cafecito-Flyer

Right-click on the image to save