Rio Hondo College Foundation Set for 7th Annual 'A Taste of Rio' Fundraiser for Student Scholarships
WHITTIER – More than 700 guests are expected to sample artisan cuisine, fine wine and craft beer during the Rio Hondo Foundation's seventh annual "A Taste of Rio" event at 6 p.m. Friday, April 26.
The event, which supports Rio Hondo student programs and scholarships, will feature more than two dozen local restaurants, music and over 100 opportunity drawings.
" 'A Taste of Rio' grows in stature every year, and through our local partnerships we are able to offer more incentives and gifts – all to benefit Rio Hondo students," Superintendent/President Teresa Dreyfuss said.
"It's a tremendously entertaining night with the community engaging with local vendors and helping the Foundation fulfill its mission to promote student success."
The Rio Hondo Foundation launched 'A Taste of Rio' in 2012. The event has become a significant component of the Foundation's fundraising efforts, with the 2017 and 2018 events selling out. All money goes to fund student scholarships and support services.
"The Foundation has set a goal to raise $100,000 for student scholarships in 2019," Foundation Interim Executive Director Henry Gee said. "As 'A Taste of Rio' expands, we are able to bring more diversity to the event, which leads to stronger support not only for our students, but for the Rio Hondo community."
"Each year, 'A Taste of Rio' brings together community members in support of Rio Hondo College students," Foundation President Dr. Carmella Franco added. "It's a celebration on so many levels that results in positive outcomes for the students who represent our community's future."
The event will include banners featuring students who represent "The Face of Rio" – those who have been assisted by the funds raised during the annual event.
This year, the banners will feature: Bailey Garcia, who earned an associate degree in philosophy and transferred to UC Berkeley; Justin Chow, who earned an associate degree in arts and transferred to Cal State Long Beach; Yarisma Rocha, who earned an associate degree in business and transferred to USC; and Brenda Coronel, who earned an associate degree in psychology and transferred to UCLA.
Restaurants participating in the event include: Angry Horse Brewing, Annette's Pizzeria, Brewjeria, California Grill, Campus Food Service, Catering by Herach and Ara, Chef Dalton Wilson, Clearman's Steak 'n Stein, Double Tree by Hilton Whittier, El Coraloense, Juan Great Fiesta, Lagunitas, Lascari's, Laura's Goodies, Masataco, Simply Southern, South Central Brewing, Starwood Brewery, Tacos El Torito, Tacos N Miches, Tepeyac Restaurant and Tequila Sports Bar, The Commoner, The Green Leaf Thai and Zapien's Salsa.
The event's Gold Sponsor is Del Terra; Silver Sponsors include Fairplex and L.A. County Supervisor Janice Hahn. More than 50 additional sponsors are supporting the event and promoting student success through their generous support.
A $75 VIP Access ticket includes exclusive access to select spirits, wine and craft beer, a souvenir glass and a VIP gift; pre-registration tickets for restaurant, beer and wine tastings are $35; general admission at the door is $50. All attendees must be 21 or older. For information, go to www.riohondo.edu/a-taste-of-rio or call (562) 908-3476.
"This is an event that the community talks about all year long," Board of Trustees President Gary Mendez said. "Just as Rio Hondo students are developing new skills and enhancing career opportunities, our local vendors are bringing new taste treats to campus and increasing their visibility within the community."
Three levels of opportunity baskets will be offered, with a minimum prize value for each level. Classic baskets are valued up to $200 with tickets at $5 apiece; Premium baskets are valued at a minimum of $300, with tickets at $10; Fund-A-Scholarship prizes are valued at $750 and above, with tickets at $100. All levels offer multiple-ticket discounts and are available online.
PHOTOS

RHC_TASTE_2018: More than 700 guests are expected to sample artisan cuisine, fine wine and craft beer during the Rio Hondo Foundation's seventh annual "A Taste of Rio" event at 6 p.m. Friday, April 26. The event sold out in 2018 and 2017.
Close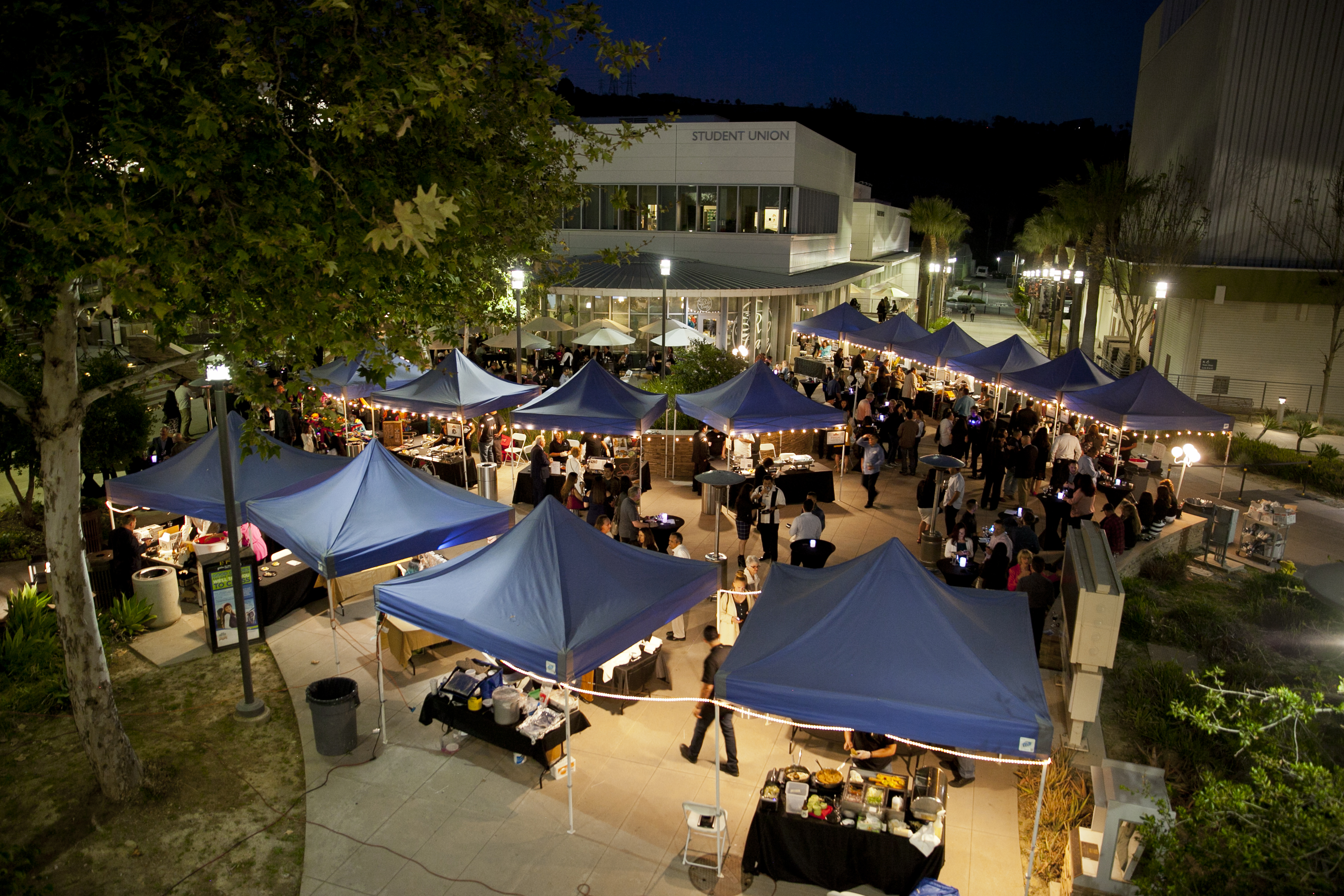 Rio Hondo College Foundation Set for 7th Annual 'A Taste of Rio' Fundraiser for Student Scholarships
Image Title

RHC_TASTE_2018

Image Caption

RHC_TASTE_2018: More than 700 guests are expected to sample artisan cuisine, fine wine and craft beer during the Rio Hondo Foundation's seventh annual "A Taste of Rio" event at 6 p.m. Friday, April 26. The event sold out in 2018 and 2017.

Right-click on the image to save