Río Hondo College Board of Trustees Seeks Applications to Fill Vacancy in Trustee Area 1 through December 2022
WHITTIER – Río Hondo College Board of Trustees is seeking applicants to serve the remaining term of trustee Norma Edith García, who stepped down from the governing board in July.
The board expects to conduct interviews next month and appoint a new member in late September. The member will serve until García's term ends in December 2022.
To be eligible to serve as a member of the governing board, applicants must:
• Be 18 years or older;
• Be a citizen of the United States;
• Be a resident of the Río Hondo Community College District Area 1, which includes El Monte;
• Be a registered voter in the State of California;
• Not be disqualified from holding a civil office by the Constitution or the laws of the State of California.
Individuals interested in being considered for the appointment must submit a Declaration of Appointment form and a brief resume to:
Río Hondo Community College District
President's Office, A-101
3600 Workman Mill Road
Whittier, CA 90601
Email: RDGallegos@riohondo.edu
The Declaration of Appointment form can be obtained from the District website under the President's Office www.riohondo.edu/board-vacancy. It must be received by the President's Office by 5:00 p.m., Thursday Sep. 3, 2020 – no forms will be accepted after 5:00 p.m. For more information about the vacancy, call (562) 908-3403. Specific questions regarding residency in Area 1 may be directed to the Los Angeles County Registrar/Recorder/County Clerk website.
Close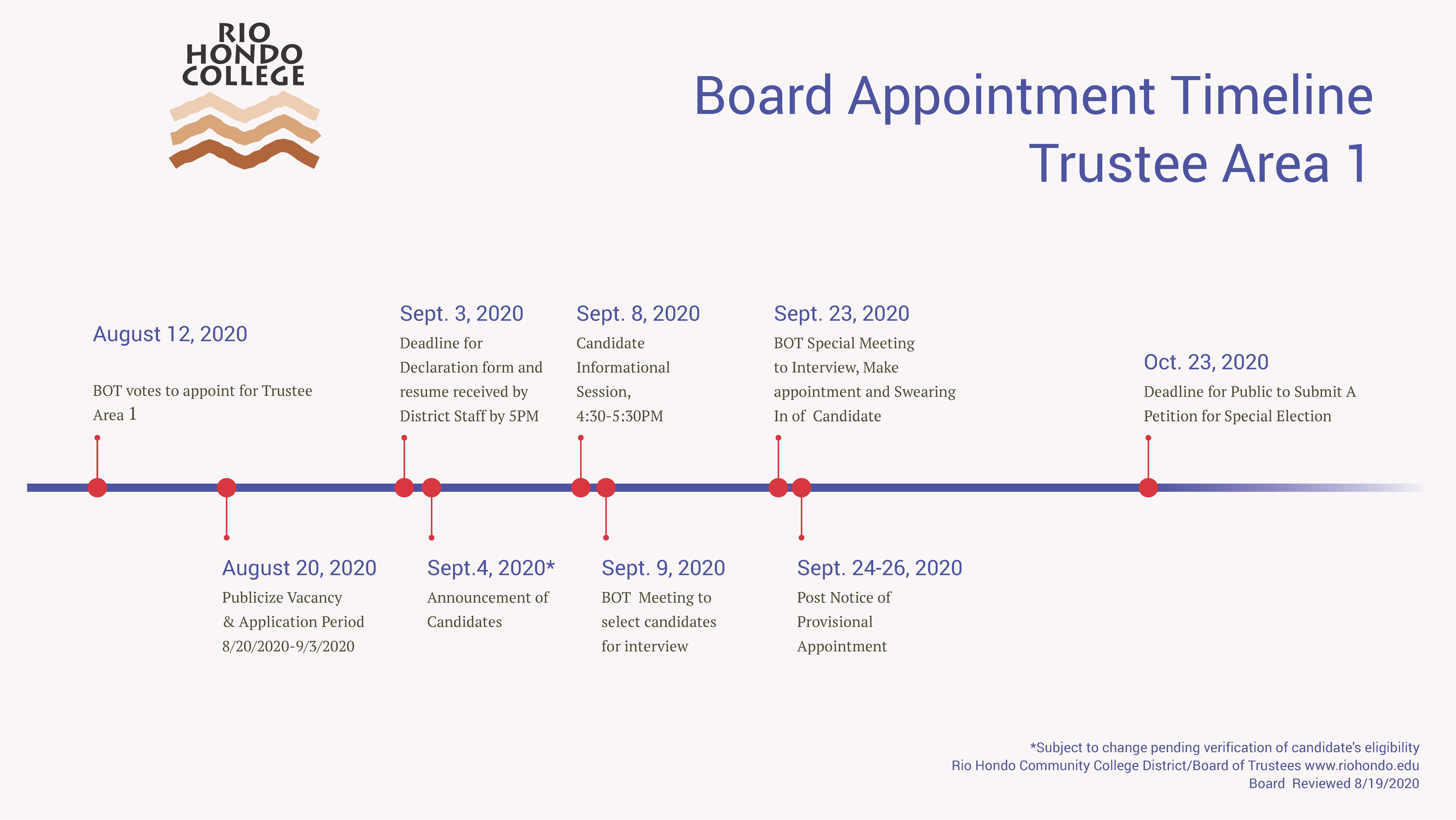 Río Hondo College Board of Trustees Seeks Applications to Fill Vacancy in Trustee Area 1 through December 2022
Image Title

08.20.2020 Board Appointment Timeline Trustee Area

Right-click on the image to save