Paramount Unified School District
Paramount Seniors Honored by the National Merit Scholarship Corporation
Paramount, CA – Paramount High School senior Rebecca Mejia has been recognized as a National Merit Commended Scholar and seniors Edward Quezada and Jocelyn Ureña have received certificates from the National Hispanic Recognition Program for outstanding scholastic achievement.
Mejia was recognized for finishing near the top 34,000 in the U.S. in the 2018 PSAT/National Merit Scholarship Qualifying Test. A four-year varsity cross country athlete, she maintains a 4.41 GPA and hopes to pursue environmental studies at UC Davis. She also created a green club among her cross country team members that picks up trash at Paramount High School's West Campus.
"I'm really interested in environmental sustainability and trying to improve the world around me," Mejia said. "It's definitely an honor to be named a Commended Scholar, which lets me know I'm moving in the right direction."
Quezada has found himself moving in the direction of technology. He attended the California State Summer School for Mathematics and Science over the summer at UC Irvine where he fed his appetite for computer science. He is now starting a cybersecurity club where his peers can collaborate to learn the basics of encryption.
"I think artificial intelligence and technology innovation is the future, and I'd like to be a part of it," Quezada said.
Ureña is studying in the District's Patient Care Pathway and plans to become a gynecologist, but she is also inspired by the arts. Last year, she won a playwright competition for her original work, "Bumps in the Night," which was performed by a local theater.
"Having actors perform my work and interpret my words was amazing," Ureña said. "It really inspired me to keep pursuing my passions in all areas of my life."
The National Hispanic Recognition Program recognizes about 7,000 academically outstanding Hispanic/Latino high school juniors who take the PSAT/NMSQT.
Paramount Unified waives the registration fee for the PSAT and SAT to allow students to test free of charge and remove any financial barriers keeping them from success.
"These three scholars are thriving inside the classroom and out and are truly a wonderful example of what's possible for our students with hard work and purpose," PUSD Superintendent Ruth Pérez said. "We're all very proud of what these students have accomplished and look forward to the successes still in store for them."
PHOTO CAPTION:
102819_PARAMOUNT_SCHOLARS: Paramount High School seniors (left to right) Edward Quezada, Jocelyn Ureña and Rebecca Mejia were each honored by the National Merit Scholarship Corporation for outstanding scholastic achievement.
Close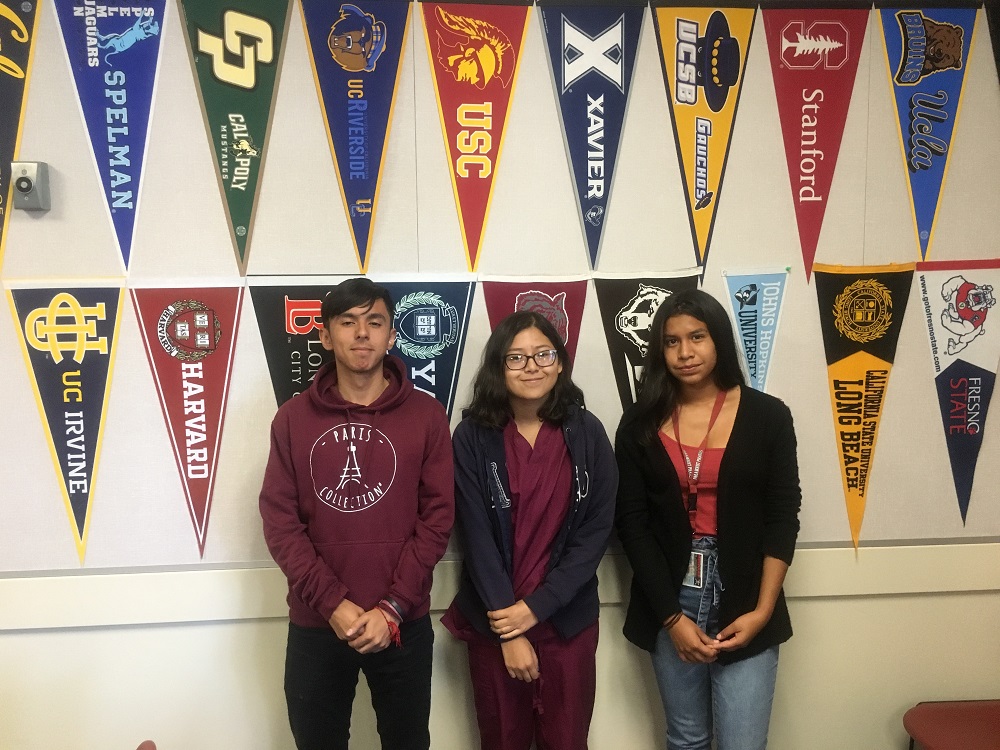 Paramount Seniors Honored by the National Merit Scholarship Corporation
Paramount Unified School District
Image Title

102819_PARAMOUNT_SCHOLARS

Image Caption

102819_PARAMOUNT_SCHOLARS: Paramount High School seniors (left to right) Edward Quezada, Jocelyn Ureña and Rebecca Mejia were each honored by the National Merit Scholarship Corporation for outstanding scholastic achievement.

Right-click on the image to save