Monrovia Unified School District
Monrovia Unified 2018 Teacher of the Year Honored at Board Meeting
MONROVIA, CA – Rebecca Alarcon, a special education teacher at Wild Rose School of Creative Arts, engages students with sing-alongs throughout the day and creates an atmosphere of trust in her classroom, an approach that has garnered her Monrovia Unified's 2018 Teacher of the Year Award.
Family, friends, teachers, and administrators filled the Monrovia Unified Board Room on Nov. 14, bringing flowers and gifts to honor Alarcon, teacher of 10 years, for the achievement.
Alarcon teaches transitional kindergarten through second grade and recognizes the challenges students face every day. By approaching each student individually and taking time to listen, she ensures her students are feeling heard and understood.
"I think she is really nice," first-grader Katie Rodriguez said. "She works with us and I enjoy having her as a teacher because she always makes the classroom fun. I like that we get tokens for answering questions and participating because then we get a prize from the treasure chest, and that's exciting."
Alarcon, who grew up in Monrovia and attended Wild Rose, refers to herself as a "proud Monrovian." She credits many of her Monrovia educators for inspiring her to become a teacher.
"It is because of all of them that I am who I am today," Alarcon said. "I teach because I am passionate about it, and being at Wild Rose makes is that much more special for me. I am thankful to have the opportunity to play such an important role in my students' life but, most importantly, thankful that you all trust me to lead our students down a path of success."
A typical day in Alarcon's classroom consists of lessons that are differentiated to meet the needs of the students, as well as support engagement in the common core standards. Alarcon starts each day with a morning meeting where students are greeted with learning experiences about the calendar and tracking weather patterns.
"We are proud of Rebecca Alarcon for being an inspiration to her students as a former student, parent and now teacher, and showing them that anything is possible," Board President Terrence Williams said. "Monrovia Unified is lucky to have an educator like her, who always puts the needs of her students first before anything else."
During the board meeting, Alarcon was recognized by Monrovia's Board of Education, personnel commissioners, Wild Rose Principal Leslie Rapkine-Miller, and Superintendent Katherine Thorossian. She was presented with flowers, gifts, and a certificate.
"Monrovia Unified prides itself in having educators who are dedicated to students and have a deep passion for what they do," Superintendent Katherine Thorossian said. "Becky's commitment, enthusiasm, and expertise reflect the very best of Monrovia's teachers."
PHOTO CAPTIONS:
11-14-18_MUSD_TOTY1: Rebecca Alarcon (center), who was honored as Teacher of the Year during Monrovia Unified's board meeting on Nov. 14, stands with her Wild Rose School of Creative Arts family, who brought flowers and gifts to celebrate her achievement.
11-14-18_MUSD_TOTY2: Teacher of the Year Rebecca Alarcon, who was honored during Monrovia Unified's board meeting on Nov. 14, ensures success in the classroom by making sure each student has time to work with her individually.
Close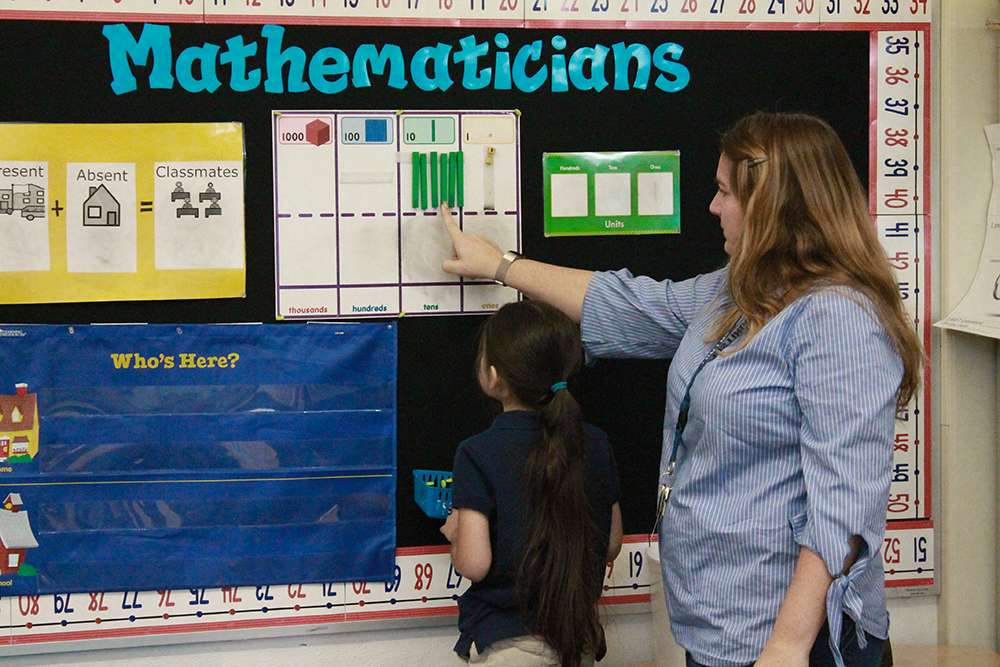 Monrovia Unified 2018 Teacher of the Year Honored at Board Meeting
Monrovia Unified School District
Image Title

11-14-18_MUSD_TOTY2

Image Caption

Teacher of the Year Rebecca Alarcon, who was honored during Monrovia Unified's board meeting on Nov. 14, ensures success in the classroom by making sure each student has time to work with her individually.

Right-click on the image to save