Lynwood Unified School District
Lynwood Unified Chief of Security in the Running for K-12 Campus Safety Director of the Year
LYNWOOD, CA. – Lynwood Unified School District Chief of Security Paul Garcia has been named a K-12 Campus Safety Director of the Year finalist by the Campus Safety Magazine for his efforts to foster safe school communities for students, families and staff.
Garcia – who was first hired as a substitute security officer 20 years ago – has risen through the ranks and is now one of seven nominees in the nation to be selected for the honor.
"Working with youths has created my passion to come to work every day, knowing that I can help someone start on the right path," said Garcia, a former at-promise youth who was inspired by mentors to pursue a career in public service.
"The most rewarding thing for me is seeing our students begin their early childhood education with our District and one day see them walking across the stage to accept their high school diploma," he added.
Under Garcia's leadership, the District has upgraded campus video surveillance and access control systems to ensure continued safety across Lynwood Unified schools.
The District's visitor management system, for instance, quickly screens visitors and provides them with a temporary pass, while an intercom access control system requires visitors to check in at the front entrance and identify themselves via a camera and microphone.
Garcia has also implemented an anonymous reporting tool, resulting in a 5% reduction in student suspensions and 1,500 students being connected to mental health services.
"Chief Garcia has been instrumental in ensuring our students and staff feel safe when they arrive to school, ready to learn and work in a safe and nurturing environment," Superintendent Dr. Gudiel Crosthwaite said. "We are so proud of Chief Garcia and the entire Campus Safety team for their support and dedication to keeping our school community safe."
The winner will be announced at the Campus Safety Conference-West in July 2023.
PHOTO CAPTION
LUSD_GARCIA_1: Lynwood Unified School District's Chief of Security, Paul Garcia, is in the running for 2023 Campus Safety Director of the Year for his role in keeping the District community safe.
Close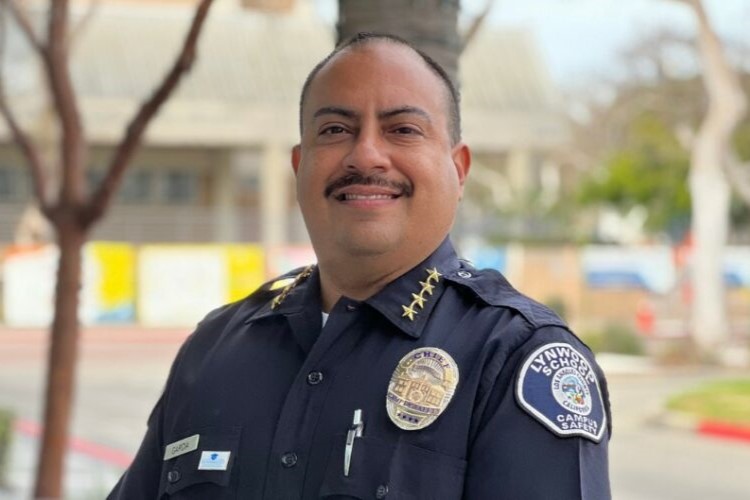 Lynwood Unified Chief of Security in the Running for K-12 Campus Safety Director of the Year
Lynwood Unified School District
Image Title

LUSD_GARCIA_1

Image Caption

LUSD_GARCIA_1: Lynwood Unified School District's Chief of Security, Paul Garcia, is in the running for 2023 Campus Safety Director of the Year for his role in keeping the District community safe.

Right-click on the image to save