Lynwood Unified School District
Lynwood Unified Celebrates Student Talent and Cultivates Potential During Black Teen Summit
Lynwood – Firebaugh High School sophomore Elijah Arch always imagined the college experience as a stressful one, full of exams, assignments and little else. Arch has revised his thinking after attending the District's seventh annual Black Teen Summit where he met college students who shared enriching experiences that transcend any midterm.
Arch was one of nearly 250 students from Lynwood Unified's high schools who learned about college life, entrepreneurship, and job and career resources during the Feb. 18 event, which was themed "Proud to be me – From Struggle Comes Strength."
"I look at college as a more complete experience now, and a place where I can grow as a person," Arch said. "In addition to my academic path, I can explore athletics, clubs and groups, and build relationships that will have a positive impact on my life."
Lynwood Unified's Equity, Access and Instructional Services Department partnered with the District African American Advisory Parent Council, the LUSD Young Black Achievers Student Unions, and The National College Resources Foundation (NCRF) for the summit, aimed at increasing academic achievement and college-going rates.
Author Pamela Sye joined the program to inspire students with messages of empowerment and perseverance.
LaMahr T. Wilkins, Sergeant of the Compton USD Police Department, stunned students by walking into a classroom in civilian clothes only to later reveal his identity. He enlightened the students on civilian rights and positive encounters with police.
NCRF's The Movement Enrichment Program peer advisory spoke candidly about the college experience, sharing stories of study habits, internships and failed relationships.
CEO of Small World Social Media Company, Ronell Miller engaged students with a workshop on entrepreneurship and how to start and sustain your own business.
Lynwood Superintendent Gudiel R. Crosthwaite, and Assistant Superintendent Shawna Dinkins, also spoke to students sharing their life experiences of overcoming obstacles to reach their goals.
"We wanted to showcase a diversity of perspectives for our young scholars, hoping that they would see aspects of themselves in our successful speakers and realize what they can achieve in their own lives," said Dr.
Patricia Brent-Sanco, Lynwood Unified Equity Director. "I want to thank the entire Equity staff, including Larry Reed and Shirley Davis, for working so tirelessly to create a summit that connected to our students."
The District's students also showcased their diverse talent throughout the summit through spoken word poetry and tributes to the late Kobe Bryant and Nipsey Hussle.
"The Black Teen Summit creates a positive environment where we all invest in our students while celebrating their talent and potential," Crosthwaite said. "We want to thank DAAAPC, our guest speakers, and everyone who worked to create this awesome event."
PHOTO CAPTIONS
021920_LUSD_SUMMIT1: The Movement Enrichment Program peer advisors spoke to Lynwood Unified high school students about college experiences during the Black Teen Summit on Feb. 18.
021920_LUSD_SUMMIT12: Author Pamela Sye provided a message of empowerment and perseverance during the Black Teen Summit on Feb. 18. She was among guest speakers who inspired students to reach for their goals.
Close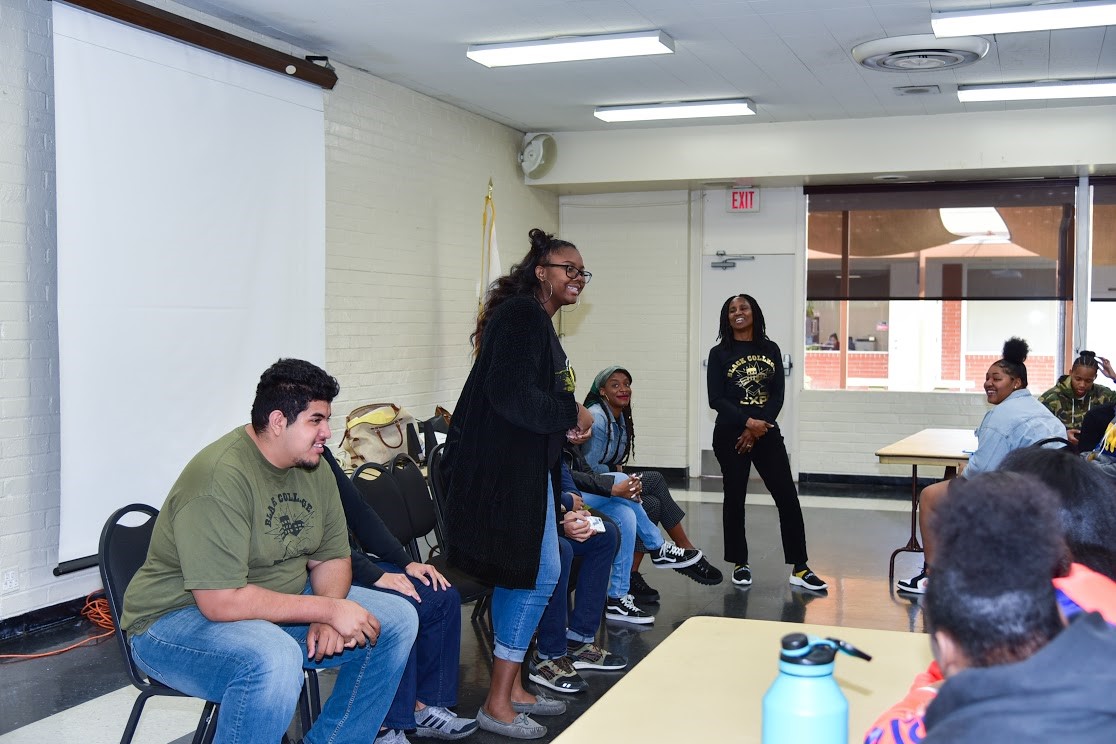 Lynwood Unified Celebrates Student Talent and Cultivates Potential During Black Teen Summit
Lynwood Unified School District
Image Title

Summit 3

Image Caption

021920_LUSD_SUMMIT1: The Movement Enrichment Program peer advisors spoke to Lynwood Unified high school students about college experiences during the Black Teen Summit on Feb. 18.

Right-click on the image to save