Lynwood Unified School District
Lynwood Unified Celebrates Ribbon Cutting for New St. Anne's Family Services Early Learning Center
Lynwood – Leaders of Lynwood Unified School District and St. Anne's Family Services, joined LUSD Board members, elected officials, and educators to celebrate a ribbon-cutting ceremony on March 14 that commemorated a new early learning center that was two years in the making.
Superintendent Gudiel R. Crosthwaite joined Lorna Little, President and CEO of St. Anne's, to address an outdoor group of nearly 75 guests who gathered for the unveiling of a long-awaited project that will provide Early Head Start programs for infants ages 1-3 and their families.
"This is a great day for Lynwood – one that will provide extended childcare services to our families while creating increased opportunities for staff," Superintendent Crosthwaite said. "We are proud to partner with St. Anne's to collaborate on creating foundational success and brighter futures here in Lynwood."
The new facility is the result of a partnership between the District, St. Anne's, and the Los Angeles County Office of Education. A total of five classrooms have been added at Lugo and Abbott elementary schools serving a total of 164 children. Adding these services will also create an estimated 70 new full-time jobs.
The newly modeled classrooms feature state-of-the-art learning tools, as well as kitchen and laundry areas.
"We were very intentional about our classroom design choices and selected neutral colors which are more calming and support children in self-regulating their feelings and emotions," St. Anne's President Little said. "As an organization focused on diversity, equity, and inclusion, it is important for us to consider all aspects of our program to ensure every child who enters our center is set up for success – all the way down to the color of paint we use."
St. Anne's Board Chair, Vito Costanzo, also addressed the crowd and praised all partners for seeing the project through. Representatives from the office of Congresswoman Nanette Barragan, Assembly Speaker Anthony Rendon, and Los Angeles County Supervisor Janice Hahn were also in attendance, joining a large group of District educators who came to champion the project. The City of Lynwood presented a resolution to mark the occasion.
The increased support for children ages 1-3 will allow them to transition smoothly to Pre-K programs.
"These new resources will provide families with the tools they need to set their children on a successful path," LUSD Board President Alfonso Morales said. "As a result of today, we will have more prepared children who will grow into scholars."
PHOTO CAPTION
LUSD_STANNES1: Gathered leaders of Lynwood Unified School District and St. Anne's Family Services join elected official representatives in cutting the ribbon on a new early learning center on March 14.
LUSD_STANNES2: Lynwood Unified Board Member Dr. Alma Carina Castro uses new childhood learning tools in the newly modeled classrooms the District unveiled on March 14.
Close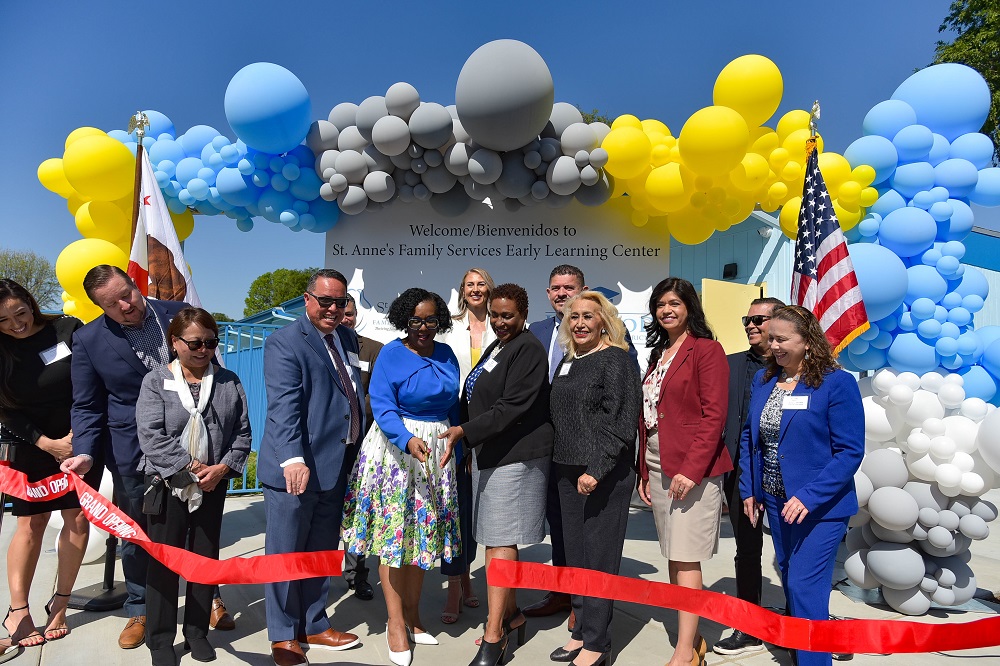 Lynwood Unified Celebrates Ribbon Cutting for New St. Anne's Family Services Early Learning Center
Lynwood Unified School District
Image Title

LUSD_STANNES1

Image Caption

LUSD_STANNES1: Gathered leaders of Lynwood Unified School District and St. Anne's Family Services join elected official representatives in cutting the ribbon on a new early learning center on March 14.

Right-click on the image to save