Lynwood Unified School District
Lynwood Unified Art Students Featured in International Online Art Exhibit
Lynwood – Throughout the COVID-19 pandemic, the artwork of Lynwood High School students explored the hopes and frustrations of surviving an era of distance learning, the loss of loved ones, and the displacement of friends and normal routines.
The Lynwood Unified artists joined with high school peers in Turkey and Canada to share these images as part of an international online art show, Without Borders: Without Fear, a collaboration between Lynwood High, Robert College in Istanbul, and Bishop Strachan School in Toronto.
"The pandemic has been very challenging for Lynwood students. It's nice for them to have this opportunity to showcase their work," Lynwood High School art teacher Luis Vega said. "The pieces are very expressive and nuanced. Not only are they true reflections of what Lynwood students have been experiencing in the last year and a half, but also how resourceful and resilient they are, finding the appropriate medium to express their creativity."
Ten LHS student art pieces were selected for the show and added to a gallery that includes artwork from Robert College, a renowned co-ed private high school in Istanbul, and Bishop Strachan School, an independent female-only boarding school in Toronto.
Lynwood High School senior Nathan Meza contributed a mixed media self-portrait, placing a face drawn in black and white with red tinting over a colorful cityscape rendered with markers and colored pencils. Holding the drawing up for a selfie, Meza's camera inadvertently captures his brother in the background, working on a whiteboard. The piece is inspired by three of Meza's favorite artists: Banksy, Kallet, and Chuck Close.
"I incorporated some of what makes those artists famous into the artwork for the eyes and background," Meza said. "The portrait turned out to be very special to me because if it wasn't for my family and those around me, I wouldn't be where I am today. I'm really grateful for them always having my back and keeping me close and in their thoughts. That really helped out."
MORE
Vega met Robert College art teacher Narciso Argüelles when the two were serving as Advanced Placement readers in Utah, scoring AP art portfolios and exams. Argüelles, an educator from Oklahoma, went to Robert College in the spring of 2020, filling in for a friend on sabbatical, then was hired to a full-time position for the 2020-21 school year.
Argüelles organized the Without Borders exhibit to showcase art created by Robert College Street Art Crew Club students in Istanbul. Argüelles reached out to Vega to see if Lynwood High would be interested in contributing student art to the international collaboration. Argüelles and Vega believe that the online show bridges the gap between the restrictions of the pandemic and the resilience of their students in adapting to new formats.
"We can't do murals or any other forms of outdoor art, so the students have had to get very creative. One of my students made a color portrait of Medusa, then held it out the window to take a picture, using her housing complex as the background," Argüelles said. "The joy of the collaboration is that despite coming from different cultures, the student art is similar in approach, yet significantly different in execution."
Without Borders will run online indefinitely on the Robert College website. Vega and Argüelles are already making plans for a physical exhibit, to be staged sometime in 2022.
"The creativity and resourcefulness of Lynwood artists are on full display in Without Borders," Superintendent Gudiel R. Crosthwaite said. "The language of art knows no borders and the show provides a window in which we can absorb the emotions and aspirations of students all over the world. Congratulations to Luis Vega, Narciso Argüelles and their students. We are excited to see where the Lynwood High/Robert College collaboration will take us next."
PHOTO

LUSD_Nathan Meza: Lynwood High School senior Nathan Meza, who contributed a self-portrait, was one of 10 LHS arts students whose work was selected for an international art show, Without Borders: Without Fear, a collaboration between Lynwood High, Robert College in Istanbul, and Bishop Strachan School in Toronto.
Close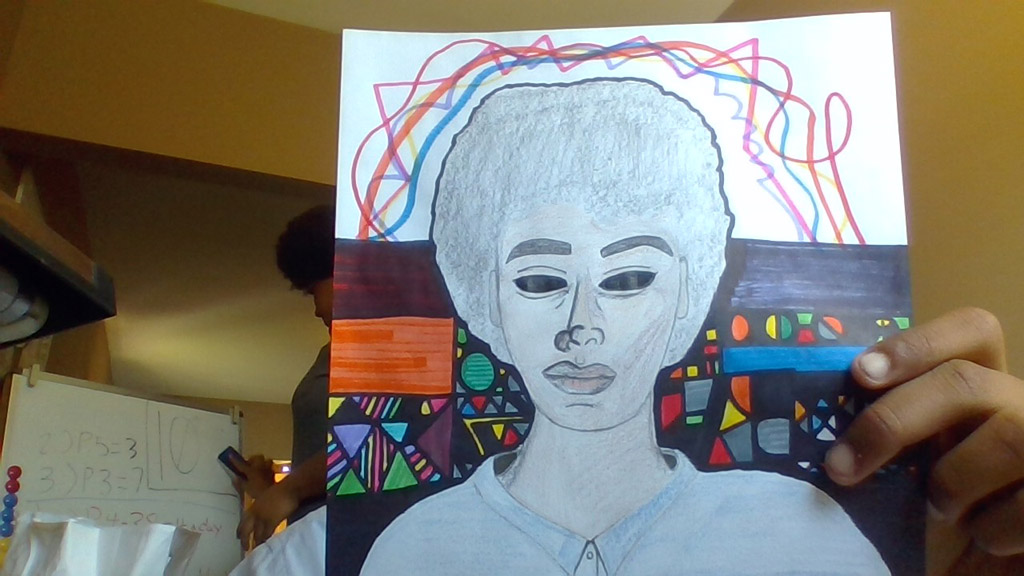 Lynwood Unified Art Students Featured in International Online Art Exhibit
Lynwood Unified School District
Image Title

LUSD_Nathan Meza

Image Caption

LUSD_Nathan Meza: Lynwood High School senior Nathan Meza, who contributed a self-portrait, was one of 10 LHS arts students whose work was selected for an international art show, Without Borders: Without Fear, a collaboration between Lynwood High, Robert College in Istanbul, and Bishop Strachan School in Toronto.

Right-click on the image to save