Lynwood Unified School District
Lynwood High Senior Wins $40,000 Edison International Scholarship
Lynwood – Lynwood High School senior Alan Lopez learned all about the Edison International STEM Scholarship when his older sister, Abieiden, received one of the exclusive scholarships in 2018. On Wednesday, it was his turn to celebrate when he received the $40,000 award – which goes annually to just 30 high school seniors pursuing majors in science, technology, engineering and math (STEM) fields at four-year universities.
A representative from Edison International surprised Lopez with a giant check and medal of recognition during his engineering class on March 20.
"It was really exciting to win the scholarship in front of my entire class," Lopez said. "I've received so much support from my classmates, teachers and family, so it was fitting to be able to share it with them."
Lopez has a 4.6 GPA and is well prepared to pursue computer science at whichever university he chooses. He has spent the last three years taking extra courses in the College Bridge program at Cerritos College, and has used his summers to attend programs at UCLA and Stanford – where his sister now studies.
He wants to one day explore how to use technology to improve human interaction.
"Alan is an imaginative young man who has a bright future in front of him," Lynwood Unified Superintendent Gudiel R. Crosthwaite said. "We are proud that he has won the Edison honor, keeping the scholarship in the Lopez family and in Lynwood's."
PHOTO CAPTION

032119_LUSD_EDISON: Lynwood High School senior Alan Lopez stands with Edison International representative Francisco Martinez after winning the $40,000 Edison International STEM Scholarship on March 20.
Close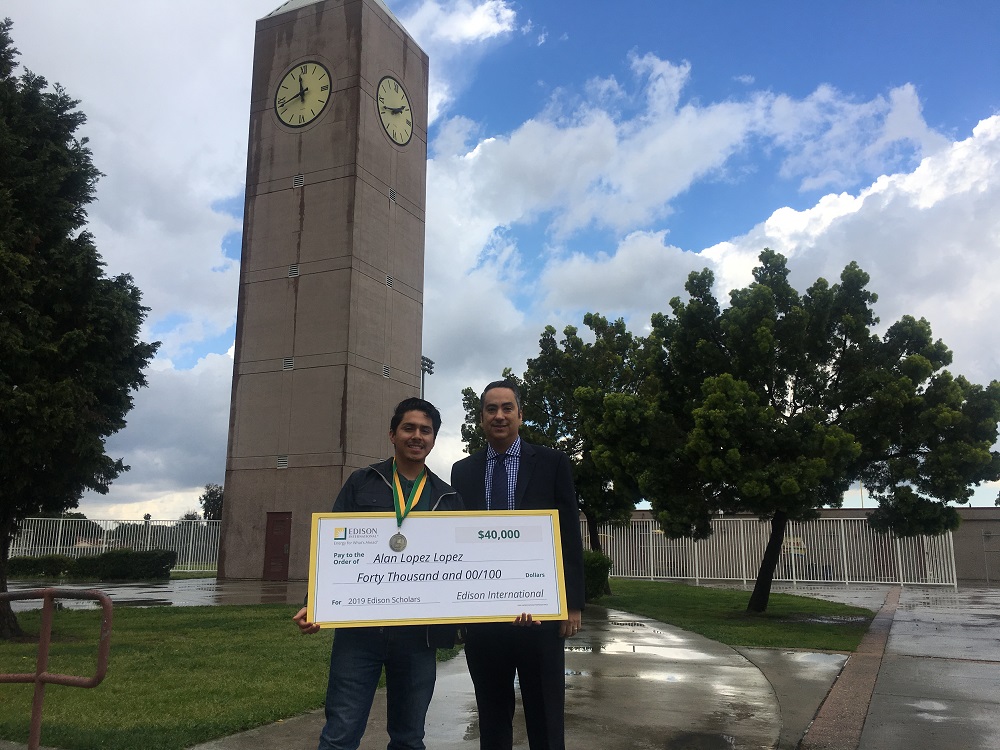 Lynwood High Senior Wins $40,000 Edison International Scholarship
Lynwood Unified School District
Image Title

032119_LUSD_EDISON

Image Caption

032119_LUSD_EDISON: Lynwood High School senior Alan Lopez stands with Edison International representative Francisco Martinez after winning the $40,000 Edison International STEM Scholarship on March 20.

Right-click on the image to save