Fontana Unified School District
Fontana Unified Students Win Car, Scholarships, TVs During Annual 'Perfect Attendance Spells Success' Event
FONTANA, CA – Fontana Unified high school students filled the stands of A.B. Miller High School's football stadium on May 12, each eagerly wishing to hear their name called and claim the grand prize – a 2022 Chevrolet Equinox – at the District's annual Perfect Attendance Spells Success (PASS) event.
PASS – an event held for high school students who have maintained a 94 percent attendance rate, have a GPA of 2.7 or higher, and have not received any out-of-school suspensions – celebrates students' commitment to their education and highlights the importance of attending school every day.
"PASS is a treasured tradition in Fontana Unified that brings our community together to reward students for their commitment to their education," Fontana Unified Randal S. Bassett said. "We are grateful for our local partners who continue to support this event each year, and proud to see our most dedicated students celebrated for their achievements."
Nearly 60 prizes, ranging from gift cards and $250 scholarships to televisions and wireless headphones, were donated by local business and community organizations and awarded to students in a random drawing.
Ultimately, Jurupa Hills High School senior Martin Aguilar took home the top prize – a brand-new car that he does not yet have a license to drive – that was donated by Rotolo Chevrolet.
Aguilar said he hopes the event inspires students to stay dedicated to school and that another Jurupa Hills student will be the lucky winner of a car at next year's event.
"I was really motivated to come to school because after the pandemic and distance learning, I wanted to make the most of my senior year and enjoy the time I have left," Aguilar said. "To be here and to win this car…I don't even know what to say. It's a great program."
This year's PASS event – the first one held since the COVID-19 pandemic – was sponsored by Leonard and Rosa Dominguez of Inland Valley Educators Insurance, Mike Caposio of Rotolo Chevrolet, George Munoz of National Life Group, Helping Hearts, George's Sierra Shell, ABS Collision Center Inc., Assemblymember James Ramos, the Fontana Management Association and the Fontana Police Officers Association.
This year's winners are:
• $250 scholarship: April Tang, Jennifer Arreola, Marvin Wilson, Adamaris Cabrera, Ivan Flores-Corral, Israel Trejo Jr., Daniel Hernandez, Edwin Trejo, Gerardo Sanchez, Anthony Cortez
• 50-inch or 43-inch television: Leonardo Regino, Alexa Olmos, Elijah Bishop
• Chromebook or Laptop: Owen Ramirez, Natalia Rodriguera
• HP DeskJet printer: Cayley Valle, Phoebe Lopez
• Home theater system: Alexis Brown
• Boombox or portable speaker: Emilia Serna, Nicolle Vasquez Medrano, Aaron Medina, Lizlee Lopez, Blake Flores, Veronica White, Diana Lopez
• Wireless speakers: Julianne Davis, Van Tri Su, Batresia Henein, Nathan Martinez, Nanami Solis, Arely Sepulveda, Kassandra Zaragoza
• Wireless earphones or headsets: Maria Nunez, Nevaeha Sanchez, Moises De Santiago Martinez, Noori Amir
• Vlogger portable studio kit: Jose Juarez Brambila
• Selfie stick: Gabrielle Anne Cruz
• $50 Amazon gift card: Emily Galicia Figueroa, Jesse Mendez-Gregorio, Daniela Teran, Sheng Kang Yang, Breana August, Andy Contreras, Jenna Sauceda
• $25 Shell gas card: Yajaira Soto, John Moreno-Figueroa, Noe Medina, Isaac Hernandez, Eunisse Ayala, Cyrus Sapien, Brandon Lua-Gudino, Alexis Aguilar Lopez, Martin Aguilar, Julie Covarrubias
• Other gift cards: Ashley Hernandez, Jennifer Bonilla
PHOTO CAPTIONS:
FUSD_PASS1: Jurupa Hills High School senior Martin Aguilar holds the key to a 2022 Chevrolet Equinox, the grand prize he won via random drawing at Fontana Unified's Perfect Attendance Spells Success event on May 12.
FUSD_PASS2: A student from A.B. Miller High School receives a $250 scholarship during Fontana Unified's annual Perfect Attendance Spells Success event.
Close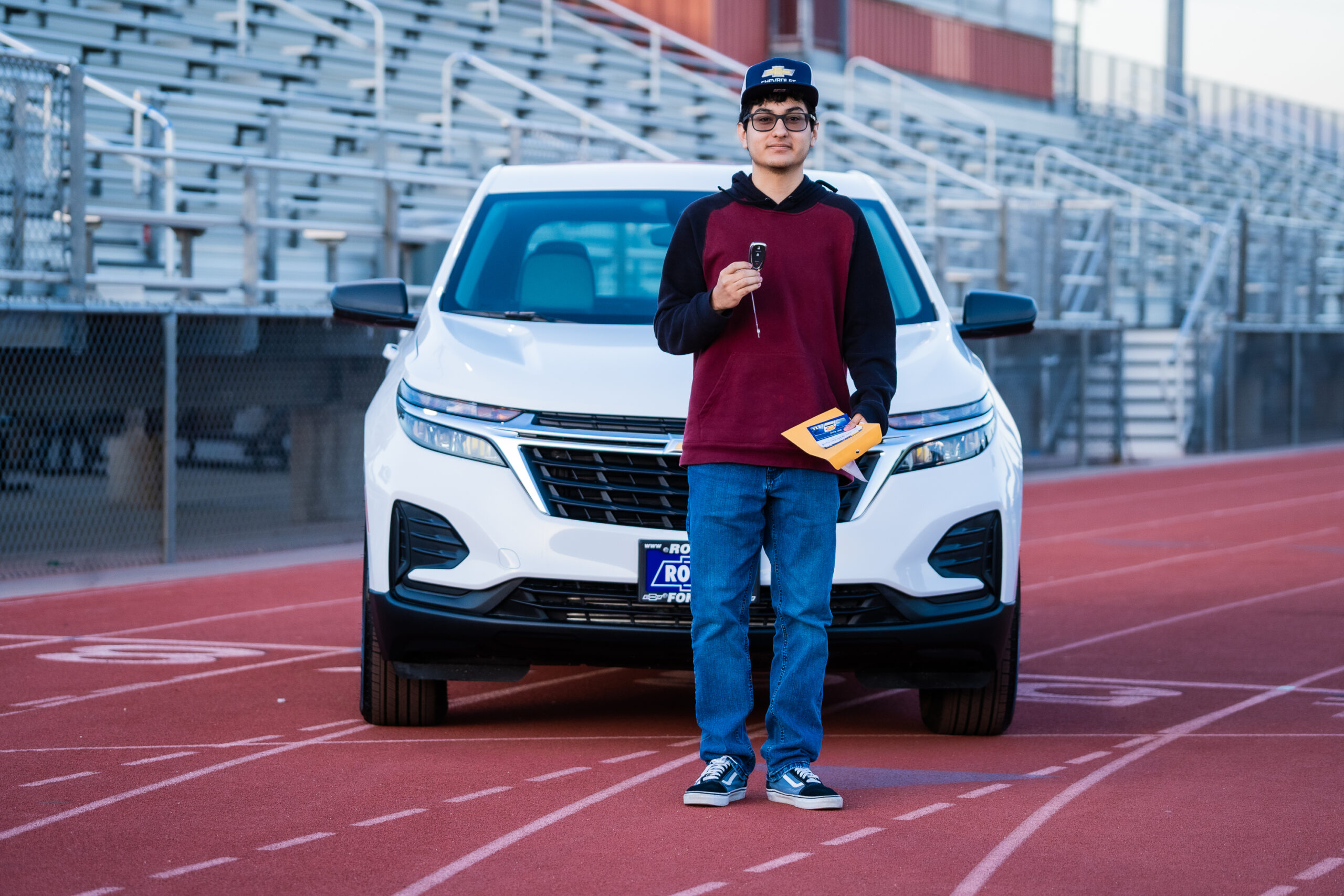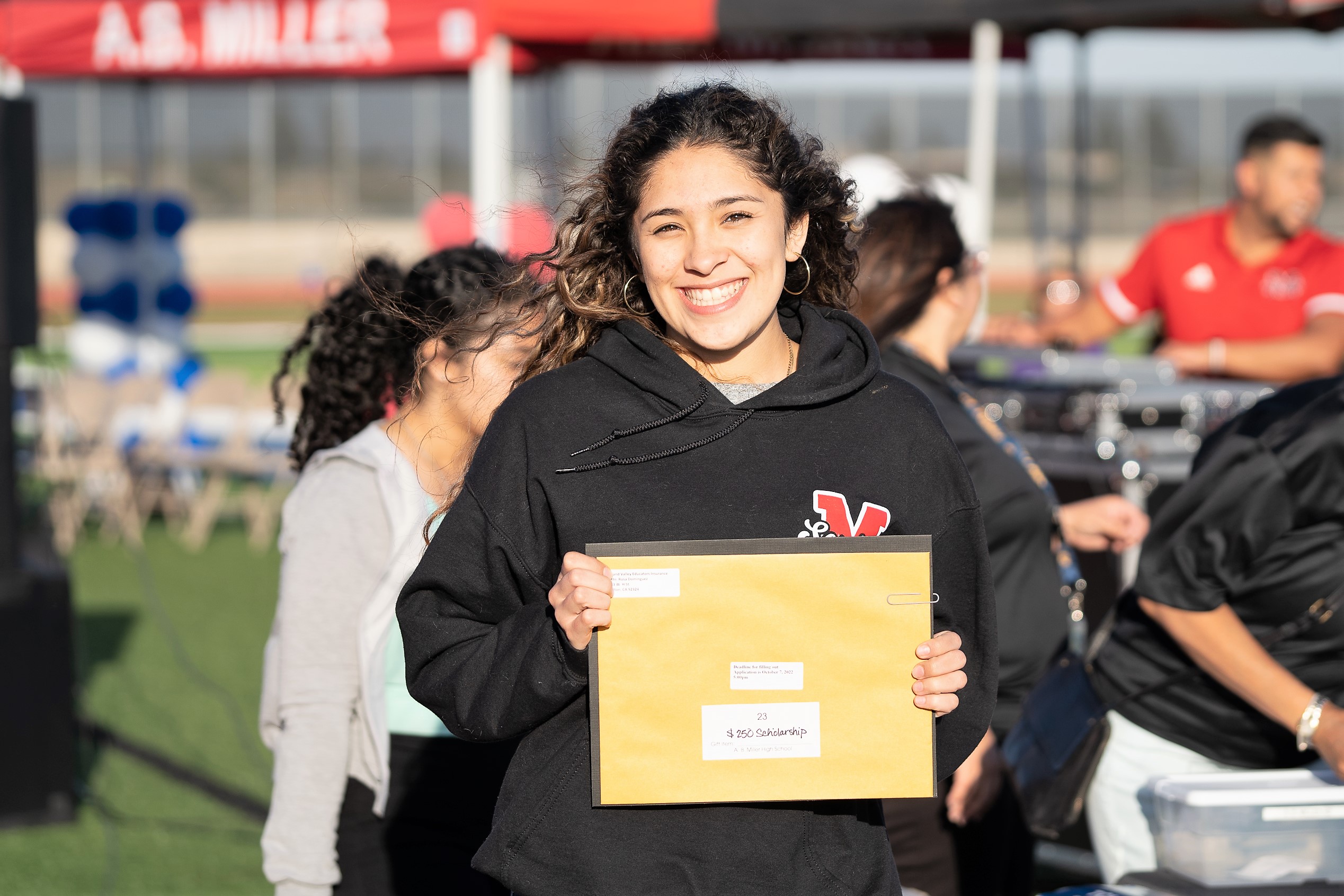 Fontana Unified Students Win Car, Scholarships, TVs During Annual 'Perfect Attendance Spells Success' Event
Fontana Unified School District

Image Title

FUSD_PASS1

Image Caption

FUSD_PASS1: Jurupa Hills High School senior Martin Aguilar holds the key to a 2022 Chevrolet Equinox, the grand prize he won via random drawing at Fontana Unified's Perfect Attendance Spells Success event on May 12.

Right-click on the image to save

Image Title

FUSD_PASS2

Image Caption

FUSD_PASS2: A student from A.B. Miller High School receives a $250 scholarship during Fontana Unified's annual Perfect Attendance Spells Success event.

Right-click on the image to save