Fontana Unified School District
Fontana Unified's Fontana High School Develops Skills, Provides Certification Opportunities in Welding CTE Pathway
FONTANA, CA – Fontana High School is sparking students' passion for hands-on work in manufacturing and product development through its Welding and Material Joining career technical education (CTE) pathway, where they learn about the operation, standards, and current practices in welding and fabrication.
Students in the pathway can earn certifications from the nonprofit American Welding Society (AWS) and test for welding certifications for advanced welding employment through Fontana High's accredited welding testing facility. The AWS offers nine certification categories designed to address all segments of the welding and joining industry that gives students the opportunity to leverage their expanded knowledge and expertise across their future professional roles.
"My students turn heads of people older than them in the industry," FOHI welding instructor Robert Moreno said. "They are learning marketable skills and becoming certified at an early age, and can use this in a variety of different career branches associated with welding."
The CTE pathway incudes an introductory course where students learn the basics of different welding processes and important safety measures, an advanced course where students have more independence in their work and take on more complicated projects, and a certification course where students work toward proving their skills in welding to receive certification.
During the 2022-23 school year, 25 students earned certifications in either shielded metal arc welding (SMAW) or gas medal arc welding (GMAW).
"Welding is an art, a skill, and a science," Moreno said. "It takes a lot of practice to get good at it, and these students really proved their dedication and skill in the industry."
In April, FOHI welding students showcased their skills in the SkillsUSA State competition, where three Fontana High School Class of 2023 graduates took home medals in introductory welding: Iliana Campos captured gold, Juan Ramirez earned silver and Jesus Rodriguez won bronze.
"Winning the gold medal was a surreal experience that I will never forget," Campos said. "It gives me hope that I might be able to inspire and encourage other girls in future welding class to do the same. I can end my final year of high school while motivating younger students."
PHOTO CAPTION:
FUSD_WELDING: Fontana Welding career technical education (CTE) pathway instructor Robert Moreno and students Daniel Delgado, Juan Ramirez, Iliana Campos, Jesus Rodriguez, German Lopez and Adrian Guzman attend the SkillsUSA State competition to display skills in welding. Students in the CTE pathway learn about the operation, standards, and current practices in the field of welding and fabrication, and can earn certification from the American Welding Society.
Close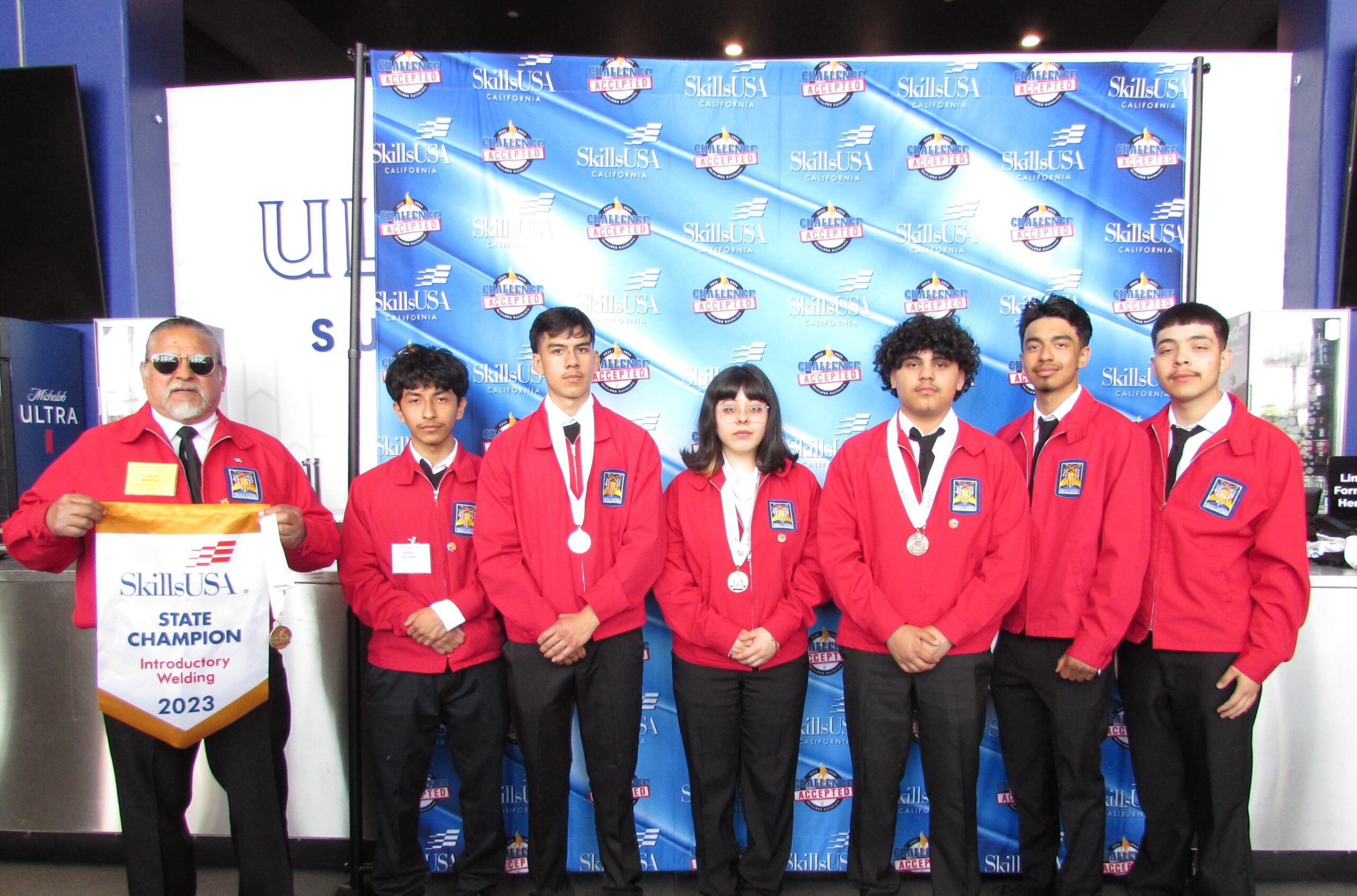 Fontana Unified's Fontana High School Develops Skills, Provides Certification Opportunities in Welding CTE Pathway
Fontana Unified School District
Image Title

FUSD_WELDING

Image Caption

FUSD_WELDING: Fontana Welding career technical education (CTE) pathway instructor Robert Moreno and students Daniel Delgado, Juan Ramirez, Iliana Campos, Jesus Rodriguez, German Lopez and Adrian Guzman attend the SkillsUSA State competition to display skills in welding. Students in the CTE pathway learn about the operation, standards, and current practices in the field of welding and fabrication, and can earn certification from the American Welding Society.

Right-click on the image to save