El Monte Union High School District
EMUHSD Releases School Mobility & Active Transportation Plans for Clean Mobility Project
El MONTE, CA – El Monte Union High School District has prepared School Mobility & Active Transportation Plans as part of their participation in the Clean Mobility in Schools Pilot Project.
Funding for the plans was made possible by the statewide initiative, California Climate Investments.
The plans were developed to help identify school-related mobility needs and solutions that will encourage active transportation for students within the El Monte Union High School District and studied seven schools serving El Monte area students including: Arroyo, El Monte, Fernando R. Ledesma, Mountain View, Rosemead, and South El Monte High Schools and the Granada Transition Center.
The goal of the School Mobility & Active Transportation Plans is to identify project ideas that will make it more safe, comfortable, and fun to walk, bike, or take other types of low-emission transportation to get to campus. The plans are tailored to the specific conditions and needs of the different schools and provide recommendations for infrastructure improvements.
An analysis of existing conditions and circulation patterns, an inventory of existing infrastructure and a school community survey helped inform the plans.
"We are excited for the opportunity to work with local partners to pave the way for implementation of recommendations and solutions identified in these plans," Superintendent Dr. Edward Zuniga said. "We appreciate the community's survey participation and feedback provided on ways to make El Monte Union a safer and cleaner transportation District."
A presentation on the School Mobility & Active Transportation Plans is scheduled at the next Board of Trustees meeting on March 2. The plans are available for viewing on the District's Clean Mobility website www.emuhsdmobility.com.
Close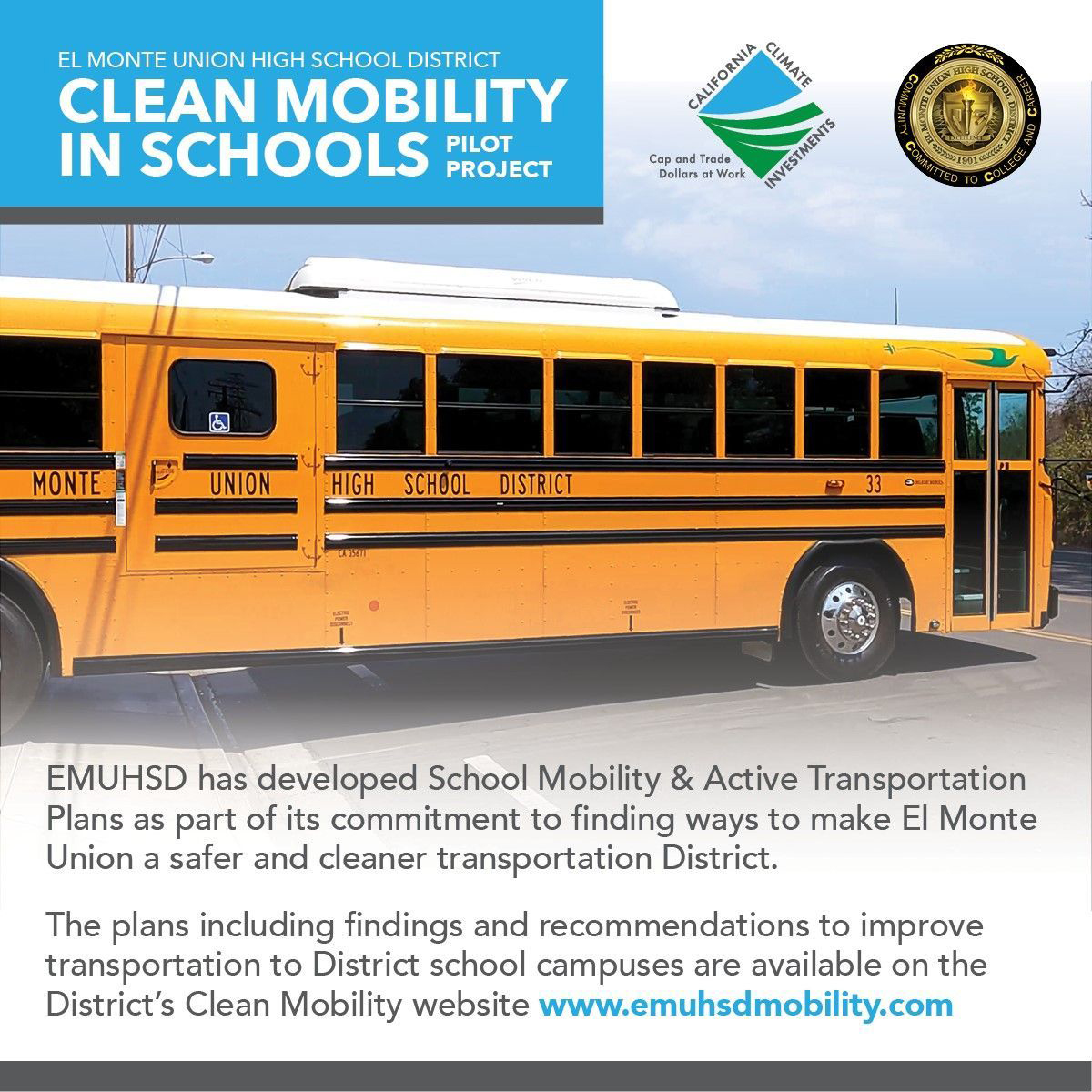 EMUHSD Releases School Mobility & Active Transportation Plans for Clean Mobility Project
El Monte Union High School District
Image Title

Clean Mobility

Right-click on the image to save