El Monte Union High School District
El Monte Union Celebrates LGBTQ Pride Month with Flag-raising Ceremony
EL MONTE – Dozens of El Monte Union community members gathered on Valley Boulevard on May 15 to raise a rainbow flag that will fly at the District office throughout June in celebration of LGBTQ Pride Month.
The event was held to celebrate the identities and contributions of the lesbian, gay, bisexual, transgender and queer community and ensure students belonging to the community feel supported and included.
"By recognizing LGBTQ Pride Month, we are affirming our belief that all students, staff and families deserve to be treated with dignity and respect and are provided safe schools in which to learn and work," Superintendent Dr. Edward Zuniga said. "On behalf of the Board of Trustees, we stand firm in our commitment to promoting the inclusive and respectful treatment of all students and staff through policies, practices and curriculum."
The event featured a symbolic pin distribution and remarks from the El Monte Union Board of Trustees and members of the LGBTQ community, including Mountain View High School student Angel Jimenez, who serves as a member of the Superintendent's Student Advisory Council.
"I want to thank the El Monte Union staff members who have helped create an inviting, warm and welcoming space for all students and for your willingness to serve as an advocate for students who sometimes feel that they don't have a sense of belonging," Jimenez said.
Student leaders across El Monte Union campuses have organized clubs such as the Gay Straight Alliance and hold alternative dances to ensure all students are included in activities.
"Today's event is not just a simple flag-raising," Jimenez said. "Today, El Monte makes a huge step in creating an inclusive environment where all students – regardless of sexual preference, gender identity or expression – are comfortable in being who they are."
PHOTO CAPTIONS:
051719_EMUHSD_PRIDE1: Superintendent Dr. Edward Zuniga, left, and Board of Trustees members Maria Morgan, Carlos G. Salcedo, Ricardo Padilla, President David Diaz and Vice President Florencio F. Briones, along with El Monte Union students, celebrate the raising of a rainbow flag in commemoration of LGBTQ Pride Month on May 15. The flag will fly at the District office throughout June.
051719_EMUHSD_PRIDE2: Superintendent Dr. Edward Zuniga and El Monte Union high school students celebrate LGBTQ Pride Month with a flag-raising ceremony on May 15. The flag will fly at the District office throughout June.
Close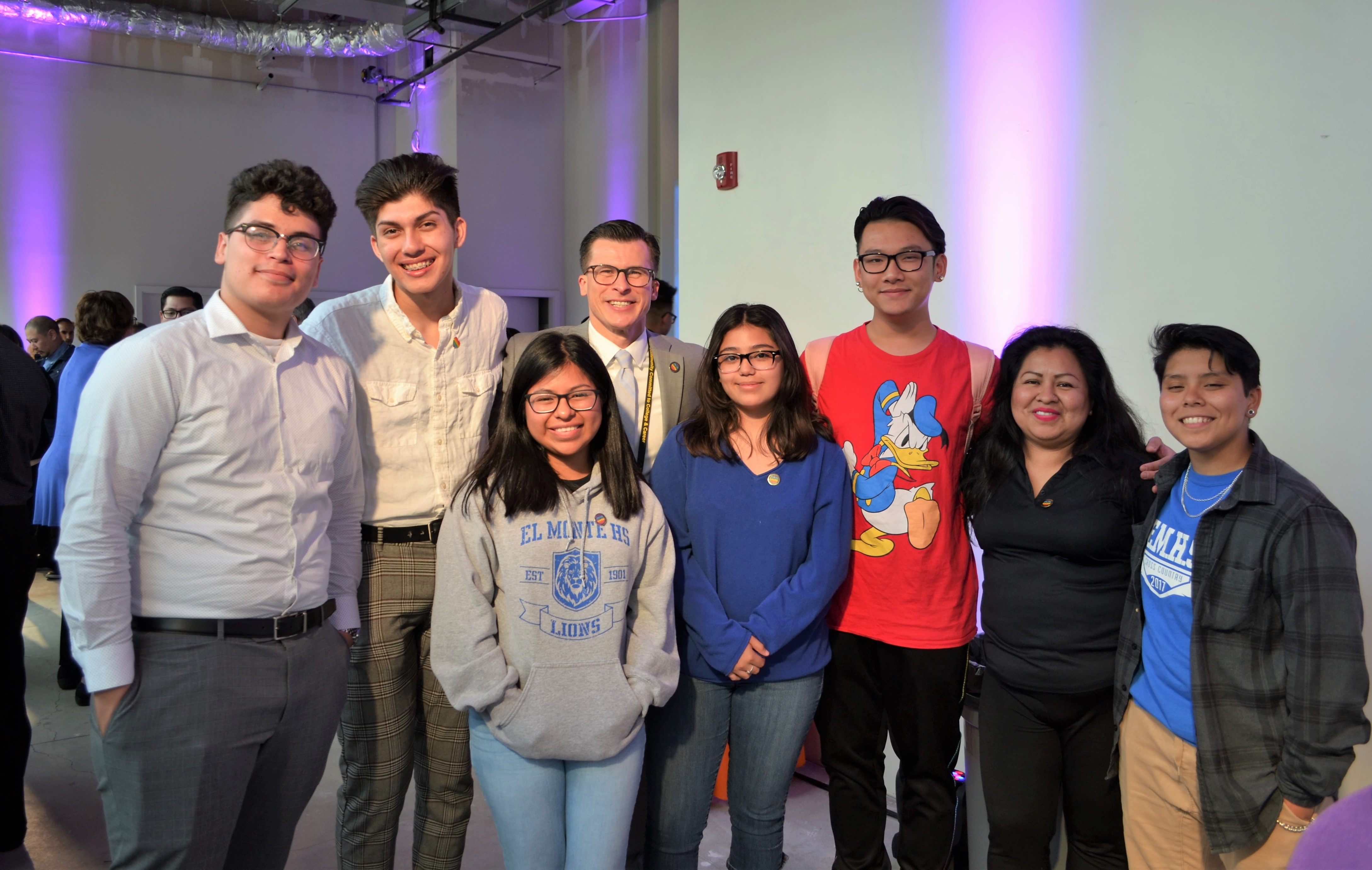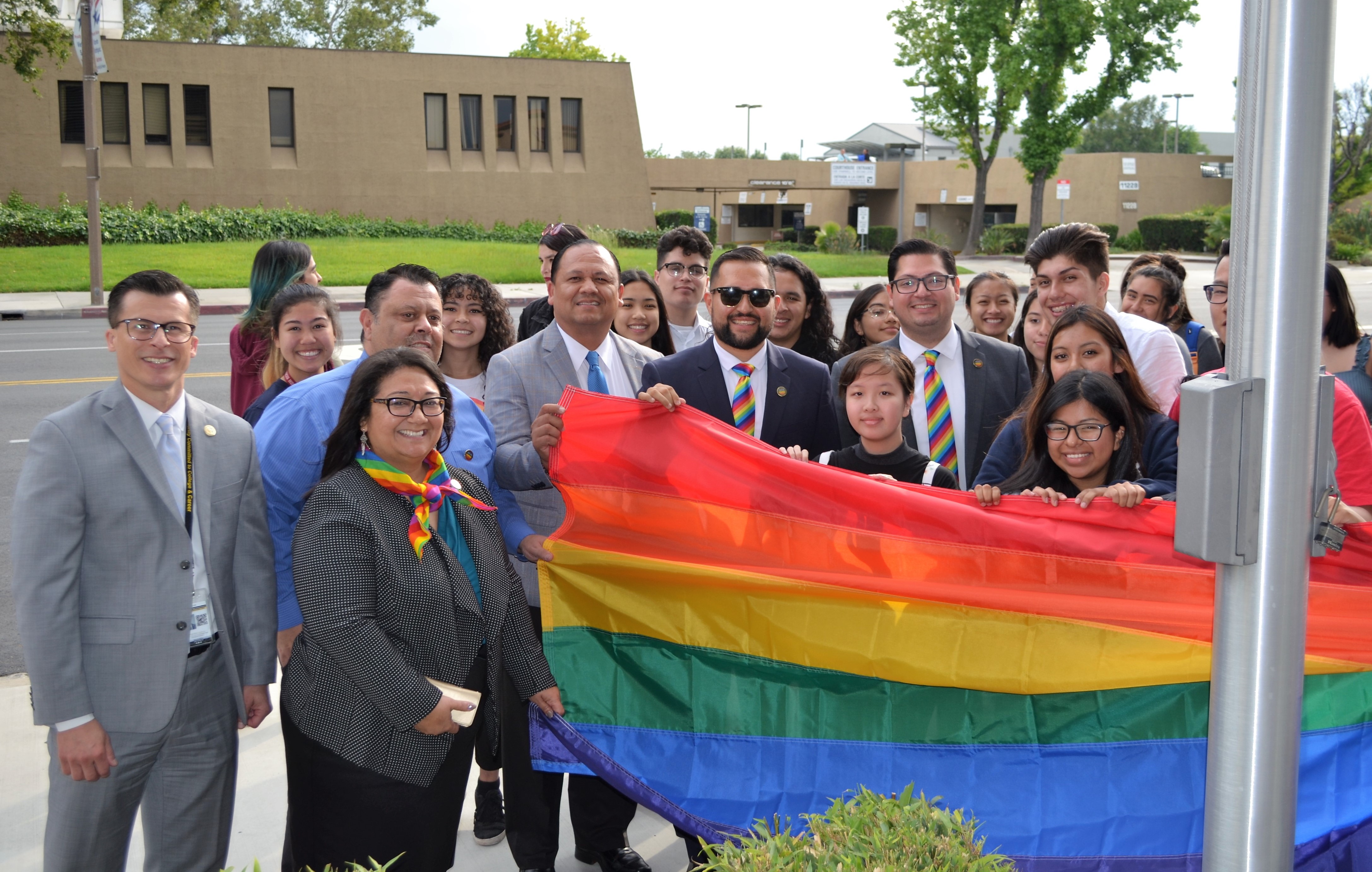 El Monte Union Celebrates LGBTQ Pride Month with Flag-raising Ceremony
El Monte Union High School District

Image Title

051719_EMUHSD_PRIDE2

Image Caption

051719_EMUHSD_PRIDE2: Superintendent Dr. Edward Zuniga and El Monte Union high school students celebrate LGBTQ Pride Month with a flag-raising ceremony on May 15. The flag will fly at the District office throughout June.

Right-click on the image to save

Image Title

051719_EMUHSD_PRIDE1

Image Caption

051719_EMUHSD_PRIDE1: Superintendent Dr. Edward Zuniga, left, and Board of Trustees members Maria Morgan, Carlos G. Salcedo, Ricardo Padilla, President David Diaz and Vice President Florencio F. Briones, along with El Monte Union students, celebrate the raising of a rainbow flag in commemoration of LGBTQ Pride Month on May 15. The flag will fly at the District office throughout June.

Right-click on the image to save