El Monte Union High School District
El Monte Union Embraces Community Partners to Strengthen Campus Safety
EL MONTE – El Monte Union has partnered with the El Monte Police Department to conduct random K-9 detection sweeps at its campuses in an effort to deter students from bringing contraband to school. It is part of one of many initiatives the District has in place to ensure the safety of students and staff.
"Safe schools provide an environment in which teaching and learning can flourish and our students can attain personal and academic achievement," Superintendent Dr. Edward Zuniga said. "It is critical for our community to work together to ensure the safety of children in our schools."
The District actively collaborates with local law enforcement, including the Los Angeles County Sheriff's Department, to provide a safe and secure school environment. Most recently, El Monte Police led a random sweep of all EMUHSD's schools using a police-trained dog to search for unlawful substances and drugs in classrooms and on campus.
The program was initiated during the 2016-17 school year and is conducted at least twice a year.
"We follow strict protocols and laws to ensure the safety of students and staff when these searches are done," El Monte Police Chief David Reynoso said. "This is an example of the great partnership that our police department has with the school districts in our city to promote safety in the community."
El Monte Union works with a broad spectrum of community stakeholders, local law enforcement, mental health professionals, parents, students, teachers and staff to develop, implement and monitor policies and programs that foster and support a positive school climate.
This includes having a School Resource Officer program, conducting regular safety drills and lockdowns to prepare for emergencies, providing active shooter training to all District staff, installing security cameras, working with local police to investigate all safety threats and requiring visitors to check in through each school's front office.
The Sheriff's Department over the summer held an active shooter training for officers at Rosemead High School, similar to a training held last year at South El Monte High School.
At the beginning of the school year, the El Monte Police Department conducted a "Critical Incident Response" training for students at El Monte, Arroyo, Fernando R. Ledesma and Mountain View high schools. Lock down drills were also performed to ensure students and schools are up-to-date with practices and procedures.
"By working together, we can create a strong and effective network to ensure the safety of our school community," Zuniga said.
PHOTO CAPTIONS:
120318_EMUHSD_SAFETY1: An El Monte Police Department officer conducts a random K-9 detection sweep at one of El Monte Union campuses as part of the District's increased safety measures.
120318_EMUHSD_SAFETY2: El Monte Police Department officers and El Monte High School administrators recently partnered to conduct a "Critical Incident Response" training and lockdown drill.
Close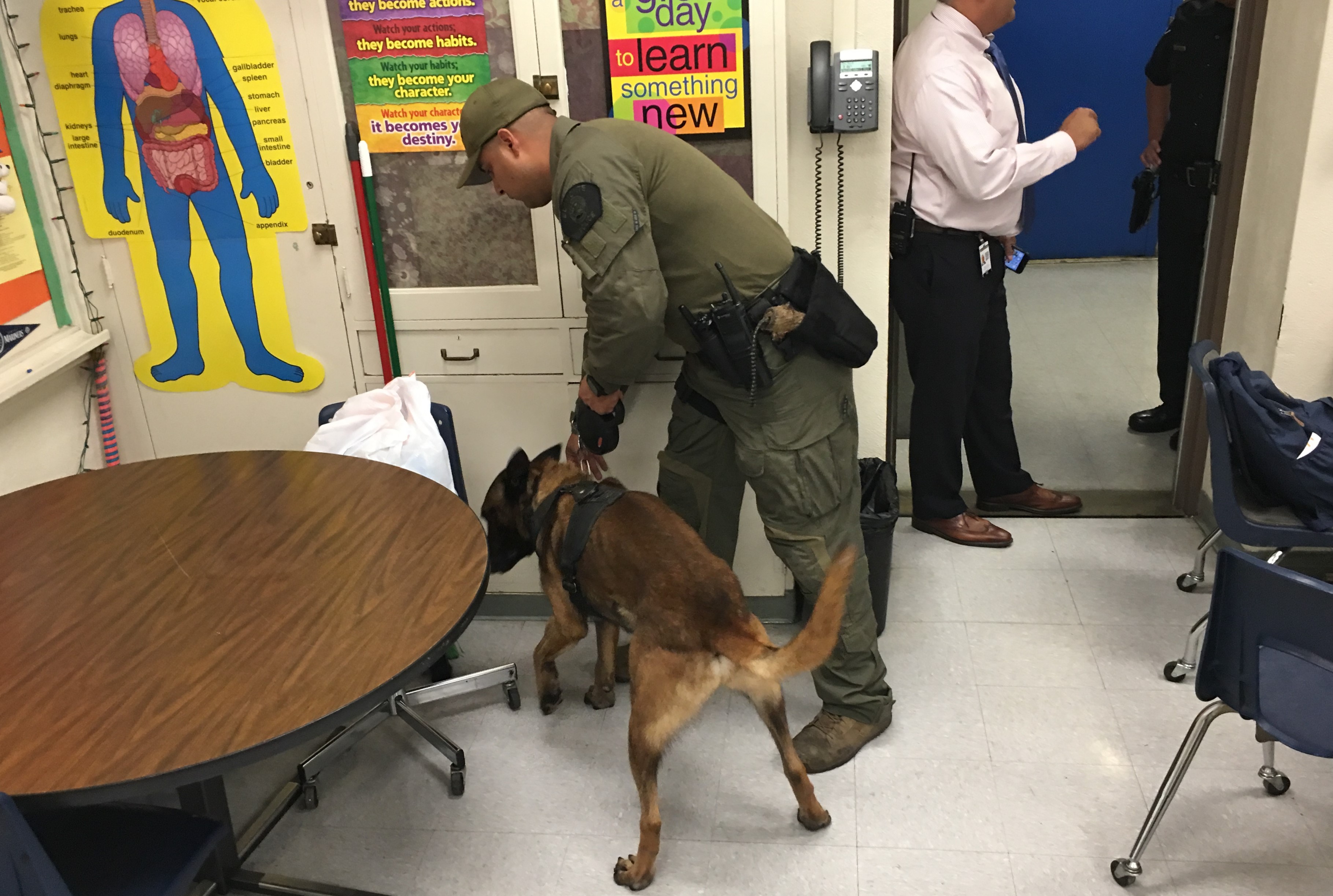 El Monte Union Embraces Community Partners to Strengthen Campus Safety
El Monte Union High School District
Image Title

120318_EMUHSD_SAFETY1

Image Caption

An El Monte Police Department officer conducts a random K-9 detection sweep at one of El Monte Union campuses as part of the District's increased safety measures.

Right-click on the image to save