El Monte Union High School District
El Monte Union Celebrates Class of 2023, Hosts Commencement Ceremonies
EL MONTE – The El Monte Union High School District (EMUHSD) celebrated more than 1,685 seniors from the Class of 2023 during commencement ceremonies as parents, families, teachers, staff, community members and local officials applauded graduates who proudly walked across the stage to receive their high school diplomas on June 7 and 8.
The ceremonies featured a special rendition of "Remember Me" from the Pixar Film "Coco" by El Monte High School's band; heartfelt speeches from South El Monte High School's 12 valedictorians; videos of Mountain View High School seniors sharing a message to families, their accomplishments throughout their high school careers and favorite memories; singing of the alma mater by Rosemead High School's choirs; and a series of grand finale fireworks.
"My fellow seniors and I have grown so much these past years and conquered many obstacles such as a pandemic, isolation and then resocialization," said Arroyo High School valedictorian Michelle Duan, who is bound for UC Berkeley. "I believe we all deserve a round of applause for making it through all that stress and to our graduation today. We are completely new people with new opportunities and dreams to overcome, we are here now ready to fall head over heels into the world. Thank you to this school, our parents, friends, teachers and the Class of 2023 for being amazing and supportive every step of the way."
The District honored 384 graduates from Arroyo High School, 305 graduates from El Monte High School, 271 graduates from Mountain View High, 390 graduates from Rosemead High, 268 graduates from South El Monte High and 67 graduates from the District's alternative high school, Fernando R. Ledesma High School.
El Monte Union Class of 2023 graduates will pursue higher education in fields such as business, science, technology, performing arts and engineering at prestigious four-year universities, including North Western University, Loyola Marymount University, Stanford University, UC Irvine, UC San Diego and UCLA, as well as at community colleges and vocational schools. Other graduates will enter the armed forces or join the workforce.
"Education is a great equalizer; once you attain it, no one can ever take it away from you. Education is what will bring you a better life," EMUHSD Board of Trustees President Ricardo Padilla said. "I am so proud of all of you for taking advantage and making the most of your time within our District. I know our graduates will go out, achieve great success and transform the world. Thank you to the Class of 2023 for working so hard and never giving up, despite the barriers and hurdles that were faced, you persevered and continued to pursue your education."
In addition, El Monte Union's graduating class received numerous awards and scholarships, including the State Seal of Biliteracy, Gold Seal from the California Scholarship Federation, QuestBridge National College Match Scholarship, Posse Foundation Scholarship, Dell Scholarship, Gates Scholarship and various community and alumni scholarships.
To view the commencement ceremonies of each El Monte Union comprehensive high school, visit the EMUHSD website.
"Congratulations to the remarkable Class of 2023. As you embark on this new chapter of your lives, remember that your achievements today are the stepping stones to your future success," EMUHSD Superintendent Dr. Edward Zuniga said. "On behalf of the District, we encourage you to embrace your passions, chase your dreams and continue to make a positive impact in your communities. We are immensely proud of each and every one of you."
PHOTO CAPTIONS:
EMUHSD_GRADUATION_1: Mountain View High School graduates prepare to walk through an inflatable tunnel as the school's June 8 commencement ceremony begins.
EMUHSD_GRADUATION_2: Rosemead High School valedictorians walk hand-in-hand across the track at the start of the commencement ceremony on June 7.
EMUHSD_GRADUATION_3: El Monte High School Associated Student Body President and graduate Kathy Nguyen greets the Class of 2023 before giving her farewell speech during a June 7 commencement ceremony.
EMUHSD_GRADUATION_4: South El Monte High School and Early College Academy graduate Eathan Hernandez receives his diploma from Assistant Superintendent of Educational Services Larry Cecil at commencement on June 7.
EMUHSD_GRADUATION_5: A Fernando R. Ledesma High School graduate celebrates with family after the school's June 7 commencement ceremony.
EMUHSD_GRADUATION_6: With a grand finale of fireworks, Arroyo High School graduates celebrate with smiles after receiving their diplomas during the commencement ceremony on June 8.
Close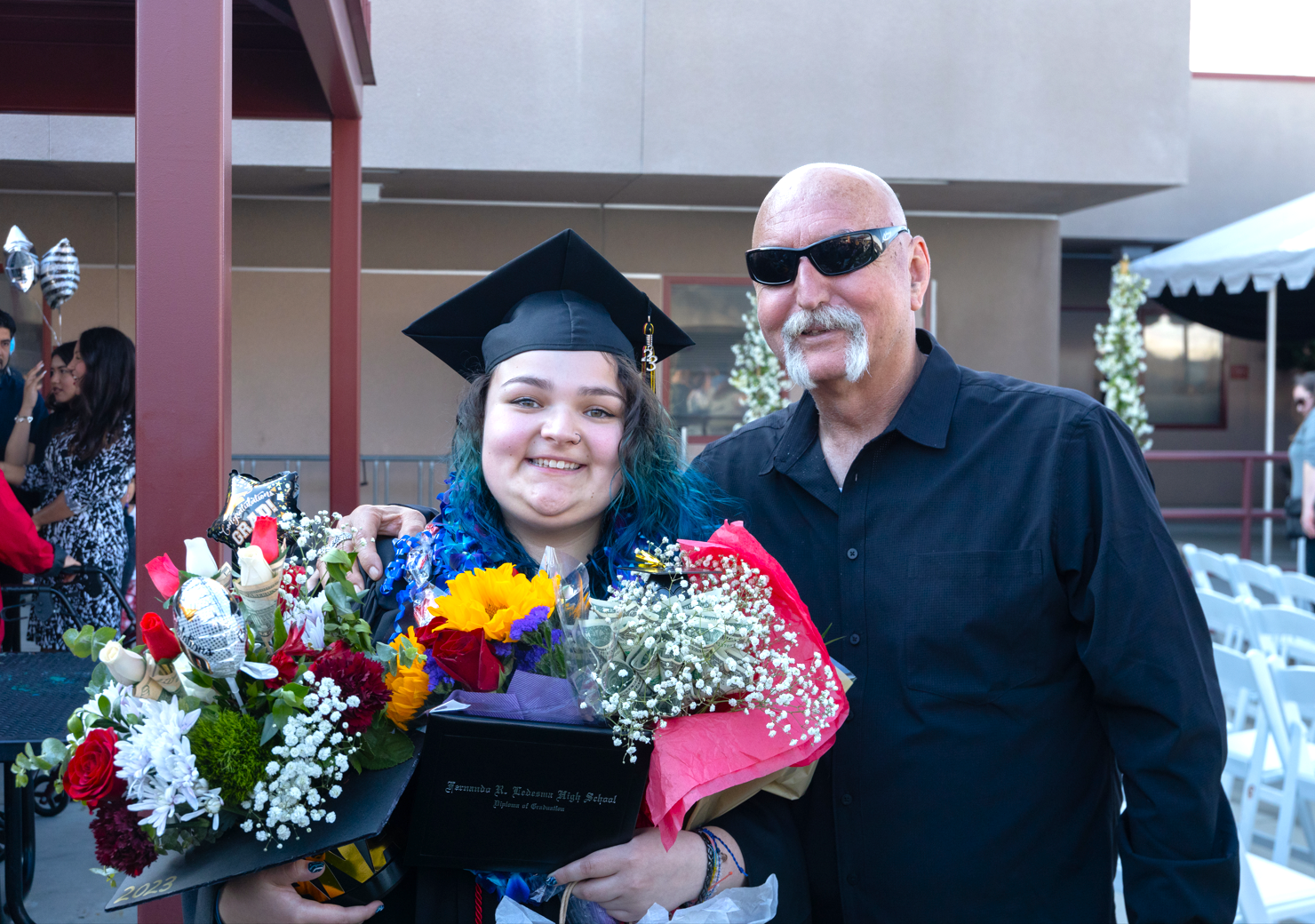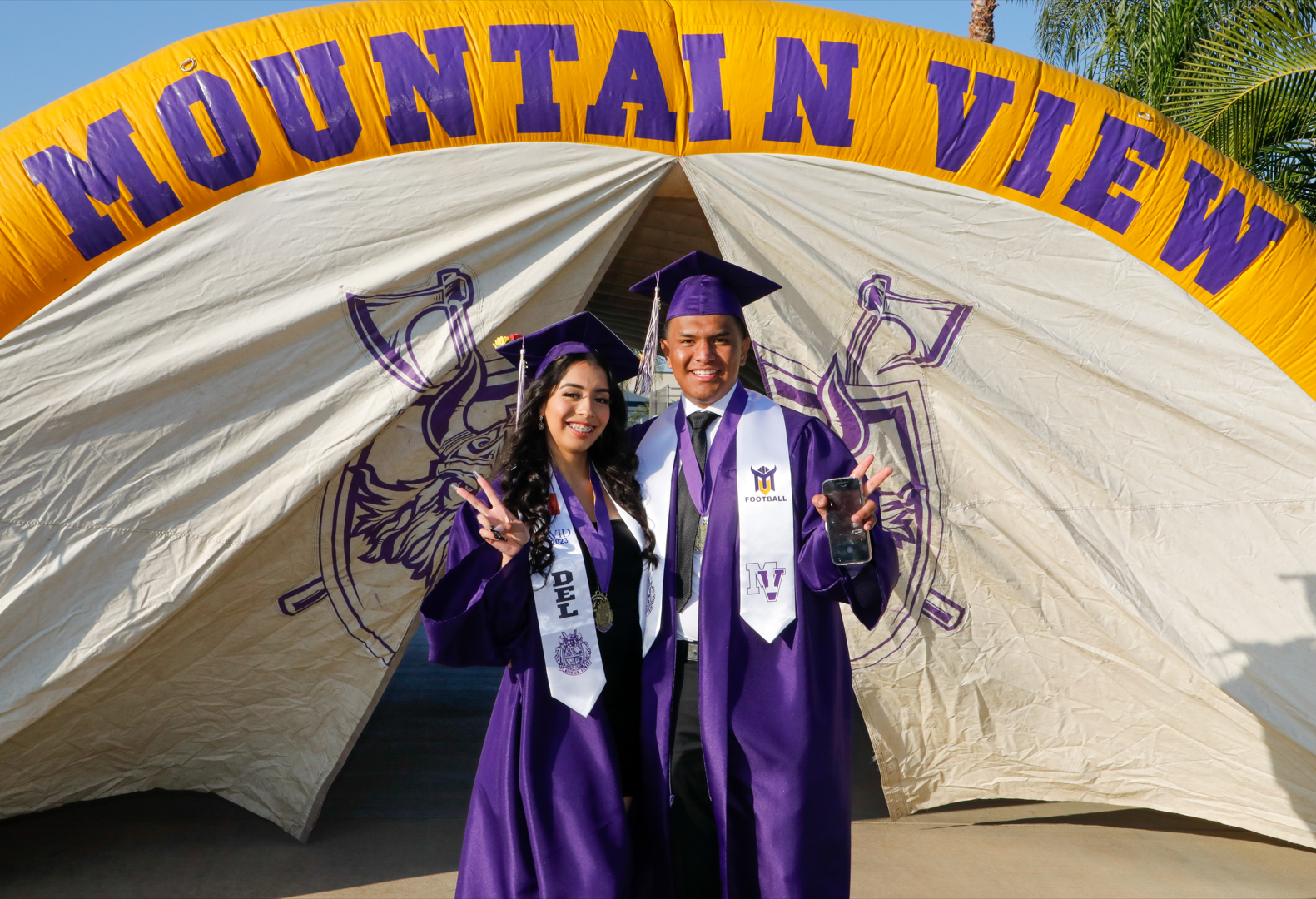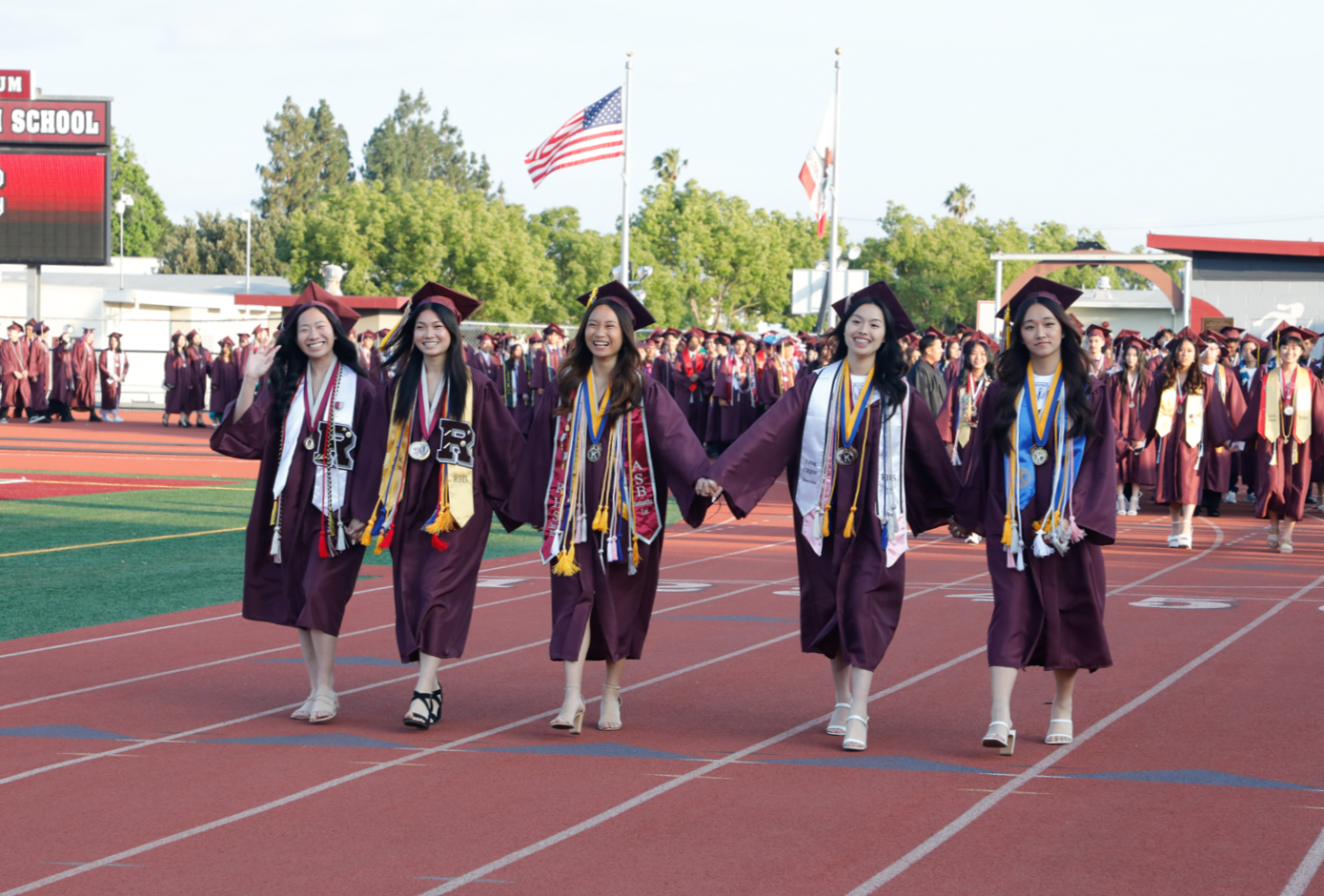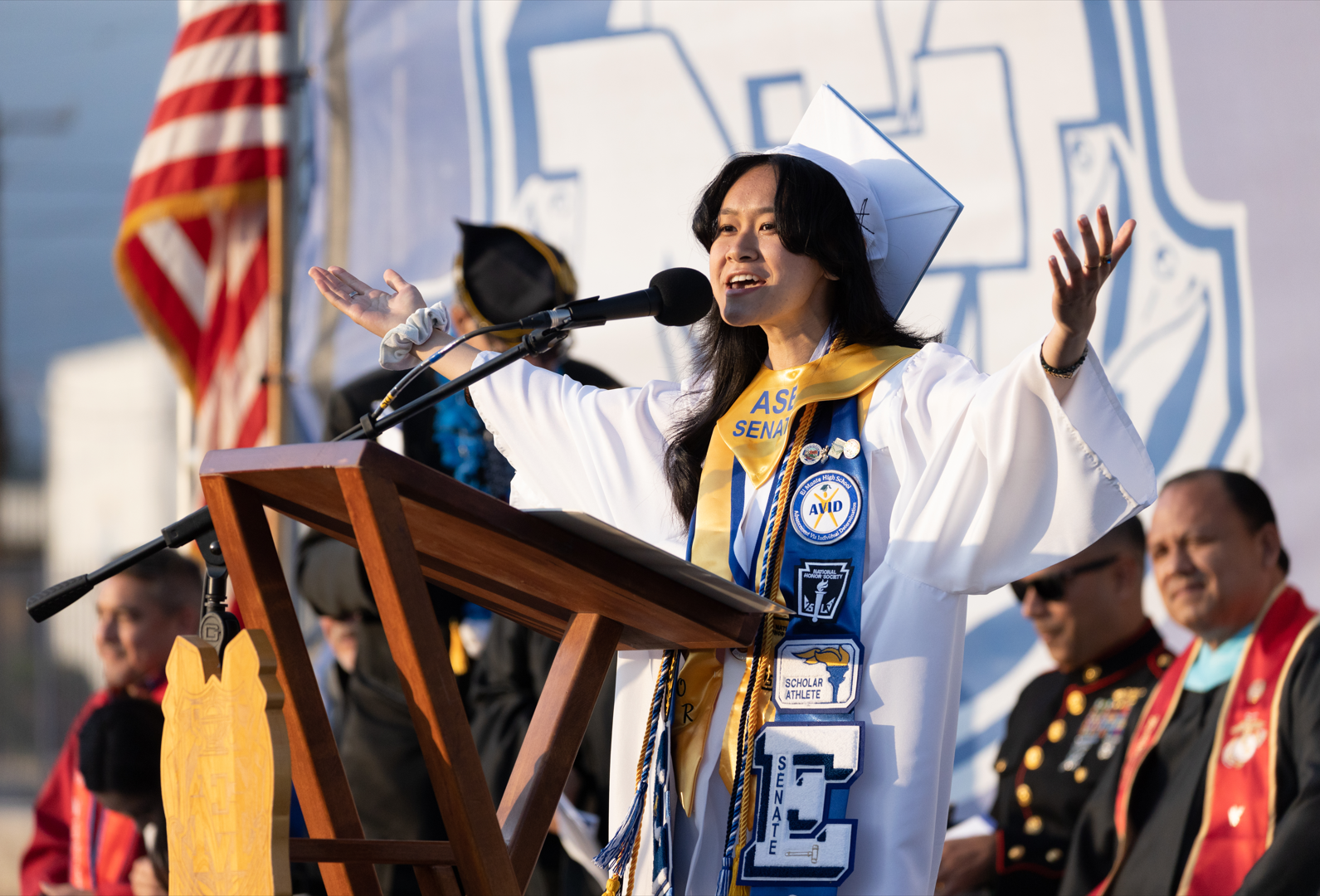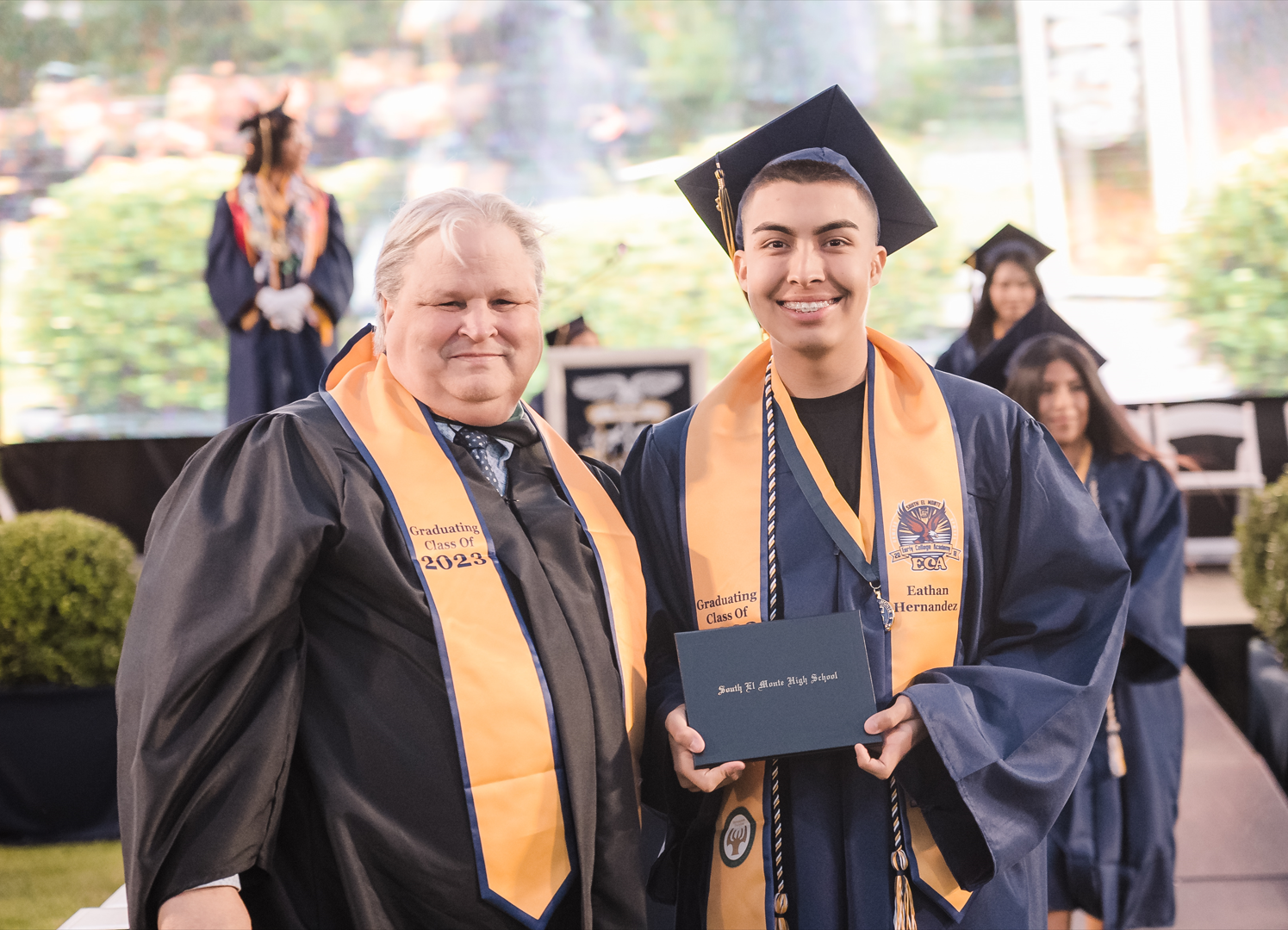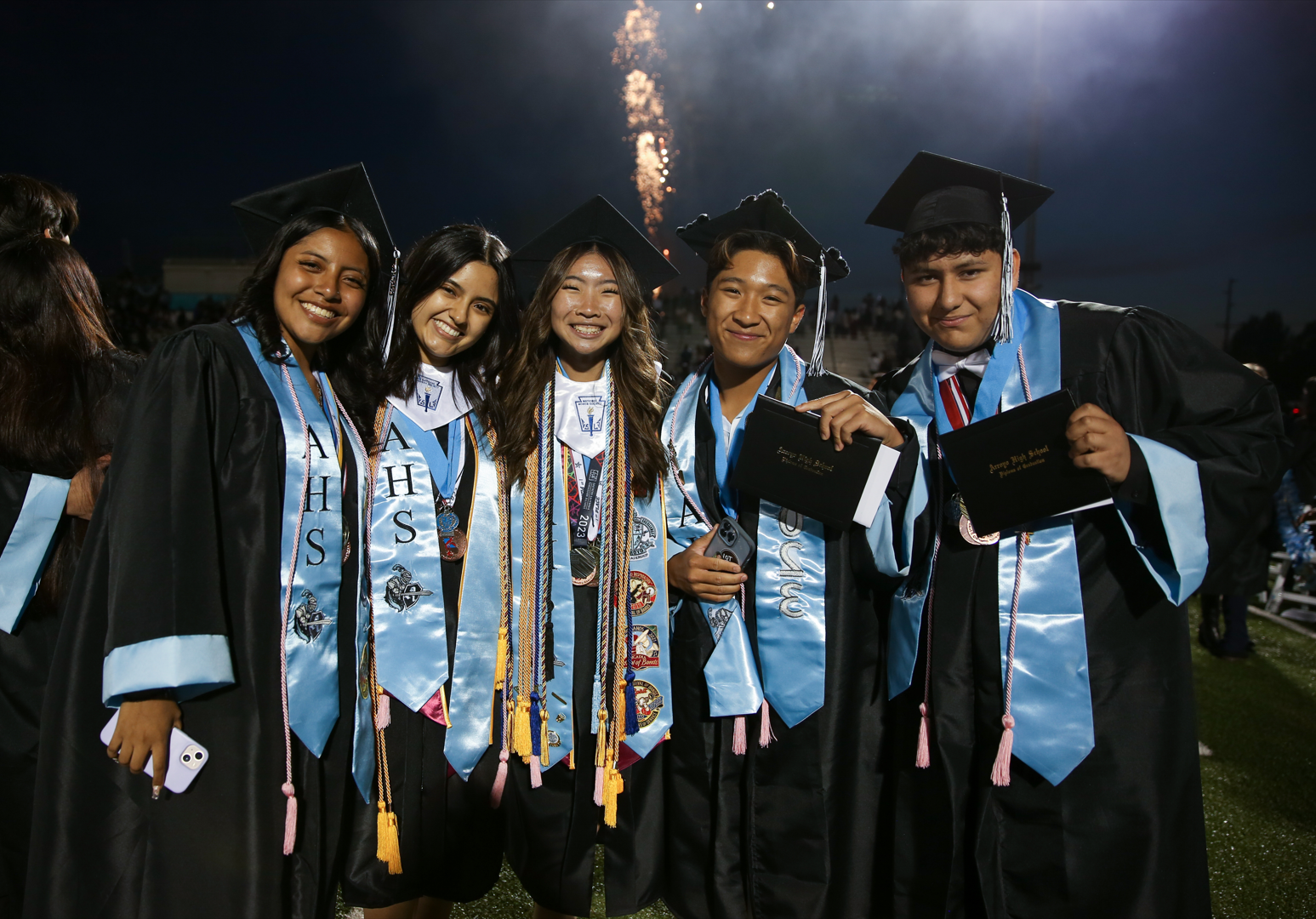 El Monte Union Celebrates Class of 2023, Hosts Commencement Ceremonies
El Monte Union High School District
Image Title

EMUHSD_GRADUATION_5

Image Caption

EMUHSD_GRADUATION_5: A Fernando R. Ledesma High School graduate celebrates with family after the school's June 7 commencement ceremony.

Right-click on the image to save

Image Title

EMUHSD_GRADUATION_1

Image Caption

EMUHSD_GRADUATION_1: Mountain View High School graduates prepare to walk through an inflatable tunnel as the school's June 8 commencement ceremony begins.

Right-click on the image to save

Image Title

EMUHSD_GRADUATION_2

Image Caption

EMUHSD_GRADUATION_2: Rosemead High School valedictorians walk hand-in-hand across the track at the start of the commencement ceremony on June 7.

Right-click on the image to save

Image Title

EMUHSD_GRADUATION_3

Right-click on the image to save

Image Title

EMUHSD_GRADUATION_4

Image Caption

EMUHSD_GRADUATION_3: El Monte High School Associated Student Body President and graduate Kathy Nguyen greets the Class of 2023 before giving her farewell speech during a June 7 commencement ceremony.

Right-click on the image to save

Image Title

EMUHSD_GRADUATION_6

Image Caption

EMUHSD_GRADUATION_6: With a grand finale of fireworks, Arroyo High School graduates celebrate with smiles after receiving their diplomas during the commencement ceremony on June 8.

Right-click on the image to save