Buena Park School District Teacher Named Teacher of Year, Top 25 in OC
BUENA PARK, CA – Gordon H. Beatty Middle School English Teacher Kelly Harris lives to motivate her students and strives to foster a lifelong love of literacy in them – ambitions that have earned her a place on Parenting OC's Top 25 Teachers of 2022 list and the Teacher of the Year award at her school.
"I love that my students are motivated and that they try," Harris said. "Coming out of the COVID-19 pandemic has been difficult, but my students inspire me because they always come into class willing and ready to learn and that has been awesome."
Harris has taught English within the Buena Park School District for 23 years. She currently teaches English and Honors English to seventh graders, is the advisor for the school's Chess Team and has held many leadership positions in various programs throughout the District.
Harris' focus for this school year was securing funding for more than 600 copies of "A Long Walk to Water" by Linda Sue Park to promote literacy throughout the community. The books were given to students, teachers, parents and even bus drivers. Harris said everyone with affiliation to Beatty School received a book, and that the idea was a team effort from Beatty School teachers.
"Mrs. Harris is one of our most experienced teachers with the highest level of professionalism and passion for our students," Principal Erik Bagger said. "She creates an atmosphere in her classroom and our school that pushes students to be their very best in all they do both academically and non-academically."
Harris said her secret to inspiring her students is to simply talk to them and listen, which she recognizes as an important step in getting students to open up and think critically – an approach that has turned many former students into avid readers.
Harris is also implementing more technology into her curriculum this year letting her students use iMovie, Clips and other video editing software to do presentations. Harris earned a Bachelor of Arts in Liberal Studies and supplemental credentials in English from California State University, Fullerton and a master's degree in education and a teaching credential from National University.
"Congratulations to Kelly Harris on her recognition; she truly is an inspiration to her peers and students," Superintendent Dr. Ramon Miramontes said. "Kelly is a dynamic teacher, who leads by example and motivates everyone to find and follow their passions. We are lucky to have her here, guiding our students at Buena Park School District."
PHOTO CAPTION:
TOPTEACHER1: Gordon H. Beatty Middle School Teacher Kelly Harris displays her award from Parenting OC, signifying her position as one of the top 25 teachers in Orange County. She was also named Beatty School's Teacher of the Year. Harris was awarded for her efforts in boosting literacy throughout the Buena Park School District.
Close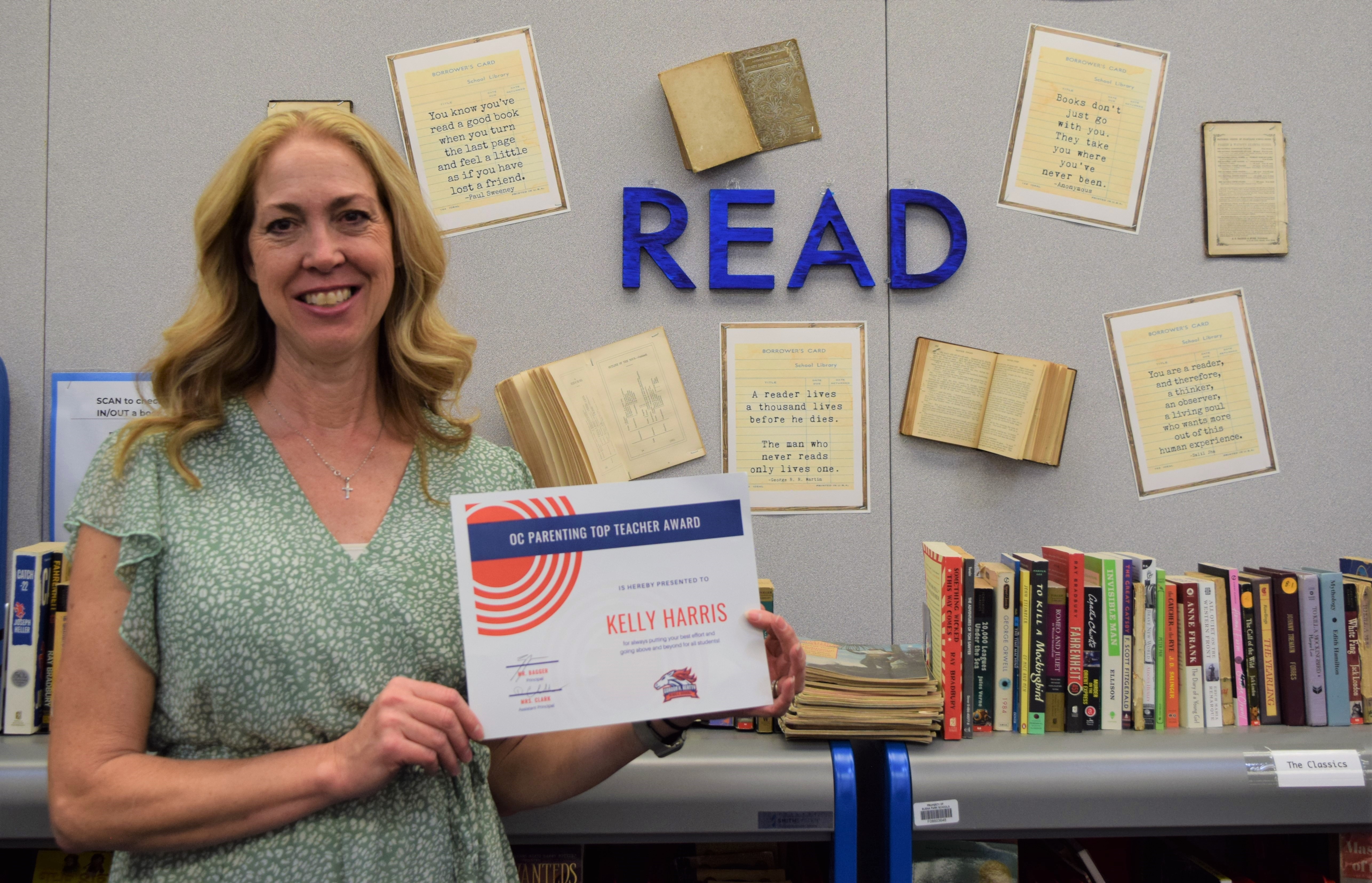 Buena Park School District Teacher Named Teacher of Year, Top 25 in OC
Image Title

TOPTEACHER1

Image Caption

TOPTEACHER1: Gordon H. Beatty Middle School Teacher Kelly Harris displays her award from Parenting OC, signifying her position as one of the top 25 teachers in Orange County. She was also named Beatty School's Teacher of the Year. Harris was awarded for her efforts in boosting literacy throughout the Buena Park School District.

Right-click on the image to save