Buena Park School District Now Accepting Students for 2020-21 Online Enrollment
BUENA PARK, CA – Buena Park School District has launched online enrollment for the 2020-21 school year, providing families with a fast and easy process to register children and take advantage of the District's rigorous academics and enriching extracurricular activities.
Buena Park School District offers extensive programs and activities, including coding and STEM classes, visual and performing arts, video production, college preparation and multimedia and communication.
"Buena Park School District's goal is to ignite a passion for learning in all of our students, encourage them to achieve their dreams and prepare them for college and the workforce," Superintendent Dr. Ramon Miramontes said. "We look forward to seeing all our new and continuing students for the 2020-21 school year."
Parents can start the enrollment process at portal.bpsd.k12.ca.us/enrollment. Select the 2020-21 pre-enrollment selection in the drop-down menu. All forms are available in English, Spanish and Korean. Families can also call (714) 522-8412 for assistance with forms.
The information collected will be sent to each family's neighborhood school, where registration forms will be completed.
Students who live outside of the District and are enrolling as an inter-district transfer need to visit the District office at 6885 Orangethorpe Ave., Buena Park, for an enrollment packet.
Close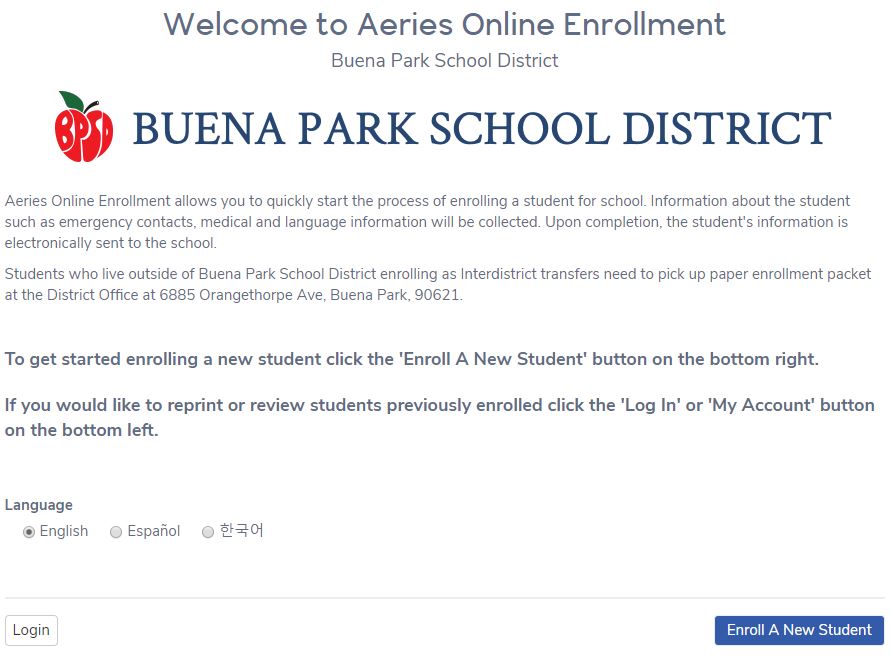 Buena Park School District Now Accepting Students for 2020-21 Online Enrollment
Image Title

Enroll

Right-click on the image to save