Buena Park School District Honors Students for Perfect Test Scores
BUENA PARK, CA – Sixty-one Buena Park School District students were recently honored for achieving the highest possible scores on state standardized tests for English language arts (ELA) and math taken in spring 2019, earning them praise from friends, family members and the District.
Friends, family members and District staff cheered on the students, who range from grades four through eight, during a special ceremony on Nov. 13 at the Buena Park Community Center. Of the 61 awardees, 13 students were honored for achieving perfect scores on both ELA and math state tests.
Buena Park School District's ELA and math state test scores have shown growth over the last school year, with the District increasing its ELA scores by 5.3 percentage points and 7.2 percentage points for math scores.
Superintendent Dr. Ramon Miramontes said the perfect test scores stemmed in part from the District's strong academic rigor and enrichment programs, which focus on boosting literacy and science, technology, engineering and math skills.
"Congratulations to all of our students who obtained perfect scores – you have accomplished an amazing feat that showcases your excellence," Miramontes said. "Buena Park School District is dedicated to ensuring that all of our students are high achieving and we look forward to continuing this success in the years to come."

PHOTO CAPTIONS:
01162020_BUENAPARK_TEST1: Thirteen Buena Park School District students show off medals and certificates indicating that they achieved perfect scores on their 2019 English language arts and math state test scores. Overall, 61 students were awarded for their accomplishments during a ceremony on Jan. 13.

01162020_BUENAPARK_TEST2: Buena Park Junior High eighth-grader Arianna Whitmer (center) celebrates achieving a perfect score on her 2019 English language arts state test with her family during a ceremony on Jan. 13 at the Buena Park Community Center.
ELA Perfect Score Achievers:
Julia Labrador, Julian Ruiz, Lydia Seo, Theodore Williams, Katelyn Ahn, Hugo Asencio, Kobe Confesor, Cynthia Gonzalez, Aarya Halankar, Trinity Kim, Jonathan Lu, William Tai, Olivia Woo, Danya Alvarez, Justin Ang, Gian Arnoco, Kenneth Lee, Daniel Moreno, Terah Nohl, Ashley Park, Erin Gaerlan, Enoch Han, Sarah Nguyen, Martha Vasquez, Samuel Ahn, Benjamin Blodgett, Eve Britton, Erik Choi, Jasmine Ellis, Noor Francisco, Arum Han, Warner Kim, Joshua Labrador, Amber Lee, Jessica Lu, Yebin Park, Mikhaila Roome, Aaron Nino Sagum, Eric Um, Hannah Watkins, Arianna Whitmer.
Math Perfect Score Achievers:
Vinzel Lanze Fernandez, Julia Labrador, Katelyn Ahn, Troy Arenas, Hugo Asencio, Esteven Castillo, Hassan Hassan, Chris Hong, Trinity Kim, Evelyn Le, Jonathan Lu, Chanhwy Shin, William Tai, Gian Arnoco, Katie Choi, William Kim, Aiden Lee, Kenneth Lee, Leo Lee, Terah Nohl, Jonathan Wihardia, Gabriel Alexander Barretto, Erin Gaerlan, Joshua Lee, Aiden Munoz, Sarah Nguyen, Alyssa Marie Perez, Jacob Tacal, Joseph William, Darren Woo, Tiffany Elnitiarta, Jessica Lu, Eric Um.
ELA and Math Perfect Score Achievers:
Katelyn Ahn, Gian Arnoco, Hugo Asencio, Erin Gaerlan, Trinity Kim, Julia Labrador, Kenneth Lee, Jessica Lu, Jonathan Lu, Sarah Nguyen, Terah Nohl, William Tai, Eric Um.
Close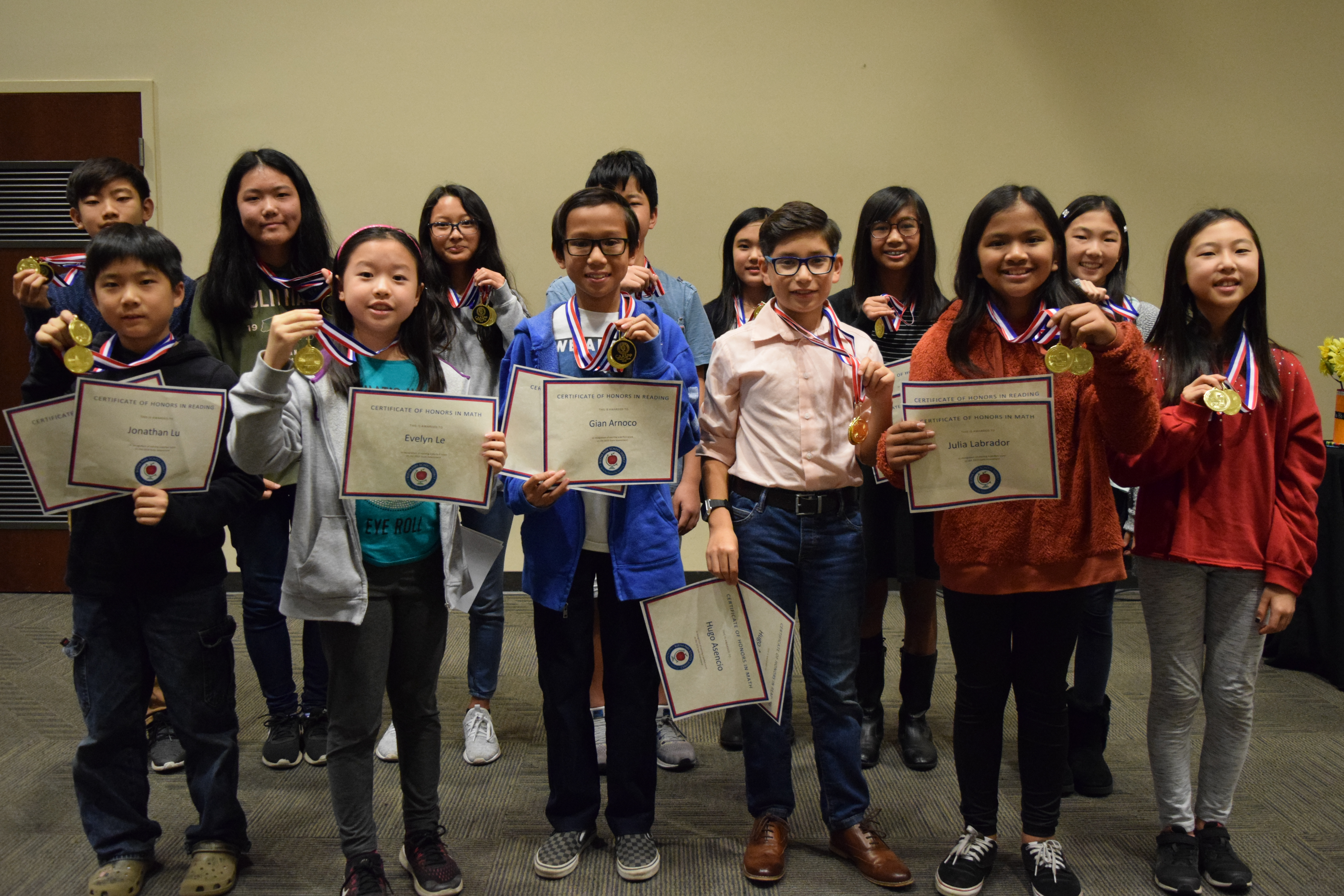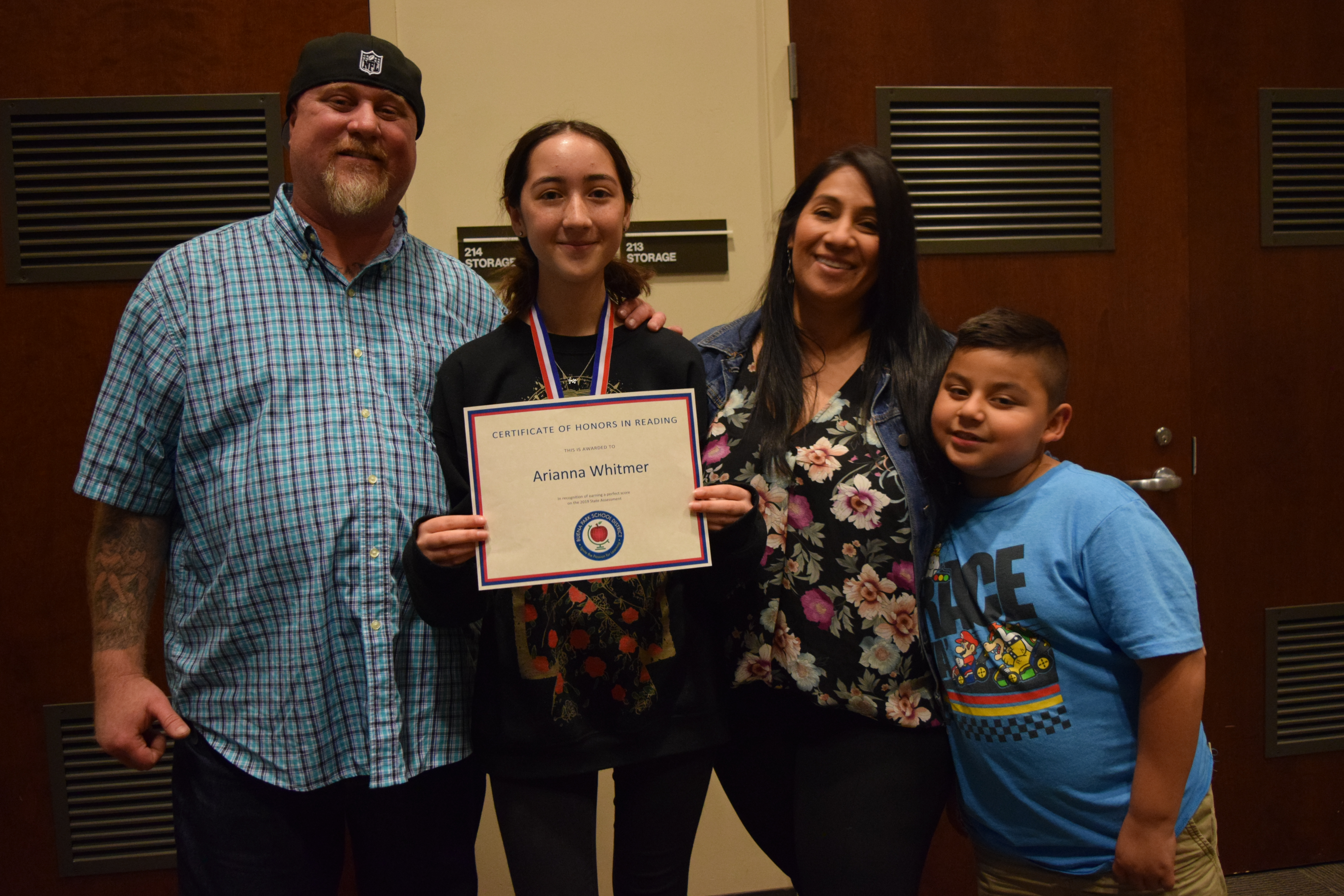 Buena Park School District Honors Students for Perfect Test Scores

Image Title

TEST1

Image Caption

01162020_BUENAPARK_TEST1: Thirteen Buena Park School District students show off medals and certificates indicating that they achieved perfect scores on their 2019 English language arts and math state test scores. Overall, 61 students were awarded for their accomplishments during a ceremony on Jan. 13.

Right-click on the image to save

Image Title

TEST2

Image Caption

01162020_BUENAPARK_TEST2: Buena Park Junior High eighth-grader Arianna Whitmer (center) celebrates achieving a perfect score on her 2019 English language arts state test with her family during a ceremony on Jan. 13 at the Buena Park Community Center.

Right-click on the image to save