Buena Park School District Creates Fun Activities Roadmap for Summer
BUENA PARK, CA – Buena Park School District is encouraging students to read more, expand their creativity, exercise regularly and boost their social-emotional growth by following a list of 20 activities posted on the District's Summer Choice Board.
The activities, selected by District staff, provide additional learning opportunities for students during the summer break – such as writing letters to friends, in-person and online reading events, virtual field trips to America's national parks and physical education activities.
"Our intention was to offer at least 20 days of learning experiences for all students to match the 20 days of summer school," Director of Educational Programs Seri Hwang said. "We hope that students will explore the various activities on the Choice Board and have fun learning in the summer."
Hwang said she is most excited about offering District read-aloud events to students, where participating staff members will share their favorite books with students.
The full list of activities can be found on the District website. The board is also available in Spanish and Korean.
"We want all of our students to keep a good momentum of academic and social-emotional learning during the summer and that's why this Choice Board is so amazing," Superintendent Dr. Ramon Miramontes said.
PHOTO CAPTION:
BUENAPARK_CHOICEBOARD: Buena Park School District's Summer Choice Board, which gives all students a list of 20 fun activities, which will help them stay healthy in their body and minds.
Close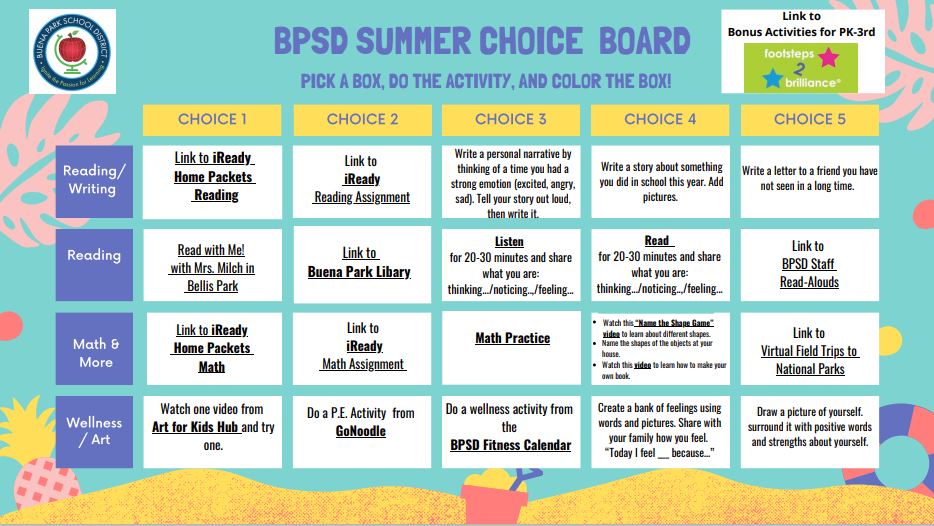 Buena Park School District Creates Fun Activities Roadmap for Summer
Image Title

CHOICEBOARD

Image Caption

BUENAPARK_CHOICEBOARD: Buena Park School District's Summer Choice Board, which gives all students a list of 20 fun activities, which will help them stay healthy in their body and minds.

Right-click on the image to save