Bonita Unified School District
Bonita Unified Teachers Awarded 35 Mini-Grants by La Verne/San Dimas Educational Foundation
SAN DIMAS/LA VERNE – The La Verne/San Dimas Educational Foundation (LVSDEF) continued its annual tradition of supporting education in the classroom as it announced its 2023-24 Teacher Mini-Grant award recipients during the Bonita Unified Board of Education meeting on Nov. 1.
LVSDEF President Anthony Porter and LVSDEF member Michelle Riddell presented more than $14,000 in mini-grants to teachers from 11 Bonita Unified schools, money that will help fund a variety of small classroom projects.
The grants, which range from $100 to $500, are provided to teachers to encourage projects that benefit students and address a classroom need. The Foundation received 78 applications this year and was able to award 35 mini-grants, which will support projects focused on mental health and wellness, the arts, field trips and more.
La Verne Heights Elementary School kindergarten teacher Stephanie Fincher, who has immersed herself in learning the Science of Reading approach to teaching reading, will apply her mini-grant toward class sets of magnetic letters and magnetic white boards to manipulate words and phonemes during explicit word work instruction in literacy lessons.
"A willingness to evolve with education requires putting meaningful practices into place which can be costly," Fincher said. "Having the support from important programs like the La Verne/San Dimas Educational Foundation is paramount to helping children live their purpose. We are forever grateful!"
The 2023-24 LVSDEF Mini-Grant recipients are:
• Allen Ave. Elementary – Cheryl Demus, Jennifer Johnson, Casie DeSalvio, Kerry Cruz
• Ekstrand Elementary – Larissa Gotto, Tiffany Madera, Kelly Solis, Kelsey Bermudez, Kelly Sera, Lily Benitez
• Gladstone Elementary – Kristina Vitale
• Grace Miller Elementary – Maria Brock, Michelle Reinhart, Ruby Olacio, Gayle Cervantes, Emilee Duenas, April Maidens
• La Verne Heights Elementary – Kathleen Martinez, Megan Travers, Justine Ly, Stephanie Fincher
• Oak Mesa Elementary – Maricar Leahy, Heather Hoynes
• Roynon Elementary – Stacy Willetts, Megan Shockey, Christina Thompson, Shelley Johnson, Darlene Ault
• Shull Elementary – Nichole Becerra, Alyssa Ferree, Kim Morton
• Lone Hill Middle – Maria A. Balvanera
• Bonita High School – Adam Archibald, Taylor Barrios, Doug Dolter, Richard Dukowsky
• Chaparral/Vista High School – Valeria Herrera
Since 1983, the LVSDEF has been committed to enriching and enhancing educational opportunities for Bonita Unified students. The Foundation's primary function is to recognize and reward students who have succeeded in school despite experiencing hardships in their lives.
PHOTO CAPTION:
BUSD_LVSDEF_MINIGRANTS: Bonita Unified teachers are awarded mini-grants from the La Verne/San Dimas Educational Foundation during the Nov. 1 Board of Education meeting.
Close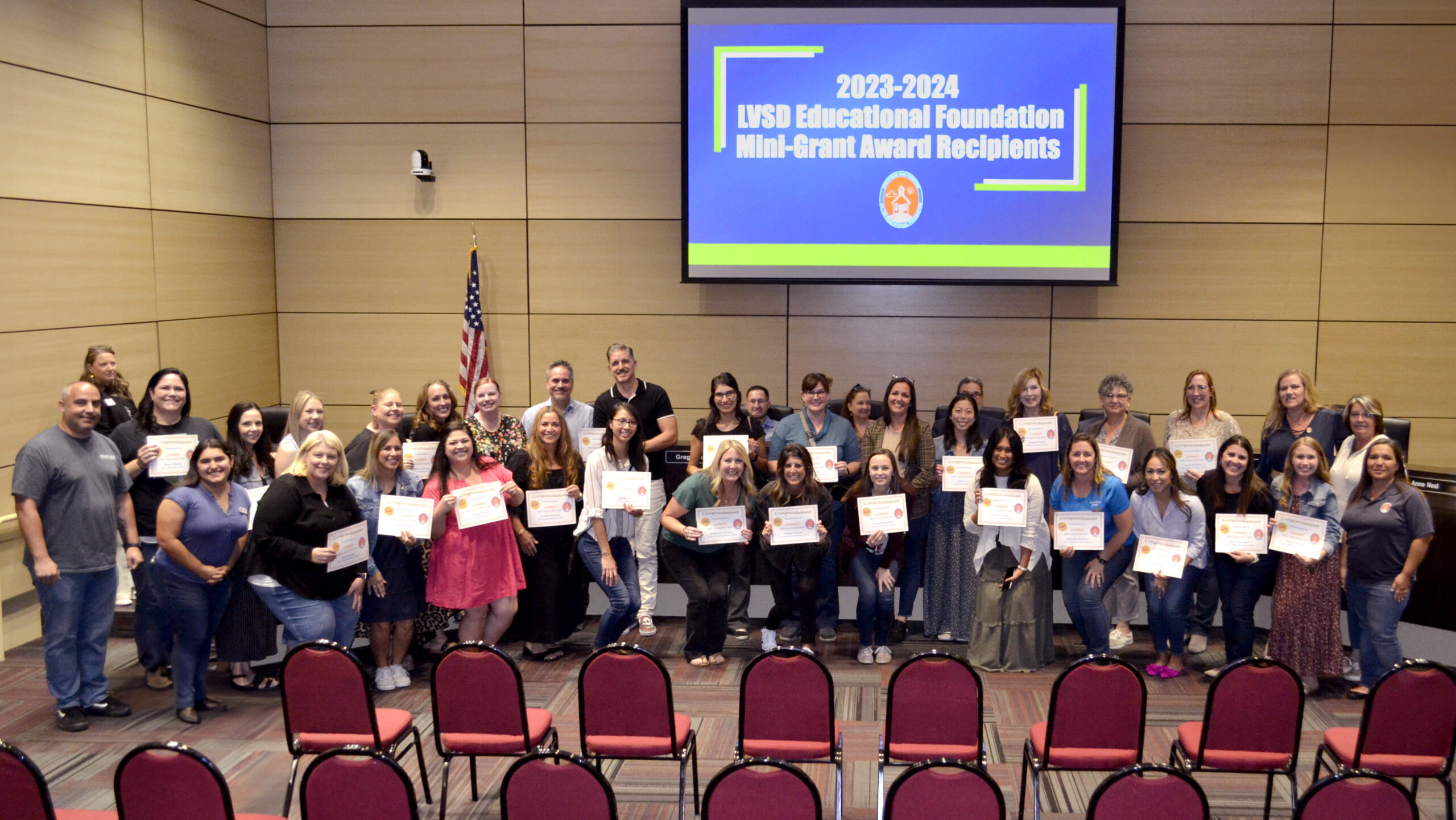 Bonita Unified Teachers Awarded 35 Mini-Grants by La Verne/San Dimas Educational Foundation
Bonita Unified School District
Image Title

BUSD_LVSDEF_MINIGRANTS

Image Caption

BUSD_LVSDEF_MINIGRANTS: Bonita Unified teachers are awarded mini-grants from the La Verne/San Dimas Educational Foundation during the Nov. 1 Board of Education meeting.

Right-click on the image to save