Baldwin Park Unified School District
Baldwin Park Unified Seniors Receive Scholarships from District, Community
BALDWIN PARK – Baldwin Park Unified School District's Class of 2019 completed its K-12 educational career on a high note, with hundreds of graduates earning thousands of dollars in local and national scholarships, including a Gates Scholarship.
"Congratulations to our exceptional students – individuals who go above and beyond in their studies and in life, who conquer adversity and who work to achieve their goals," Superintendent Dr. Froilan N. Mendoza said. "We are exceptionally proud of BPUSD's Class of 2019 and we can't wait to see where their passions and interests take them."
Seniors were evaluated on GPAs, achievements in music and the arts, community service, financial need, and personal essays about educators who influenced their goals.
Sierra Vista High School valedictorian Abrahan Vasquez was named a 2019 Gates Scholar, one of only 300 across the country. Vasquez will study biology at Claremont McKenna College this fall on the all-expense-paid scholarship.
During the District's annual Joint Scholarship Ceremony, 10 exceptional seniors received a collective $10,000 in scholarships. The top honor went to Vasquez, who received a $5,000 award from the Ramona Burnham Scholarship Foundation.
The Baldwin Park Education Association (BPEA) awarded $500 scholarships to Baldwin Park High School graduate Joellie Herrera, North Park Continuation High School graduate Jethzemany Morales, and Sierra Vista High School graduate Tam Nguyen.
Four seniors received $500 scholarships from the Baldwin Park Organization of Supervisors and Administrators (BPOSA): Baldwin Park's Adult and Community Education (BPACE) valedictorian Mark Nuñez, Baldwin Park High student Matthew Arreola, North Park's Diana Camarena and Sierra Vista's Cyndia Torres. The Iota Pi Chapter of Delta Kappa Gamma Society International (DKG) awarded $750 scholarships to Sierra Vista High graduates Brian Contreras and Kristian Guillen.
During the 2019 BPACE Commencement and Career Technical Education Awards Ceremony on May 23, nine graduates were named scholarship winners.
The California Council for Adult Education granted seven scholarships to the following recipients: salutatorian Isaac Araiza, Brenda Harvey, Wendy Lopez, Miguel Mata, Silvia Monreal, Israel Caleb Moya and valedictorian Nuñez. Monreal also earned a scholarship from the Classified School Employee Association.
The Adult and Community Education Teachers Association of Baldwin Park awarded scholarships to Miguel Aguilar and Brenda Harvey. Lezli Daniela Cardenas Arizpe was awarded the Robert H. and Ria Benbow Scholarship.
During North Park Continuation High School's commencement ceremony on June 5, additional scholarships were awarded to Camarena by the American Red Cross and to Morales by the California School Employee Association (CSEA).
Additional scholarships for the Baldwin Park Class of 2019 were funded by the Baldwin Park Women's Club; Richard Carrillo Perez Scholarship Foundation; Baldwin Park Sister City Association; Oscar E. Gomez Memorial Scholarship LUCHA Foundation; Mount San Antonio College; and Waste Management.
Additional scholarships for the Sierra Vista Class of 2019 were funded by BPUSD's Biliteracy Recognition; Baldwin Park Women's Club; Boston College "Ever to Excel"; David and Martha Bilingual Students; De Anza Elementary Alumni Scholarship; Kenmore Elementary Alumni Scholarship; Montview League Outstanding Senior Scholarship; SVHS AVID Scholarship; and SVHS Positive Growth Scholarship.
Graduates also received grants and scholarships from universities, including UC Berkeley, UC San Diego, UC Santa Cruz, San Francisco State University, Humboldt State University, Cal State Fullerton and Cal State Los Angeles.
PHOTOS:
SCHOLARSHIPS_2019_1: Ten graduates from the Class of 2019 earned academic scholarships during the annual Joint Scholarship Award Ceremony, held on May 16.
SCHOLARSHIPS_2019_2: Sierra Vista High School valedictorian Abrahan Vasquez received $5,000 from the Ramona Burnham Scholarship Foundation, one of nine scholarships awarded at the Baldwin Park Unified Joint Scholarship Ceremony. The foundation was formed by the daughters of Burnham, a former Baldwin Park Unified teacher.
Close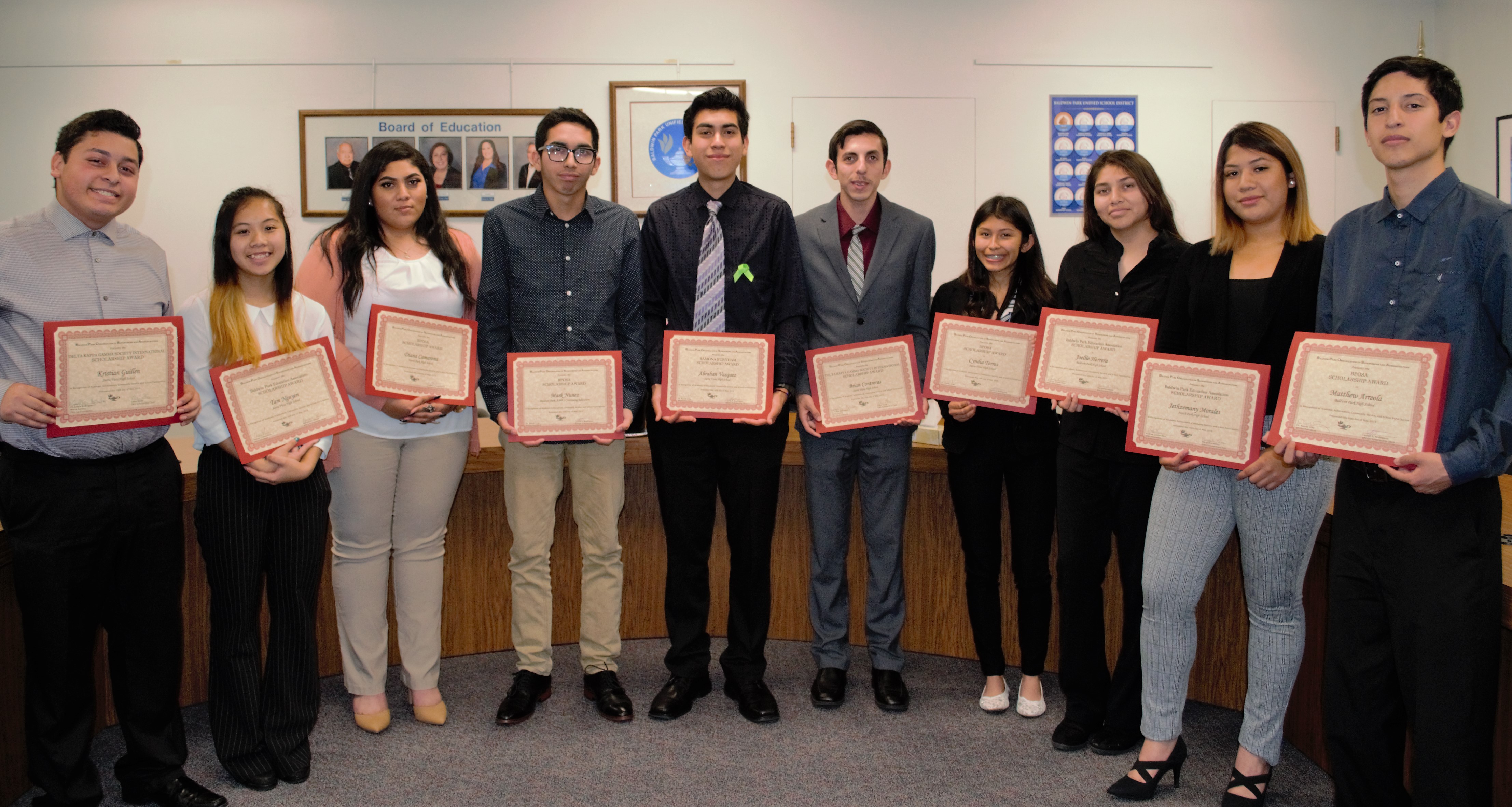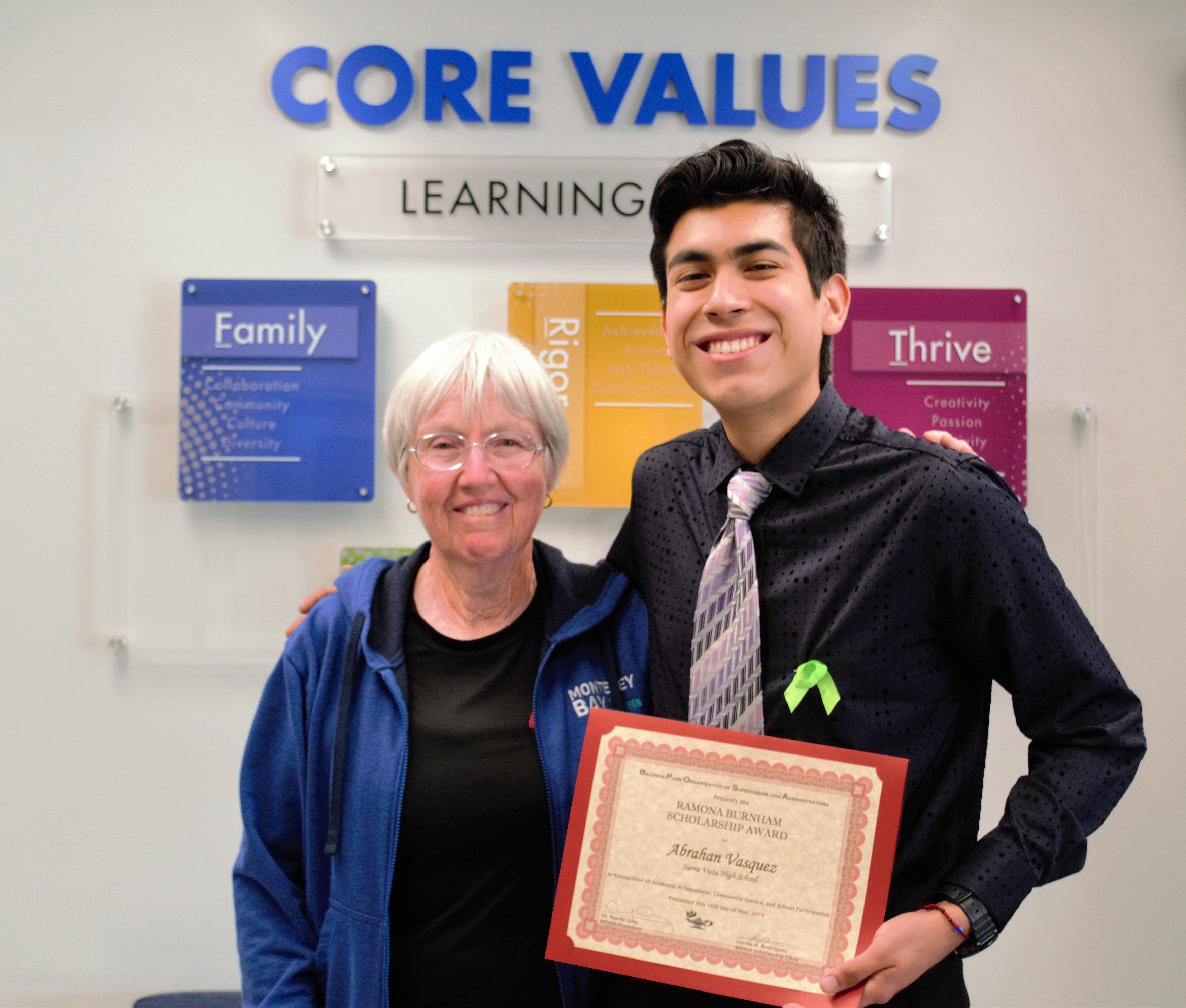 Baldwin Park Unified Seniors Receive Scholarships from District, Community
Baldwin Park Unified School District

Image Title

SCHOLARSHIPS_2019_1

Image Caption

SCHOLARSHIPS_2019_1: Ten graduates from the Class of 2019 earned academic scholarships during the annual Joint Scholarship Award Ceremony, held on May 16.

Right-click on the image to save

Image Title

SCHOLARSHIPS_2019_2

Image Caption

SCHOLARSHIPS_2019_2: Sierra Vista High School valedictorian Abrahan Vasquez received $5,000 from the Ramona Burnham Scholarship Foundation, one of nine scholarships awarded at the Baldwin Park Unified Joint Scholarship Ceremony. The foundation was formed by the daughters of Burnham, a former Baldwin Park Unified teacher.

Right-click on the image to save