Hacienda La Puente Unified School District
Augmented Reality Technology Brings Lessons to Life at Hacienda La Puente Unified
CITY OF INDUSTRY – Whether used to study the solar system in kindergarten or demonstrate principles of biomedical science in high school, augmented reality (AR) programs are becoming more popular among teachers and students at Hacienda La Puente Unified School District.
The cutting-edge technology that allows smartphone and tablet users to combine the real world with computer-generated content has grown steadily and become embedded in HLPUSD curriculum since its introduction as a pilot program during the 2018-19 school year.
Hacienda La Puente Unified technology teachers on special assignment (TOSAs) have been providing professional development and induction training in AR and virtual reality to teachers and administrators throughout the District and are greatly encouraged by the excitement generated by the demonstrations.
"When we saw our District leaders entranced in the wonder of augmented reality as they saw different animals and worlds come to life in the palm of their hands, we knew that our students would be truly engaged in its content," Tech TOSA Ricardo Recinos said. "We will continue to build capacity in all things AR and as more teachers get acclimated to the technology, we will be available to support them."
Currently, AR is part of instruction at four HLPUSD schools – Nelson Elementary, Baldwin Academy, Wedgeworth Elementary and Glen A. Wilson High School. During their lessons, students use District-issued iPads and different AR platforms, including Halo AR, Flip AR, Merge Cube and Quiver to manipulate and inspect digital 3D objects.
Augmented reality has allowed Nelson Elementary School sixth-grade students to turn their classrooms into anatomy labs as they study body systems, bringing a fresh 3D perspective to the lessons that spur creativity and imagination among the students.
"I feel like the AR lesson was super fun," Nelson Elementary sixth-grader Jolissa Jimenez said. "It was cool to see the body systems in 3D and it helped me learn a few new things about them in a creative way."
The District plans to expand the use of AR technology in more schools and future professional development training throughout the 2022-23 school year.
"Thank you to our outstanding educators and TOSAs for working together to create powerful spatial AR lessons that inspire and motivate our students to engage in computer, science, technology, engineering and mathematics (C-STEM)," Superintendent Dr. Alfonso Jiménez said. "It's an exciting time at Hacienda La Puente Unified as our journey with C-STEM continues to cultivate collaboration and spark an interest in STEM-related subjects across campuses."
PHOTO CAPTION:
HLPUSD_AR: Sixth-grade students at Nelson Elementary School worked together to bring a human anatomy lesson to life with augmented reality during class on Aug. 31.
Close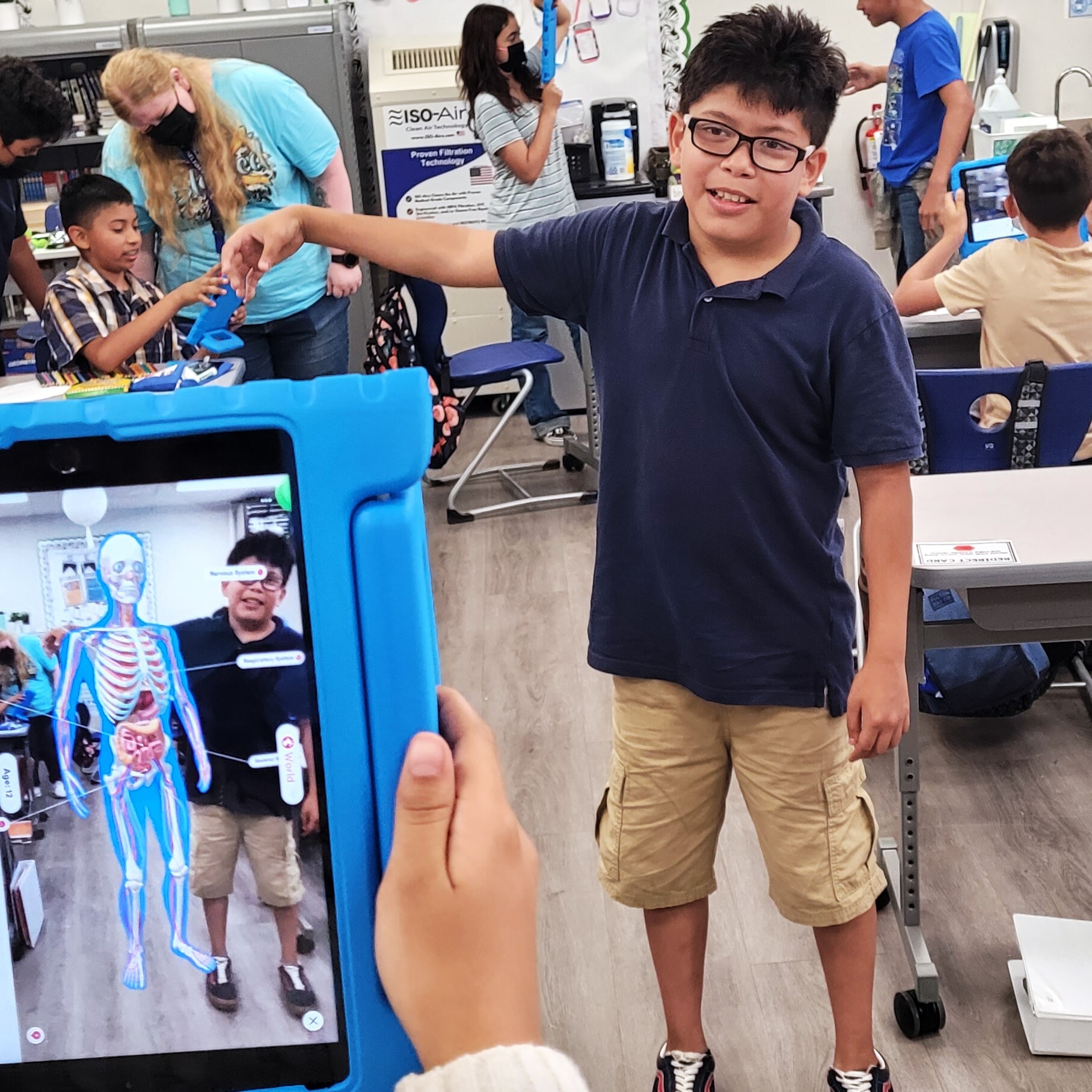 Augmented Reality Technology Brings Lessons to Life at Hacienda La Puente Unified
Hacienda La Puente Unified School District
Image Title

HLPUSD_AR

Image Caption

HLPUSD_AR: Sixth-grade students at Nelson Elementary School worked together to bring a human anatomy lesson to life with augmented reality during class on Aug. 31.

Right-click on the image to save