Paramount Unified School District
Paramount High School Honors Exceptional African American Students at Awards Dinner
Paramount, CA – Paramount High School junior Christopher Shokunbi has an affinity for science and medicine that he shares with his mother, a registered nurse, and his older sister, who is also pursuing nursing.
The mutual passion helped them share a memorable moment on Feb. 23 at the 11th Black Family Forum Student Achievement Awards Night when Shokunbi accepted the Mae C. Jemison Award, given to an outstanding student in the area of science.
"It's such an honor to be recognized and have my parents be able to experience it with me," Shokunbi said. "Our school is not majority African American, so it's great that we take the time to recognize the contributions of African American students."
Nearly 300 Paramount High School students and their families gathered in the PHS gymnasium for a dinner and celebration that shines a light on the success of African American students while creating a greater sense of community.
Shokunbi, who wants to be a pediatrician, was also one of the nine students honored for holding a GPA of 4.0 or above. Students were recognized throughout the night in areas of excellence that included language arts, mathematics, leadership, attendance and athletics.
Keynote speaker Dr. Lance Roberts, a political science professor at Southwest College and Long Beach chapter president of the 100 Black Men of America, Inc. youth mentoring program, urged students to blaze their own trails and make an impact on those who follow. The message was underscored by decorations that included images of African American pioneers like Alexa Canady, the first African American neurosurgeon, and aviator Bessie Coleman.
The night's entertainment included spoken word, and an African dance performance by students Anita Okogbue, Taleesa Jackson, Zyniece Williams, Rickia Walker and Zipporah Moses.
"It's so inspiring to celebrate the talents and achievements of our African American students," said Lourdes Talamantes, PHS counselor and Black Family Forum coordinator, said. "Our awards event has become a staple in the community that brings us all closer together."
The Black Family Forum consists of parents and students from the District who meet monthly to discuss issues and opportunities for African American students.
"We will continue to work to make sure our African American students are thriving and being recognized for their success," Paramount Superintendent Ruth Pérez said. "I want to thank all of the parents, staff and students who made this year's Black Family Forum: Student Achievement Awards Night another memorable event."
STUDENT ACHIEVEMENT AWARD WINNERS
Barack Obama Award (4.0 GPA or Higher): Jayden Hernandez, Shyann Walker, Christopher Shokunbi, Alycia Voluntad, Quijara Ruffin, Summer Corona, Zipporah Moses, Vanessa McKoy, Maximianne Castaneda.
Barack Obama Award (3.5-3.99 GPA): Terrell Taylor, Thomas Ashanti, Sierra Harris, Anita Okogbue, Alexis Groce, Tyshawn Raglin, Taleesa Jackson, Alicia Law, Jamariah Thomas, Theadry Watkins, Drew Pickett, ArnaiZia Call, Deante Livingston, Michael Stemage, Cheyenne Hodge, Tania Lewis, Egypt Stinson.
Tyler Perry Visual/Performing Arts Award: Britanni Jackson. Maya Angelou Language Arts Award: Joseph Scott, Anita Okogbue, Vanessa McKoy. General Colin Powell JROTC Award: Paris Franklin. Madame C.J. Walker CTE Award: Javon Leron Dancy. Katherine Johnson Mathematics Award: Shyann Walker. Mae C. Jemison Science Award: Christopher Shokunbi. Nelson Mandela Leadership Award: Shirnese Flewelen. Michelle Obama Attendance Award: Ayanna McGinest, Tarra King-Parker, Malachi Flowers, Frederick Edwards, Joann Seals. Simone Biles Achievement Award: Malachi Flowers. Oprah Winfrey Social Science Award: Ashanti Thomas, Chandler Behn. Rebecca Lee Crumpler Medical Pathway Award: Alexandria Betton. Serena & Venus Williams Athletic Award: Sekai Wright. Michael Jordan Athletic Award: TyRese Gibson, TyRhea Gibson.
PHOTO CAPTIONS:
030118_PARAMOUNT_ACHIEVEMENTAWARDS1: Paramount High School junior Christopher Shokunbi receives the Mae C. Jemison Science Award at the Black Family Forum Student Achievement Awards Night on Feb. 23.
030118_PARAMOUNT_ACHIEVEMENTAWARDS2: Paramount High School students perform an African dance during the Black Family Forum Student Achievement Awards Night on Feb. 23.
Close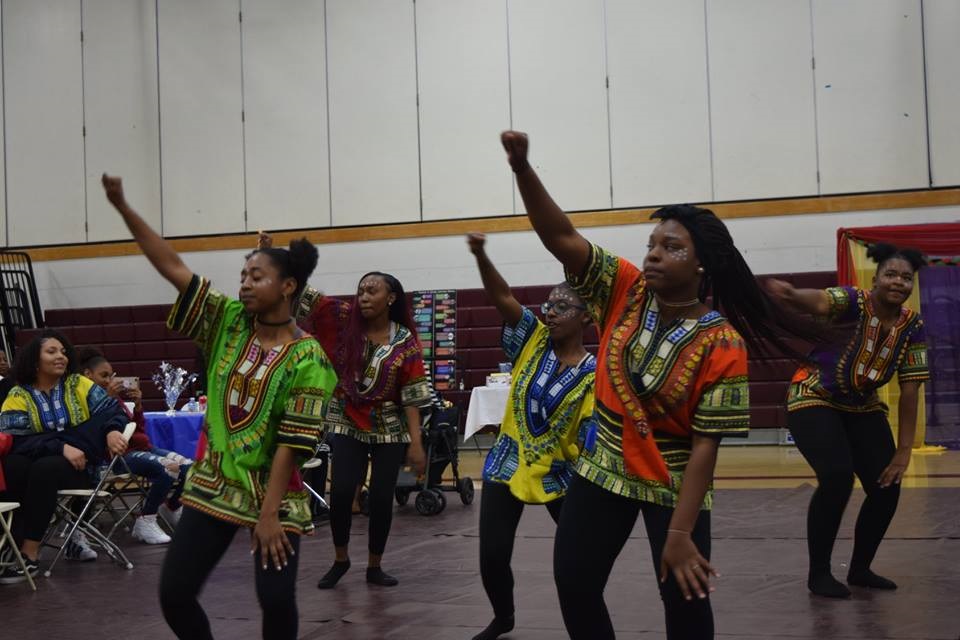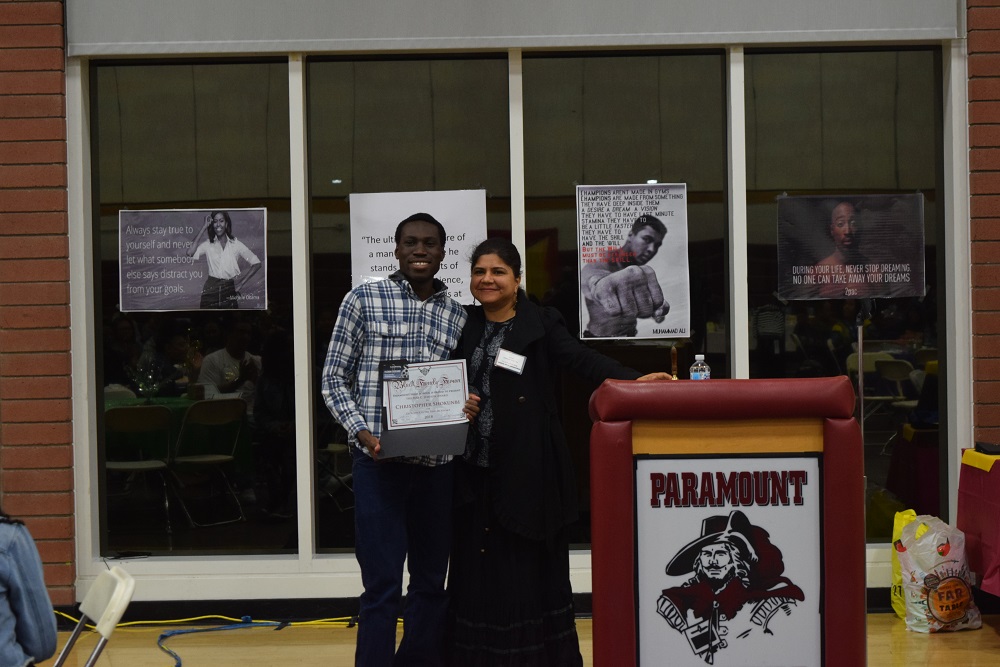 Paramount High School Honors Exceptional African American Students at Awards Dinner
Paramount Unified School District

Image Title

030118_PARAMOUNT_ACHIEVEMENTAWARDS2

Image Caption

Paramount High School students perform an African dance during the Black Family Forum Student Achievement Awards Night on Feb. 23.

Right-click on the image to save

Image Title

030118_PARAMOUNT_ACHIEVEMENTAWARDS1

Image Caption

Paramount High School junior Christopher Shokunbi receives the Mae C. Jemison Science Award at the Black Family Forum Student Achievement Awards Night on Feb. 23.

Right-click on the image to save