California School News Radio
California School News Radio is a weekly podcast focused on education issues at public school districts hosted by Kevin Ausmus and Drew Schlosberg. Peruse our library of clips from past shows.
Fun and Games: A New Approach to Math in El Monte Union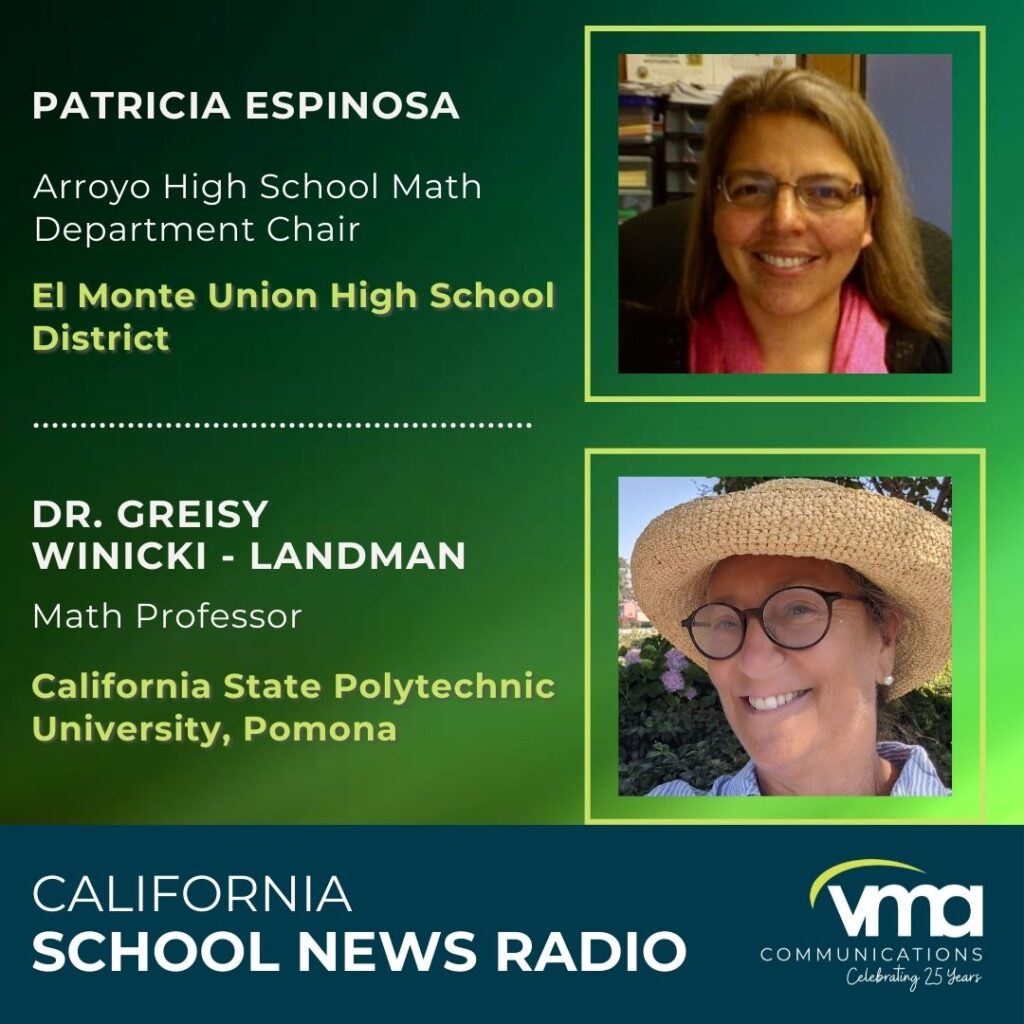 Arroyo High School Math Department Chair Patricia Espinoza and Cal Poly Pomona math professor Greisy Winicki-Landman discuss Mathematical Reasoning With Connections (MRWC), a fourth-year math class designed to prepare students for the expectations and rigor of college mathematics.

Season 4 Podcasts
Posted
Title
Summary
November 11, 2021
Pipeline to a New Career:
Adult Education in Whittier
Whittier Union Adult School Assistant Principal Juan Anzaldo and teacher Giovanni Masia discuss the school's newly launched residential plumbing course, a 10-week course that prepares students to become apprentices and graduate with work-ready skills, and the positive impact of adult school education in the Whittier community.

November 4, 2021
A Landscape of Learning:
Video Production at El Monte Union
Mountain View High School CTE teacher and El Monte Union 2021-22 Teacher of the Year John Mann joins Mountain View High Class of 2020 graduate Zaid Mendoza to discuss the school's VISTA Academy video production pathway, state-of-the-art filmmaking equipment, and the importance of storytelling.

October 28, 2021
Breaking Barriers:
C-STEM in Hacienda La Puente
Hacienda-La Puente Unified School District Assistant Superintendent of Instructional Services Dr. Judy Fancher, Valinda School of Academics Principal Elizabeth Bermejo and Valinda School math teacher Wendy Wilson discuss the District's implementation of C-STEM math instruction, its partnership with UC Davis and the enthusiastic student response to the new curriculum.

October 21, 2021
Different Paths, Same Destination:
Student Board Representatives in Monrovia
Monrovia High School senior Alexia Holt and Mountain Park Independent Study School senior Brianna Campbell discuss being Monrovia Unified student Board of Education representatives, the differences between traditional and non-traditional study and their plans for college and career.

October 14, 2021
The Future is Now:
Entrepreneur Camp at Río Hondo College
Río Hondo College business professor Ivan Leon discusses Entrepreneur Camp Río, a two-week online summer camp for high school students that teaches students to hone their management skills and creative thinking abilities, with a chance to win cash prizes for the best business pitch.

October 7, 2021
Community Building:
Vaccination Clinics in Whittier Union
Whittier Union Assistant Superintendent of Educational Services Monica Oviedo discusses the District's weekly vaccination clinics, the benefits of partnering with an independent pharmacy, and communicating with neighboring school districts to ensure that the entire community has access to vaccinations.

September 30, 2021
Without Borders:
Art and Culture in Lynwood, Toronto and Istanbul
Lynwood High School teacher Luis Vega, Bishop Strachan School teacher Paul Toth and Robert College teacher Narciso Argüelles discuss the online art exhibit, Without Borders Without Fears, how art is a prism for interpreting current events, and the importance of art education and cross-cultural collaborations.

September 23, 2021
Taking the Lead:
Fontana Unified's Student Board Representative
Fontana High School senior Miranda Ordoñez discusses being selected as Fontana Unified's 2021-22 student Board of Education representative, the social-emotional challenges of the COVID era, her commitment to social justice, and what she is looking forward to in her senior year.

September 16, 2021
Off to a Great Start:
Early Childhood Education at Río Hondo College
Río Hondo College Child Development Center Director Cindy O'Neill discusses the reopening of the center in July, the role the center plays in the Río Hondo College community, its extensive STEAM activities for children, and the benefits of early childhood education.